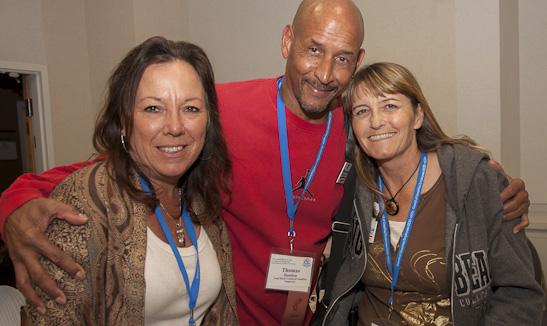 For Esmeralda Grubbs, success starts when a Local 1475 member takes a preschool boy or girl by the hand and begins to build a foundation for lifelong learning.
Grubbs works with the Early Childhood Federation, a Los Angeles County local representing preschool workers, from faculty and teaching assistants to custodians and kitchen staff. Challenges can be daunting, especially in low-income communities. In October, a drive-by shooting threatened a Head Start program in a Watts housing project.
"It's a once-in-a-blue-moon happening," Grubbs said, "but the faculty and staff all knew what to do. Everyone went into lockdown mode. Everyone had a role in making sure the kids were safe." Later, Local 1475 members addressed ways to improve security in contract negotiations.
"Classified employees have a vested interest in our students' success," said Grubbs. "More often than not, we live in the neighborhoods where we work. These are our kids and our neighbors' kids."
Carl Williams, a senior custodian with Lawndale's K-8 school district and leader of the Lawndale Federation of Classified Employees, said, "We used to take a back seat to teachers, but now we stand shoulder to shoulder with them. We realize that having a certificate — or not — doesn't determine how much you can contribute to student success."
Williams recently mentored an eighth-grade student one period a day for most of a school year. They worked on homework and reviewed the student's daily progress report.
"I committed to his success, even through high school, and he still calls to update me. If every classified employee connected with one student, that's all it would take."
Diana Ramon said staff at Orange County's Coastline College are also "committed to helping students one by one, but it's a different relationship than in elementary or high school."
Apart from tougher academic demands, there are financial barriers and myriad choices the students never had to make in high school. And counseling they could count on before has often been cut for budget reasons, said Ramon, member of the Coast Federation of Classified Employees.
In July 2011, the Coast district created Guide U Mentors, in which an unpaid volunteer commits to help one student until they graduate. Ramon said volunteers alert students about changes in financial aid and new scholarship opportunities, and answer their questions by email within 24 hours.
"And who do you think most of the volunteers are?" asked Ramon. "Classified employees! There must be at least 25 of us in the program, and word is spreading. Each semester the program grows."
CLASSIFIED CONFERENCE HIGHLIGHTS
​

A panel discussion at the conference held October 26-28 addressed the theme: Partners in Student Success.

Keynote speaker Jim Beall, former assemblyman just elected to the Senate, spoke to stopping the "pipeline to prison." Beall wants to see money spent on redemption rather than imprisonment and "community college is where that redemption begins."
Attendees honored the 100th anniversary of the Bread and Roses Strike. For fun, everyone geared up for a Western hoedown.