English Language Learners Committee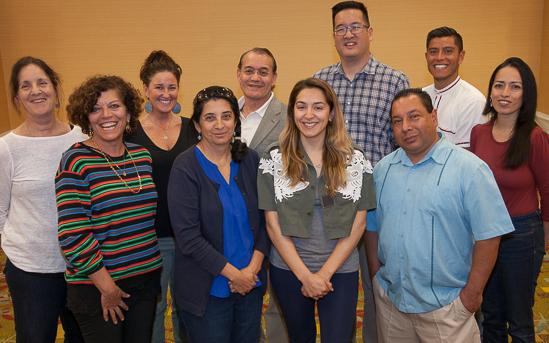 The mission of the CFT English Language Learners Committee is to identify and advocate for best practices and policies at the classroom, school site, district, county, state and federal levels, which will support the educational aspirations and success of English Language Learners.
The committee is composed of PreK, K-12, adult education, community college, and higher education professionals with a deep interest in English Language Learner research, education and policy and its impact on students and teachers.
COMMITTEE PROJECTS
English Language Learners Toolkit: Our committee has prepared a comprehensive online toolkit for students and families. It contains information and resources for ELLs in PreK-12 schools and ESL students in adult schools and community colleges.
Yes on Proposition 58: Return language instruction that helps students succeed
Committee members
Kati Bassler, Co-Chair, Salinas Valley Federation of Teachers
Nancy Jackson, Co-Chair, Pajaro Valley Federtion of Teachers
Najah Abdelkader, AFT Guild, San Diego & Grossmont-Cuyamaca Community Colleges
Isai Baltezar, Greater Santa Cruz Federation of Teachers
Pedro Coy Canizales, El Rancho Federation of Teachers
Tomas Flores, United Teachers Los Angeles
Gaby Ibarra, ABC Federation of Teachers
Kelly Kovenis, Petaluma Federation of Teachers
Gabriela Lopez, United Educators of San Francisco
Mark Manasse, AFT Guild, San Diego & Grossmont-Cuyamaca Community Colleges
Rosa Nicasio, ABC Federation of Teachers
Edith Ruiz, Pajaro Valley Federtion of Teachers
Ed Wang, Staff Liaison