Attention High School Teachers: New law protects working students
AB 800 signed into law by Gavin Newsom on September 30, 2023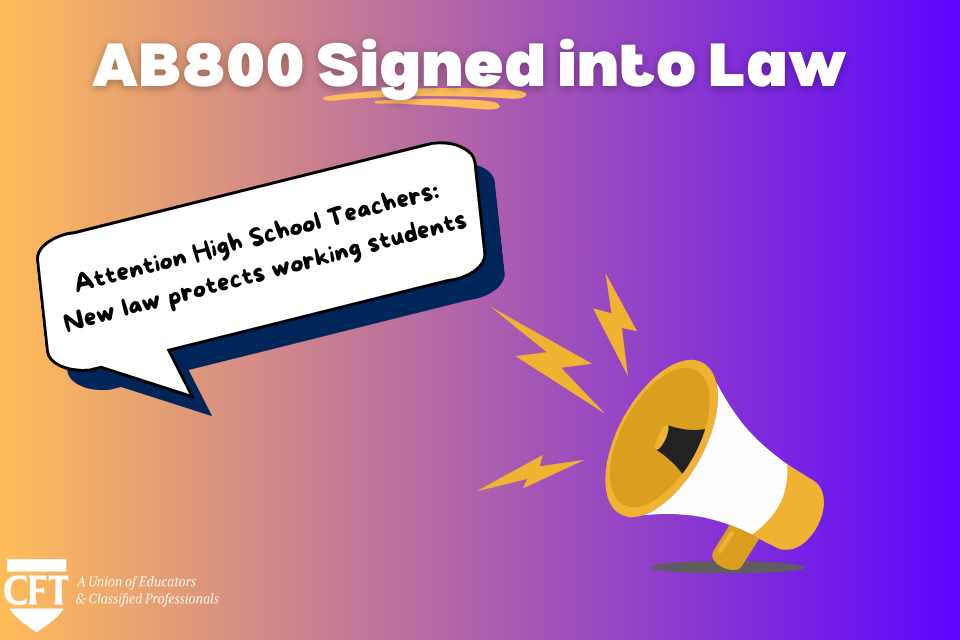 AB 800 (Ortega), signed into law by Gavin Newsom on September 30, 2023, is an important
breakthrough for the protection of your students on the job against injury, wage theft and other violations of their rights.
AB 800 mandates a week of "appropriate educational exercises" for all 11th and 12th grade students in the state (public and charter) "that make pupils aware of the role that the labor movement has played in shaping California and the United States."
The law comes at a critical moment. 30% of high school students work part-time during the
school year. Investigations have recently revealed how prevalent violations of youth worker
rights have become in the nation's workplaces. AB 800 aims to inoculate students against harm.
In addition to general labor education requirements, the bill specifies that every time a school administrator issues a work permit to a student, the student will receive a printed document "clearly explaining basic labor rights […] in plain, natural terminology easily understood by the pupil".
A previous law signed by Jerry Brown established that May is "Labor History Month" in
California. However, it only "encouraged" schools to teach about the achievements of organized labor and worker rights.
Similarly, in 2019, May was also designated "Safe Jobs for Youth Month" with encouragement to teach and learn about youth health and safety on the job.
AB 800 is a mandate, and it will make the week including April 28 (thus running into the first
week in May) a designated time to provide this important and up-until-now mostly missing real world education.
Curriculum and Training
The bill stipulates that the curriculum to educate the students will be developed by the UC
Berkeley Center for Labor Research and Education in consultation with unions. Until these
materials are developed, however, you are not without resources. The CFT's own Labor and
Climate Justice Education Committee has been producing curricula, readings and videos like
these, aligned with the state's History/Social Science Frameworks, for decades.
Click here for descriptions of the high school level curricula and to find out how to stream, download and/or order these popular and classroom-tested materials from CFT.
Members of the Committee are also available to lead local district in-services to get teachers up to speed on the new requirements and promote effective ways of teaching about labor rights.
For more information, or to schedule an inservice, contact the Labor and Climate Justice Education Committee's CFT staff liaison, Nason McCarthy at nmccarthy@cft.org.