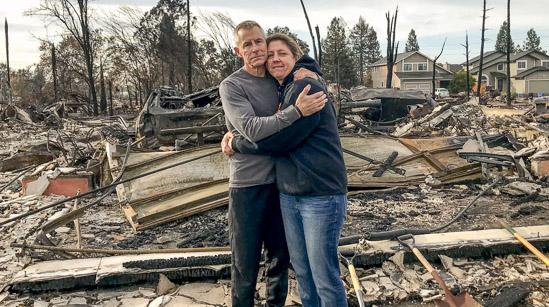 After the North Bay fires destroyed more than 5,000 homes and killed dozens of people, William Ortlinghaus, who teaches physical education at Kenilworth Junior High and his wife Jen, a teacher at Valley Vista Elementary, were happy to go back to work after school had been cancelled for a week.
"It was the only normal thing we had left," Jen said, "And my fourth graders were curious to see if we were still alive and our dogs were OK."
Both Jen and William, members of Petaluma Federation of Teachers, were home on Sunday, October 8, the night the fires started. A power surge woke up William, and they smelled smoke. When William looked out the window, he saw the garbage bins flying down the street because of the strong wind. Their flagpole looked like it would break, so they went outside and saw the street full of cars. Then William got an alert on his phone saying their area, the badly hit Coffey Park tract, was being evacuated so they started packing.
"We thought we were just going on an overnight. I got my purse and toiletries and the pajamas I was wearing, and we put the dogs in the car. We only had five or ten minutes to get out."
The Ortlinghauses ended up at a Starbucks parking lot waiting till it opened at 4 a.m. Then they went to a friend's house where they watched the news all day. It wasn't good — along with the Ortlinghauses, two other teachers in the district lost their homes. In the end, at least a dozen CFT members from six locals lost homes.
Lisa Adams, a member of the Napa County Federation of Teachers, also ended up in a parking lot on the night of the fire — a Safeway in Rohnert Park — with her adult son and daughter, trying to figure out what was happening.
"We thought we were just going on an overnight. I got my purse and toiletries and the pajamas I was wearing, and we put the dogs in the car. We only had five or ten minutes to get out."
"There was so much misinformation out there," she said. "We went to a restaurant for a while, but we learned a friend lost her home, and no one could eat."
Adams, who teaches at Calistoga State Preschool, was able to move back to her house after two weeks. She spent some of that time volunteering at a shelter in Santa Rosa, seeing people who had lost everything, which she said helped put things in perspective. The entire town of Calistoga was evacuated, so Adams was worried about her students and proud to hear that some of her fellow members in AFT Local 4067 volunteered in a shelter at Napa Valley College.
For Adams, as well as the Ortlinghauses, a bright spot in this horrible time was the support they received from the union. The CFT put out a call for donations to members on social media and, with the assistance of the AFT, set up a fund for members who lost their homes.
Just a few days later, those members got a phone call from the CFT. They were given gift cards to help with immediate expenses, often hand delivered.
"It was awesome," Adams said. "I had to replace all the food, which was a huge expense, and that they reached out was awesome." The Ortlinghauses also used the gift card to buy food.
The union has been fantastic and super supportive. It's pretty amazing that people I don't even know are reaching out and helping.
The North Bay Labor Council provided additional relief funds to union members, and the remaining relief funds from the CFT will be distributed soon.
Sandra Larsen, president of the Petaluma Federation and a second grade teacher at the same school as Jen, was still in shock since her daughter's home was destroyed in the fire, and she was grateful for everything the CFT and local members did. Petaluma teachers volunteered when Casa Grande High School opened as a shelter.
"I was proud to be a union member before, but this was amazing," Larsen said. "It was very meaningful the union was so fast to reach out."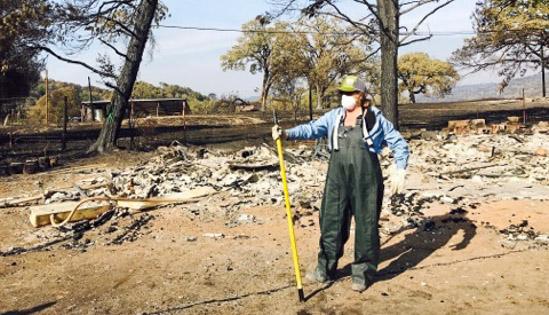 Libby Gordon, a member of the Mendocino County Federation of School Employees, agrees.
The union has been fantastic and super supportive," she said. "It's pretty amazing that people I don't even know are reaching out and helping.
On the night of the fire, Gordon's landlords woke her up in her Redwood Valley cabin. They all watched the fire in the hills for a few minutes. Then it leapt the valley, and they knew they needed to get out.
"There were 200-foot flames and these mini-tornadoes because of the winds. We were loading stuff when our neighbor's roof blew off," Gordon, a teacher at Mendocino County Early Start, said. "I was able to get my animals and personal jewelry and important paperwork, but when you're woken up at 1 in the morning, you're not thinking too clearly."
Like the others, Gordon, who has been staying at the Ukiah winery of a friend, says in the midst of everything, she was glad when her school reopened and she could go back to her job.
"I work with infants and toddlers with special needs, so it puts things in perspective. Some families in our program were displaced and are in shelters and hotels," she said. "My staff is really supportive, and it helps to shut things out and work with the kids."
— By Emily Wilson, CFT Reporter
Help Southern California members who lost homes
At press time, wildfires were still burning in Ventura, Santa Barbara, Los Angeles, and San Diego counties. Reports of more member homes being lost were trickling in. With so many regions in the path of the wildfires, thousands of CFT members and retirees are potentially affected. The CFT is launching a fundraising effort so that you may offer your support.
The day after the North Bay wildfires erupted, AFT, together with CFT, launched an interactive text program, to check in on members and identify those members needing help.
The AFT activated its Disaster Relief Fund and CFT members contributed nearly $10,000 to help North Bay members affected. Some money has been distributed to members already, with final disbursements to come. The CFT also worked with the North Bay Central Labor Council to distribute additional funds through local unions to provide relief.
Due to the unprecedented need, at its December 2 meeting the CFT Executive Council established a permanent Disaster Relief Fund. You can contribute now to help colleagues who lost homes in the Southern California fires.