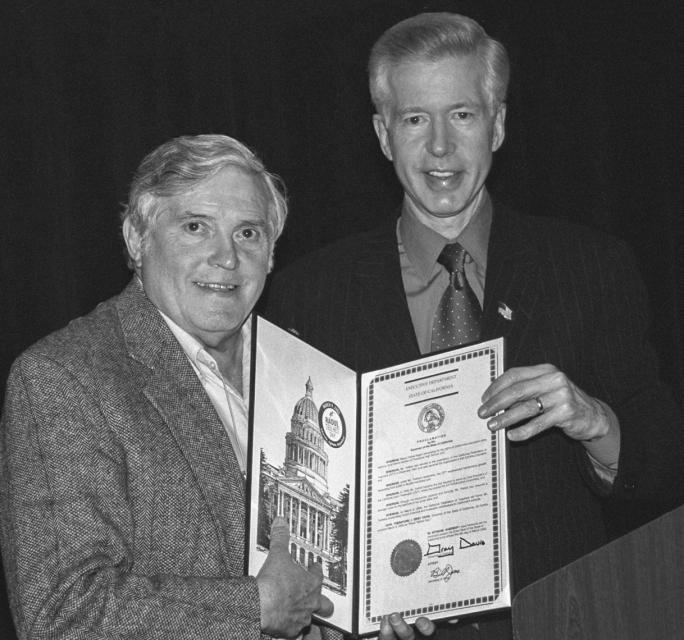 Editor's note: This essay was presented to CFT Convention on March 9, 2002. Because of Raoul Teilhet's Parkinson's disease, it was read by then-Vice President Greg Camacho-Light, a drama teacher from the Gilroy Federation of Teachers and Paraprofessionals. Gov. Gray Davis attended convention that day and officially named it Raoul Teilhet Day.
By Raoul Teilhet, Former CFT President
One of the important responsibilities of the CFT annual conventions is to provide leadership training opportunities for both seasoned and emerging local leaders. To this end, I have been asked today to share a few personal experiences and observations with you.
Running a public or private school local, whether it be large or small, rural or urban, or elementary or higher education, poses a difficu­lt set of tasks unless, of course, your rank-and-file is always supportive, never ill-tempered, unified on the issues, and always a yes vote on dues increases.
You have been selected to be a delegate to this convention by a most democratic means as provided for in your local, CFT, AFT, and AFL-CIO Constitutions. In large locals such as UTLA, San Francisco, and the Los Angeles College Guild, you were found still standing on your feet at the end of a long, complex, fatiguing election process. UTLA and San Francisco are made even more complicated by the fact that they are organizationally unified. While in smaller locals you probably forgot to attend the election meeting, and in your absence, you were elected a convention delegate, president, and possibly even sargeant-at-arms.
As an aside, I was elected president at the first AFT charter meeting that I ever attended in 1962. There were 13 employees at the meeting and there were about one thousand employees in the district. Our strategy was clear. We demanded that the district immediately surrender. My principal broke out in tears and gasped, "You would have made a great administrator." In that she was speaking in the past tense, I sensed that I had just made an irrevocable career change.
When we recovered from our shock that our district administration did not fold, but to the contrary, began to apply counter-pressure, I quickly began to discover the expectations of the position.
I was expected to be an expert on the District budget and policies, on the State Budget and Education Code, and on the State Board of Education policies, with special emphasis on the district's disciplinary authority, not to mention the current and relevant case laws that impacted on teachers as employees. And, most important, I needed expertise in Robert's Rules of Order – a president's true friend.
You have probably made note that I have not made mention to the need for collective bargaining skills. All provisions that were worth anything to employees were specifically prohibited by law until 1975 when the Brown administration signed a series of bills into law that granted collective bargaining rights to all public school employees.
A footrace was immediately started between the statutory dates in the various laws and our collective bargaining training programs. Fortunately, we were always blessed with excellent local leadership and membership, a godsend CFT field staff, and timely help and assistance from the AFT and the AFL-CIO. We also had an intuitive understanding of the then-AFT President, Dave Selden's organizing strategy imbedded in the philosophy of democratic decentralism, a keen understanding of the need to delegate tasks and responsibilities, and an undying faith in our membership. At every step of the way throughout the bargaining process, we were well served by Joe Hill's solution to every worker's problem – Agitate, Educate, and Organize.
You are now in the process of another discovery this thing called a Union, works. In fact, IT will succeed beyond your wildest dreams. You will accumulate surpluses, you will buy buildings, you will build defense funds, you will have a committee on local philanthropy, and you will enjoy multi-year contracts. In other words, peace and tranquility will be a choice to some locals some of the time.
I suspect that we are close to the 90 percent figure of the workforce in all public education that settles without a work stoppage. This does not preclude hard times or recalcitrant employers, and it is well to remember that after we have agitated, we educate and organize. The holy trilogy is not limited to the workers. As a strategy, it is applicable to society as a whole. Our quest for social justice will yield to the same strategies that the union follows at the bargaining table.
One of the activities that every local should be involved in is the ongoing battle in our nation for social and economic justice. One of the major reasons that I rejected the CTA was their then-narrow definition of what constituted an educational issue. Almost every issue, if viewed from a 'Yes' or 'No' answer to the question 'Is it good for the welfare of the child?' becomes clear. The debates on the convention floor are beneficial and will have a salutary impact on the welfare of the Federation.
Social issues and the welfare of the Federation bring to mind the CFT Convention of 1971 in Monterey. The morning session on the first day was introduced by five delegates at each microphone. #1 had a resolution to boycott the convention luncheon unless the Holiday Inn obtained a letter from their corporate headquarters to the effect that the Holiday Inns would hereafter purchase Black Eagle United Farm Workers Organizing Committee-labeled lettuce. The manager, poor devil, was beside himself because he had ordered, at our request, a weekend's supply of Union lettuce for the hotel, all of it being Teamster Union lettuce.
This was followed by a resolution to recess the convention and to march to the gates of the Presidio where an AFT local, made up of Vietnamese nationals, was demonstrating against the Lockheed Corporation which had a contract with the United States Navy to teach their naval amphibian personnel to become fluent in approximately 700 words in Vietnamese, e.g. duck, fire, abandon ship. We arrived at the Presidio only to find the FBI and the Monterey County police with their guns and cameras at the ready. Our convention delegates were beside themselves with joy. The only thing missing was for Nixon and Kissinger to drop out of the sky in a hot air balloon.
When we returned to the hotel, we were confronted with a resolution committee's fight to the death for the civil rights of gays and lesbians, in and out of the school setting. We made the front page of the San Francisco Chronicle with a lead that the socialist gay and lesbian teachers had launched an attack on capitalism and the American farmer, not to mention the industrial-military complex. We had complained about a lack of media coverage, but the 2,000 members who were huddled around the San Francisco Bay had a different attitude. But I defy you to find a Monterey delegate who doesn't look back with pride and warm nostalgia.
The individual member takes pride in his/her union in direct proportion to the sense of pride that that person takes in what their union represents. When you sign off and ratify your multi-year agreements with binding arbitration, agency fee, and contract security with 10 percent across-the-board for each of the next three years, executive board meetings become a bit dull. If you don't have a range of activities for the members, they have the tendency to fall prey to the Tree House syndrome, i.e., Which is the best office equipment? Who is the most competent office personnel? Who gets a key to the office or building? – after having made that transition to an office from the trunk of a car or the back bedroom; and/or the Potomac Fever syndrome where suddenly the membership discovers the fact that the president has a credit card, has release time from the classroom or worksite, represents your local at State Councils and Conventions and gets to fly all over the state and country; and then gets the fun that comes along with local contested presidential elections.
Elinor Glenn, a legendary officer of the SEIU once told me that she used the CFT as her moral compass. She was talking about the CFT COPE cards, or coalition endorsements. She looked to see whether or not my name or the CFT's name was listed in support or in opposition to a candidate and/or an issue, and she would act accordingly.
The responsibility of leadership is to see that all sides of all issues are considered, and that a democratic decision is reached and carried out by the officers. Further, each local should work through its AFL-CIO Labor Council in a reciprocal manner.
The activity of embracing social justice, as a real goal of the Union, demands an enlightened leadership with the skin of a rhino and the nerves of a Mississippi riverboat gambler. This month's issue of the "California Teacher" is a perfect example of the balance that our state union follows. If you adhere to this concept of unionism, you will never be at a loss as to what the Union should do between strikes.
Thank you.