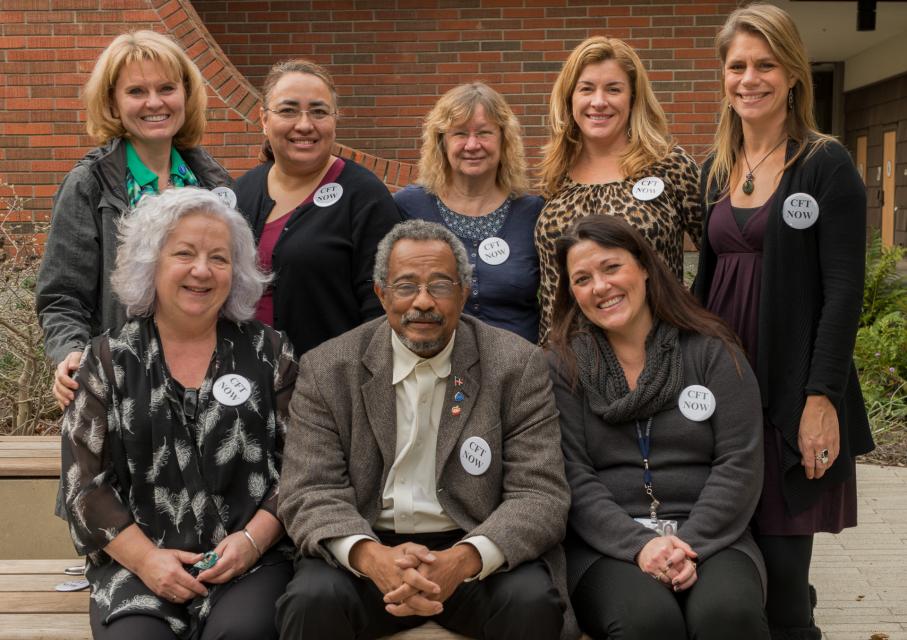 Citing disrespect by their district and low pay as motivation, more than 90 percent of faculty at the West Valley-Mission Community College District casting ballots in the November 19 representational election chose to affiliate their previously independent union with AFT/CFT.
"I remember when our Association of College Educators was a well-run independent organization," said Ann Marie Wasserbauer, who has taught ESL at West Valley College in Saratoga, one of the district's two campuses, for 20 years. "But we haven't had a raise in 12 years. A lot of us have to take extra classes or overloads. I teach piano on the side, and I'm not the only one with a second job. People are putting off retirement because of the low pay level, and this year we had 50 applications for professional growth and development, because that's the only way to get a raise."
"The negotiations became very secretive," says Mel Pritchard, a 10-year instructor of history and department chair at West Valley. "The contract never really gets settled, and it's one of the worst I've ever seen.
"I've been a long-time trade unionist," Pritchard explains. "When I got the job teaching history here, I'd hear people complaining about ACE. If I told them to take their problems to the union, they'd say, 'Why bother? They won't do anything.'"
When Pritchard was elected to the ACE governing council in 2010, he and others who wanted a more effective union brought in AFT/CFT members from nearby Evergreen College to talk with local faculty. "It fell on deaf ears," Pritchard sighs. But when West Valley-Mission administrators demanded a 9 percent salary cut at the height of the financial crisis, the district's teachers got scared. Eventually, with the passage of Proposition 30, the district backed off.
Then the San Jose/Evergreen district negotiated a new contract that sounded good to West Valley-Mission instructors. "People began saying they needed some labor support," Pritchard says. "I told them we'd have to become a movement if we wanted some change, and put on an organizing drive."
Pritchard, Wasserbauer and others met with organizers and planned a series of actions to affiliate ACE with the Federation. They chose pro-affiliation candidates to run for the ACE council and collected 150 signatures on a petition asking the council to consider affiliation. The council approved the resolution, but took no action. "Some of them were really opposed to it all along," Wasserbauer says.
"I got the bug, though," Wasserbauer laughs. "And doing something was better than just griping. So at the start of the fall semester, we set up tables and a lot of people came by to ask questions."
The organizers used a format like speed dating: West Valley faculty sat at tables while the AFT/CFT faculty from surrounding districts went from table to table talking about the benefits of AFT/CFT affiliation on their campuses.
"I learned basic organizing skills," Wasserbauer says, "like collecting peoples' non-work email addresses and plugging enthusiastic people into our work."
With the help of the two newly elected members, the ACE council finally held an affiliation advisory vote. On October 24 the count revealed more than 90 percent of faculty in favor of affiliation. This led to the formal ballot in November. Finally, on December 4, the ACE council voted to make affiliation effective immediately.
A transition committee met with CFT representatives in December to work out the affiliation agreement and to rewrite the constitution.
The newly affiliated union is currently facing tough negotiations and will need to develop a contract campaign soon. "We need people who are trained," Wasserbauer says. "So we have a big job to educate everyone, but we're up for the challenge."
— By David Bacon, CFT Reporter