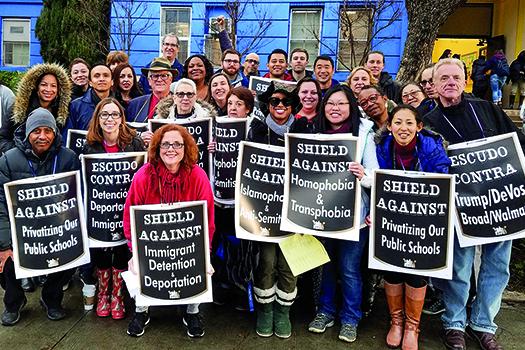 Members shift into high gear to protect immigrant students and communities
> Protecting Our Students: Resources for educators, students, and families impacted by immigration actions
Last fall, Olga Shewfelt took a group of her West Los Angeles College political science students to the border town of Nogales, Arizona. Some of her students are part of the Obama administration's Deferred Action for Childhood Arrivals. This was during the end of the presidential campaign and, along with saying he would build a border wall with Mexico and deport undocumented immigrants, Donald Trump talked about ending DACA, which allows people who came to the country as minors to get a work permit.
When Trump won in November, Shewfelt, a member of the Los Angeles College Faculty Guild, saw the level of fear among her students ratchet way up, and in response she authored a resolution to create a sanctuary for them on campus. The local unanimously passed it with backing from faculty, students and community members.
"People are fearful and constantly worrying and it's impacting their studies," said Shewfelt, who is also union chapter president at the West L.A. campus. "It's been wonderful to gather the support of everyone and build another ring of safety around the students."
Local President Joanne Waddell is proud that the union supports shielding student information from federal officials. She said they are asking the board of trustees to pass a sanctuary resolution, which will bring more attention to the issue while showing students that faculty and staff are on their side.
"Our students deserve better," she said. "This is taking the promise of America away from them in a way we believe is morally unconscionable. We want our students to know first and foremost that we will protect them and their families. This is a lot of lives we're talking about."
At Los Angeles Unified, the second largest district in the nation, and serving a large population of undocumented students, United Teachers Los Angeles is on the cutting edge, says local Treasurer Arlene Inouye. The mayor, the police, and the school board president all say they support safe zones and won't cooperate with Immigration and Customs Enforcement.
UTLA has been working with community organizations and setting up centers to share information about DACA at high schools, Inouye says. The day before the inauguration, the union joined forces with the Alliance to Reclaim our Schools, and 400 schools protested President-elect Trump's policies. People carried signs in the shape of shields, protesting homophobia, deportation, and Betsy DeVos, the new Secretary of Education, who has never attended or worked in a public school and uses her billions to fund charters.
In the Bay Area, the Berkeley Federation of Teachers quickly passed a resolution to show their support for undocumented students, which the school board then adopted as policy. The district's mission statement promises safety, but many of her students don't feel safe, says Rosa Guzman, an English teacher at Berkeley High School.
"How do they analyze a poem when all they want to talk about is what's going to happen to them?" she asked. "The district policy makes them feel a little better, but our president signed seven executive orders in 10 days."
Guzman, who became a teacher to help people like her undocumented mother, says to learn critical thinking skills, she has her students read the orders on the White House website once a week.
"We're going to the primary source. To me that's a form of resistance," Guzman said. "Let's put aside the division between conservatives and liberals and ask 'what kind of nation do you want to live in?' I want to live in a nation where every student can get an education."
Berkeley High Spanish teacher Susi Lopez says the policy reassures students, and she hopes it will become a national model.
"We have a very supportive, compassionate, well-informed union with active members who understand the gravity of the situation," she said. "We want to be on the forefront of preventing ICE from having any information about students."
Jocelyn Foreman, a family engagement and equity specialist at two elementary schools and member of the Berkeley Council of Classified Employees, supports that. A little boy from Yemen reminds her how important that is.
"Whenever a siren went off from the Lawrence Hall of Science, he used to drop down and scramble along the ground," she said. "We need to make school a safe place. And it has to stay that way."
It's not just urban centers like L.A. and Berkeley that are concerned about safe havens. At Yuba College in the Sacramento Valley, where farm crops include rice, peaches and almonds, the executive board of the union passed a resolution to create a sanctuary campus.
Neelam Canto-Lugo, a speech teacher and representative of the Yuba College Federation of Teachers on the Marysville campus, said while white students are in the majority in the district, the student body includes Latinos, Punjabis, and Hmong. Many of her neighbors are concerned about Trump's statements and actions on immigration.
"Some people are worried about losing federal funding," she said. "But we need to take a stand and show we support our students at any cost. What are we without our students?"
The nearby Los Rios district also passed a sanctuary resolution in collaboration with the faculty union, the Los Rios College Federation of Teachers. Bill Miller, a chemistry teacher at Sacramento City College and a Building Power 
organizer there, says they got funding from the board of trustees for a workshop series to educate people on immigration policies. The first session helped faculty understand how to support students and the next two will have an immigration lawyer on hand to answer questions.
"The union should be as proactive as possible to support faculty, staff and the community," Miller said. "We've gotten people out to events and we're working to get faculty more involved."
President Trump's executive order to temporarily ban refugees and people from seven poor, predominantly Muslim countries spurred thousands of people across the country to protest. Among them were lawyers offering assistance.
Holly Cooper, a lecturer member of 
UC-AFT Davis and co-director of the campus Immigration Law Clinic, was with her children and couldn't make it to the airport. But she went into the office with them and some students and alumni. There they collected information from other students and alumni at the airport and used it to write habeas petitions for the people being detained.
Cooper, who has practiced immigration law for 20 years, had never seen anything like this.
"People were blindsided and not given a fair hearing or access to a lawyer, and it hit a raw nerve," she said. "People were behind us. It's the first time in my legal career I'm witnessing a legal injustice, and I'm hearing people on TV chanting about it. At one point they were saying, 'Let the lawyers in!' So it was unexpected — the harshness of the order coupled with people supporting immigrant rights."
UC-AFT Santa Cruz faculty wanted to make their support for immigrant rights clear. Lecturer Chris Gray wrote a resolution for UC-AFT on Trump's immigration actions. The purpose was to show solidarity with the students — and to go a little further.
"We wanted to comment on the illegality of the Trump administration in the White House and his racist, discriminatory, small-minded policies," he said. "We've been working for years to build solidarity with the communities under attack."
Gray too believes in proactive unions that support schools and diverse communities.
"We are in unions not just for a better paycheck. We want a better world."
— By Emily Wilson, CFT Reporter