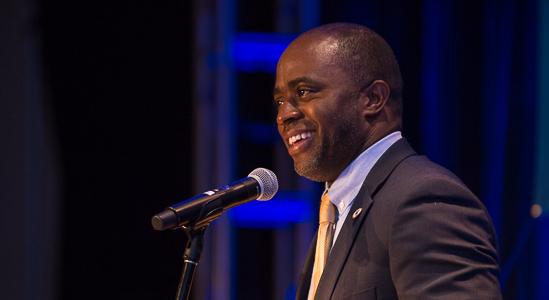 A couple of days after his speech at the CFT Convention in Sacramento last year, Assemblymember Tony Thurmond (D- Richmond) announced his candidacy for state superintendent of public instruction. He regrets not announcing at the Convention, Thurmond told delegates, who waved blue signs in his support.
"I gave the speech that launched my candidacy to a bunch of administrators," Thurmond said. "Nothing against administrators, but they ain't you."
Before Thurmond spoke, El Camino Classified Employees President Luukia Smith told delegates that she considered it a "rainbow and unicorn" day when someone asked her what she did at El Camino College rather than what she taught.
Thurmond said in his speech that she had just taught him to do that. He also mentioned the president of the Berkeley Council of Classified Employees, Paula Phillips, and Elaine Merriweather, treasurer of United Educators of San Francisco, and all their support for him over the years before he became a state legislator and served on the Richmond City Council and the West Contra Costa Unified School Board.
Thurmond said they had known him so long, they knew all his jokes – like that his family ate so much government cheese growing up, that he thought USDA was a brand name.
He constantly sees school support staff going beyond their job descriptions to look out for students. Thurmond mentioned, for example, a group of custodians who started a program to make sure that their school's hungry kids – like Thurmond was – are getting fed. Thurmond said he volunteered with them – making the mistake of wearing a snazzy suit like the one he had on at the Convention – and was tired and sore that night.
"Every student was greeted with love and care and concern," he said. "It takes such a diverse family of educators to support 6 million students in California. l am honored to be endorsed by you."
Thurmond told the attendees about his father, a veteran who left his family, and about his mother from Panama who died of cancer when he was a kid. A cousin in Philadelphia took him and his younger brother in. She was a nurses' aide and a strong union supporter, and Thurmond marched on picket lines with her as a youth. She insisted he and his brother and her sons got the best public education possible.
"When she got her community college degree, she was creating an expectation that higher education would matter – she was sending a message that the opportunity to get an education can change your life," he said. "It changed my life, and it saved my life. I was raised by you and supported by you, and please hear my thank you."
When he was asked to teach high school students, Thurmond said he chose to teach in a juvenile detention center, and he brought in an Apple computer to teach coding. Kids should not have to be incarcerated to learn coding, Thurmond said, who told the CFT that he was particularly proud of introducing a bill that would tax private prisons to fund preschool and after-school programs. He has also introduced bills for more affordable housing for teachers and classified staff and to close for-profit charter schools.
"When our president says the way to keep our students safe is to give educators guns, we need politicians with a backbone to say we need real gun control and mental health counseling and more psychologists, and more social workers and nurses," Thurmond said to cheers from the audience.
The way to a better life is though education, Thurmond said, and as state superintendent, he wants to make sure everyone, including low-income students like he was, has the opportunity to get a great education.
"It makes a big difference," he said. "Think how easily I could have ended up in a California state prison. Instead I ended up in the California State Assembly."