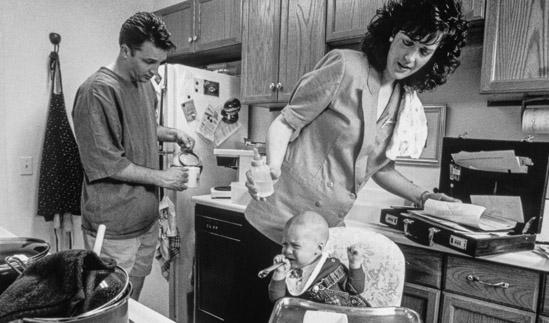 KNOW OUR HISTORY
Okay, educators, here's a pop quiz: Micronesia, Nauru, Palau, Papua New Guinea, Surinam, Tonga, and the United States. What do these countries have in common? The answer is that not one of these has a national paid maternity leave law. Every other nation in the world — 180 of them — has one.
Countries in Northern and Eastern Europe offer up to a year of paid leave for new mothers. The lack of such a law in the United States clearly impacts the lives of working women and, simply put, equals job discrimination.
Even into the 1970s, women would routinely lose their jobs when they got pregnant. Many were treated as temporary workers, assumed to be in the workplace only until they got married and began to raise children. So: Get pregnant, get lost. In some places women were (and are) required to show their menstrual napkins to prove they are not pregnant.
The struggle for maternity leave in the United States began in earnest in the 1970s as women broke into traditionally male jobs in the trades and other industries. Under the leadership of Congresswoman Patricia Schroeder (D-Colorado), various AFL-CIO unions and feminist organizers, both houses of Congress passed legislation only to be vetoed twice by President George H.W. Bush.
But in 1993, the Family and Medical Leave Act was finally signed into law by President Bill Clinton. While it remains the basic federal maternity leave law, because of many restrictions, the law covers only about 60 percent of wage workers. The FMLA allows 12 weeks of unpaid leave to new mothers and new fathers, forcing women and families to save enough money to cover basic living expenses before taking three months off work.
In California, about 73 percent of teachers and 40 percent of classified employees are women. Most do not receive paid maternity leave because their employers do not participate in the worker-funded State Disability Insurance Program, which includes six weeks of partially paid (up to 55 percent of salary) leave under Paid Family Leave provisions. With the state facing a massive teaching shortage, CFT sponsored a bill that would have helped keep valued school employees in the workforce.
This fall California Gov. Jerry Brown had the opportunity to sign this groundbreaking bill into law. AB 568 would have required school and community college districts to provide a minimum of six weeks fully paid leave to certificated and classified school employees for pregnancy, miscarriage, childbirth, and recovery. AB 568 cleared the Assembly and Senate with bipartisan support and reached the governor's desk.
He didn't sign it.
In his veto letter Gov. Brown mentioned two bills that he had previously signed, including last year's CFT-sponsored AB 2393, which grants differential pay (regular salary minus the cost of a substitute) to school employees. So women often "schedule" pregnancies based on the academic year, or may have to deplete their accrued sick leave in order to have a baby. The governor also suggested that such a benefit might be funded through the State Disability Insurance program.
So the struggle goes on.
Mexico passed a paid maternity leave law in 1917. Will Papua New Guinea pass one before us?
— By Bill Morgan, a member of the CFT Labor in the Schools Committee who taught elementary students in San Francisco for 34 years