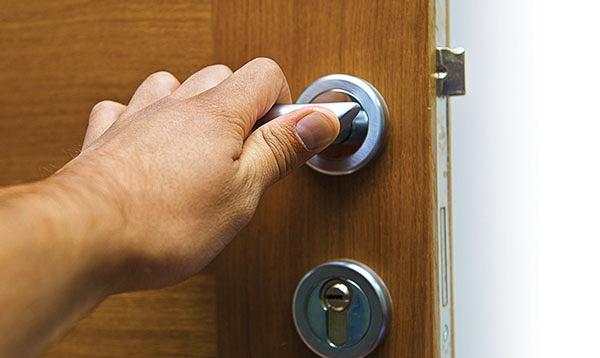 In a survey conducted by the Public Policy Institute of California this spring, 82 percent of public school parents and 73 percent of adults said they are concerned about school shootings. Another poll showed 57 percent of teenagers aged 13-17 were somewhat or very worried about a shooting in their school.
Based on numerous policy resolutions passed by member delegates, the CFT has made consistent legislative attempts to improve safety in our schools and community colleges by introducing bills to mandate security locks in classrooms and facilities on campus. Here's a recap of the progress we've made in recent years.
2010 – CFT legislation secures doorlocks for new construction of K-12 schools
The 1999 Columbine High shootings left 13 people dead and 23 wounded. In such horrific situations, schools often lock their facilities to keep students in and perpetrators out. But in many school buildings, doors where pupils and staff gather can only be locked from the outside, placing students, staff and teachers in jeopardy.
On September 30, 2010, Gov. Arnold Schwarzenegger signed into law a CFT-sponsored bill that addressed this threat. Assembly Bill 211 required all new K-12 school construction projects to include "classroom security locks" that allow any rooms with occupancy of five or more persons to be lockable from the inside.
Assemblyman Tony Mendoza, D-Norwalk, a former East Los Angeles elementary teacher, authored the bill. As AB 211 moved through the Legislature, cost was a persistent issue. The Office of Public School Construction estimated that construction costs would increase by $160,000 to $320,000 per project. CFT limited the bill to new construction and amended it to charge the cost to construction grants contained in voter-approved Proposition 1D. AB 211 passed with bipartisan support.
The security locks mandated allow teachers, teacher aides, and classified employees to lock the doors to offices, classrooms, and other rooms quickly, from the inside, without the use of a key or any special knowledge or effort.
2012 – On to community colleges and K-12 modernization projects
Mendoza authored clean-up legislation in 2012, AB 85, to also mandate security locks in new buildings at the community colleges, and in K-12 modernization projects. Citing the bill's high cost, AB 85 was held in the Assembly Appropriations Committee.
2013 – Second attempt to include K-12 retrofits
Doors that lock from the inside had been mandatory on new school construction since CFT-sponsored AB 211 became law in 2010, but some districts, citing cost, resisted retrofitting existing buildings.
Then the Sandy Hook Elementary shooting in Newtown, Connecticut on December 14, 2012, killed 20 children between six and seven years old, as well as six adult staff members. Spurred by this tragedy, a commission established to review school safety issued the key recommendation that all new or renovated buildings be required to have classroom doors that lock from the inside. Sandy Hook's doors had to be locked from the outside.
The CFT again sought to bring older facilities up to par with the newly built ones and sponsored SB 316, carried by Marty Block, D-San Diego, a former college professor.
The Senate Appropriations Committee passed SB 316, but amended it so only districts that accept federal funds or state facilities modernization funds would be required to retrofit the locks. Citing the lack of facilities bonds available for K-12 schools, and unforeseen costs due to the complications of modernization as compared to new construction, the bill was held in the Assembly Appropriations Committee.
2015 – Another attempt at K-12 and higher education
In 2015, CFT sponsored a bill authored by Assembly member Bill Dodd, D-Napa, that would have mandated inside-locking door mechanisms for K-12, community college, CSU and UC facilities, on new construction and modernization projects.
The bill passed the Assembly Education and Assembly Higher Education Committees, but stalled in Assembly Appropriations citing the lack of bond monies and high cost. The bill analysis read, "With 10,134 schools in California, the cost could reach millions, if not billions."
2018 – CFT legislation secures doorlocks for K-12 modernization projects
This year, the CFT again sponsored a bill calling for doors that lock from the inside to be installed in older school facilities undergoing modernization. The February 14 shooting at Marjory Stoneman Douglas High School in Parkland, Florida, which killed 17 students and staff members and injured 17 others, once again underscored the bill's importance.
Assembly Bill 3205 garnered broad support and passed off the Senate Floor on a 39-0-1 vote. Governor Brown signed it into law on September 14.
AB 3205 requires districts that receive state funds for modernization projects to include locks that allow doors to any room with an occupancy of five or more persons to be locked from inside the room. Democratic Assemblymember Patrick O'Donnell, a former teacher from Long Beach, authored the bill.
To qualify, the facilities must be built before January 1, 2012 and the new law applies only to projects seeking funding and architectural review as of January 1, 2019. The measure funds interior renovation, repair or modernization projects in a school building, but excludes exterior renovation of buildings, school grounds or playing fields.
The CFT will continue to pursue legislation to ensure the safety of our students and the adults who staff our schools and colleges.
> Three teachers discuss what it's like to survive a school shooting, and then return to the classroom: Don't miss these compelling interviews conducted by Slate magazine.