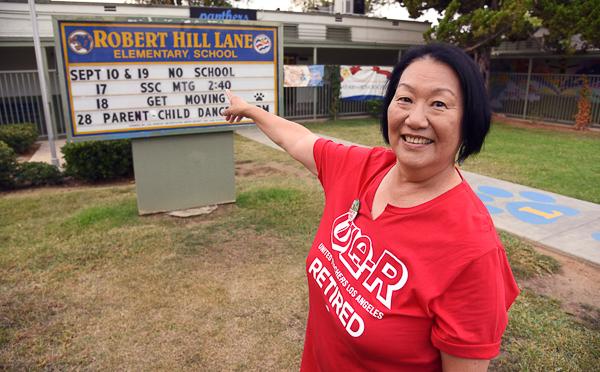 Contract negotiations between United Teachers Los Angeles and L.A. Unified were already heading toward impasse when UTLA-Retired members began to "adopt" schools to support in case of a strike.
Since then, about 98 percent of UTLA members who cast ballots authorized a strike if necessary, and state mediators have joined the bargaining. Meanwhile, the "adopt-a-school" movement continues to grow. UTLA-R members are ready for duty at more than 100 schools where they once taught, their children attended, or near where they live.
About 4,500 certificated personnel belong to UTLA-R. Their value goes far beyond the $2.38 in dues they pay monthly. Membership includes union veterans like 92-year-old Loretta Toggenburger, who walked the UTLA picket lines in 1970 and 1989.
Retiree Chapter President John Perez, also a veteran of '70 and '89 and head of UTLA during the early 2000s, has "adopted" Roosevelt High, where he taught, and Polytechnic High, where his daughter graduated.
"UTLA-R members are ready for duty at more than 100 schools where they once taught, their children attended, or near where they live."
UTLA-R Treasurer Mike Dreebin has adopted Mar Vista Elementary, which he often visited when he was UTLA elementary vice president, and still passes daily when walking his dog. Dreebin, a veteran of the 1989 walkout, has also adopted nearby Venice High School, and attends school-site strike committee meetings.
"Before," Dreebin said, "the retirees were like a little club. We weren't as politically oriented as we are now."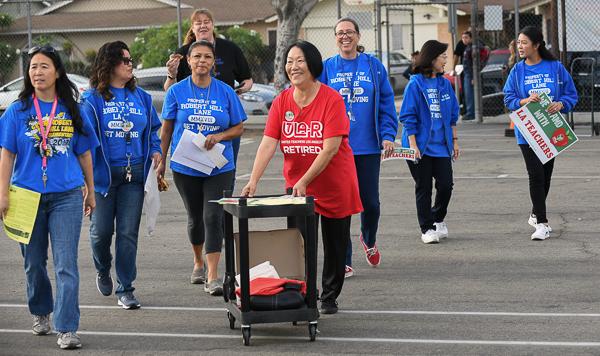 Susie Chow's t-shirt is emblazoned with "Still Fighting for Public Education." Chow, who led the union's highly lauded National Board Certification program, has adopted Robert Hill Lane, an elementary near her home. She is ready for anything from walking picket lines to babysitting strikers' children.
Teaching as a career runs through many families, adding to the "family feeling" at many UTLA activities. Chow said she maintains close relations with colleagues she walked picket lines with in 1989.
"I'm still friends with the people I went on strike with 30 years ago."
Chow added, "You can still belong to a union when you retire. I want people to know who we are and that we have a union."
Teachers and classified employees in Santa Cruz felt the same way.
Though separate AFT locals represent faculty and staff in Santa Cruz city schools, the community of retirees recently opted to form a united chapter, the Federation of Retired Educational Personnel, to represent them.
"We're all school employees," said AFT Local 9990-R interim Vice President Lizann Keyes, who had been a member of AFT Local 2030, the Greater Santa Cruz Federation of Teachers.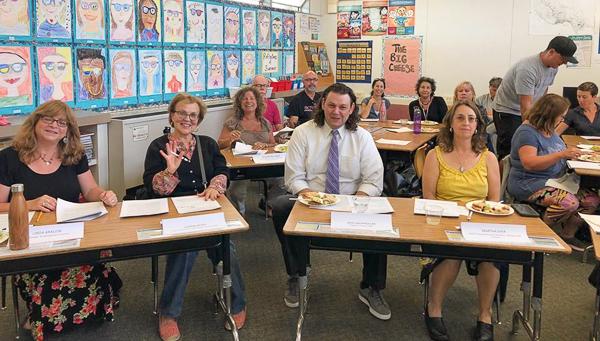 Bill Philipps, the provisional president and acting treasurer of the new retiree chapter, was a custodian in city schools for 25 years. Philipps was also treasurer of AFT Local 6084, the Santa Cruz Council of Classified Employees.
Philipps, Keyes, and activist Glenn Maynard spent three days at AFT headquarters in 2016 learning the nuts and bolts of organizing and running a retiree chapter. Since then, retirees have been building momentum, especially through this year's primary and general elections.
Local 9990-R members are fully engaged in Santa Cruz City School Board races, and taking cues from the active teacher and staff locals. For example, everyone supports candidates Jeremy Shonick – a CFT member – and Cynthia Hall Ranii.
"We retirees all know Jeremy, so of course we support him," Keyes said.
Tony Thurmond's campaign for Superintendent of Public Education is the retirees' top priority for statewide races. There is also interest in two housing initiatives on the local ballot: Measure H to authorize up to $140 million in County bonds to build housing for teachers, veterans, and the homeless; and Measure M to establish a municipal board to control rents and limit evictions.
Keyes is excited about the potential for supporting schools, such as serving as chaperones on field trips to free up active faculty and staff. Other retirees want to focus on single payer health care and other social issues, and ensuring that news of benefit changes reaches retirees.
—By Steve Weingarten, CFT Reporter
> Are Los Angeles Teachers Next?: Who's next to join the strike wave? Read the recent report from Labor Notes.