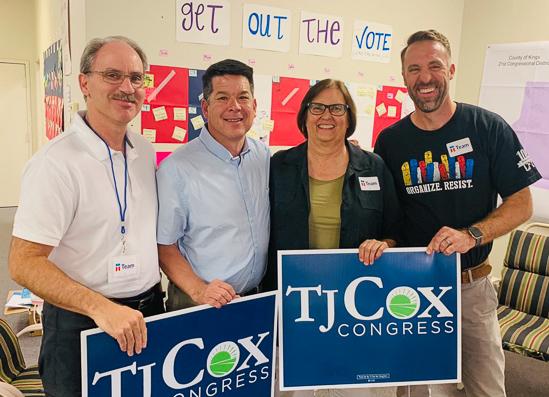 As anxious citizens watched the November 6 midterm election results, they weren't at all sure how candidates and measures would fare. Results trickled in, but many races remained too close to call for weeks.
It wasn't until December 6, a month after Election Day, that Republican incumbent David Valadao conceded the race in the Central Valley's Congressional District 21, making official the win of Democratic challenger TJ Cox. This marked the 40th seat that Democrats reversed nationwide.
California had the largest share of contests in the national "Flip the House" strategy, and the CFT worked with a broad range of progressive groups to help win a stunning seven-of-seven targeted seats in the U.S House of Representatives.
The CFT worked with a broad range of progressive groups to help win a stunning seven-of-seven targeted seats in the U.S House of Representatives.
The defeat of all Republican incumbents in Orange County, long a Republican stronghold, garnered national attention with observers announcing the fall of the "Orange Curtain." The 53-member California congressional delegation now includes only six Republicans.
The seven newly elected representatives, listed below, join a cohort of the most diverse freshman members ever elected to the U.S. House of Representatives.
TJ Cox represents a large district in the southern San Joaquin Valley (CD-21);
Gil Cisneros represents parts of L.A., Orange and San Bernadino Counties (CD-39);
Josh Harder represents the northern San Joaquin Valley (CD-10);
Katie Hill, parts of northern L.A. County and part of eastern Ventura County in CD-25;
Mike Levin, the coastal communities of northern San Diego County and far southern Orange County (CD-49);
Katie Porter represents southern interior Orange County (CD-45)
Harley Rouda represents most of coastal Orange County (CD-48)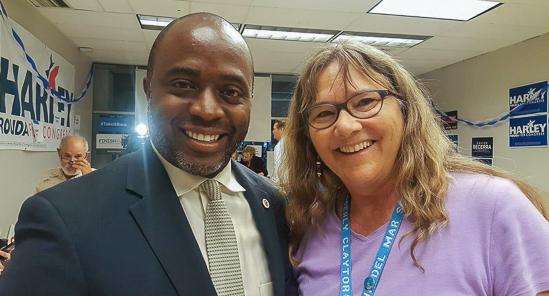 Democrats sweep state offices; voters reject attacks on revenue streams
In additional to capturing targeted congressional races, CFT-endorsed candidates won in every statewide constitutional office, including Gavin Newsom, who becomes our state's 40th governor. Democrats also reclaimed supermajorities in both houses of the California Legislature.
The most impressive victory – and the most critical for public education – was Tony Thurmond's defeat of Marshall Tuck for superintendent of public instruction. Tuck and his allies in the California Charter School Association and similar "education reform"-oriented groups spent upwards of $40 million to defeat Thurmond in the General Election.
But Assemblyman Thurmond put forth a clear message that resonated with voters – protect our public schools; support our students and educators. With strong support from educators, the labor movement, the California Democratic Party, and high-profile endorsements such as that of U.S. Rep. Kamala Harris, Thurmond ultimately overcame the enormous financial disadvantage to win the hardest-fought election of the cycle with 50.9 percent of the vote.
The "flip" continued in the California Legislature, with Democrats picking up eight previously red seats, including two in Orange County: Cottie Petrie-Norris (Assembly District 74) and Tom Umberg (Senate District 34). These victories, and more listed below, contributed to securing Democratic supermajorities in both the state Assembly and Senate:
Melissa Hurtado flipped a Central Valley Senate seat (SD 14);
Christy Smith won an Assembly seat in Los Angeles County (AD 38);
Tasha Boerner-Horvath won Northern San Diego County seat (AD 76), and;
Rebecca Bauer-Kahan won a Contra Costa County seat (AD 16).
Democrats now hold an almost three-quarters majority in the Legislature, and it will be up to groups like CFT to ensure they wield this power to fight for increased revenue for public education, student debt relief, and labor protections for all workers.
As in every election, there were some disappointments. Proposition 10, which sought to repeal 1995's Costa-Hawkins Act and would have allowed cities to enact rent control measures, fell short by 20 points. Proposition 11, which requires ambulance workers to remain on call during their breaks and sets dangerous labor standards for that industry, passed by 20 points.
But voters registered support for maintaining state revenues. Proposition 5, which would have doubled down on elements of 1978's Proposition 13 and blown a multi-billion dollar hole in the state budget, failed by a wide margin. Similarly, voters realized the need for road and infrastructure improvements and rejected Proposition 6, a conservative attempt to repeal the gas tax.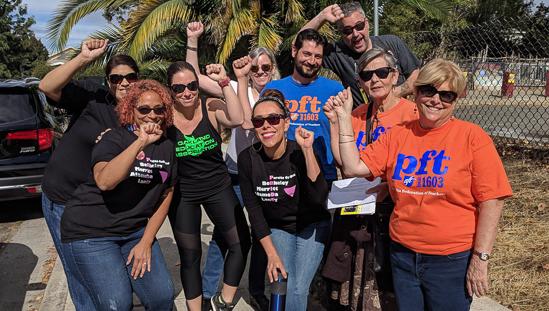 AFT local unions succeed at ballot box
CFT members once again demonstrated commitment to their school communities and did incredible work to win district governing board races and local tax measures. Several local unions won clean sweeps in their districts, electing three of three candidates in board races. These locals include the:
Petaluma Federation of Teachers;
Berkeley Federation of Teachers;
San Francisco Community College Federation of Teachers;
Jefferson Elementary Federation of Teachers in Daly City; and
Pajaro Valley Federation of Teachers in Watsonville.
In San Francisco, the K-12 local, United Educators of San Francisco, and the community college federation, collaborated to successfully elect three jointly-endorsed candidates for the San Francisco Board of Supervisors.
Lastly, several local unions helped pass parcel and bond measures in their districts to secure more revenue for their schools and students:
Measure K in the Culver City Unified School District;
Measure J in Marin County's Tamalpais Union High School District;
Measure BB in the ABC Unified School District;
Measure Y in Daly City's Jefferson Union High School District; and
Measure U in Daly City's Jefferson Elementary School District.
CFT deserves a great deal of credit for the amazing results in this exhilarating midterm election. We proved once again that "When we show up, we win."
-Jessica Ulstad, CFT Political Director