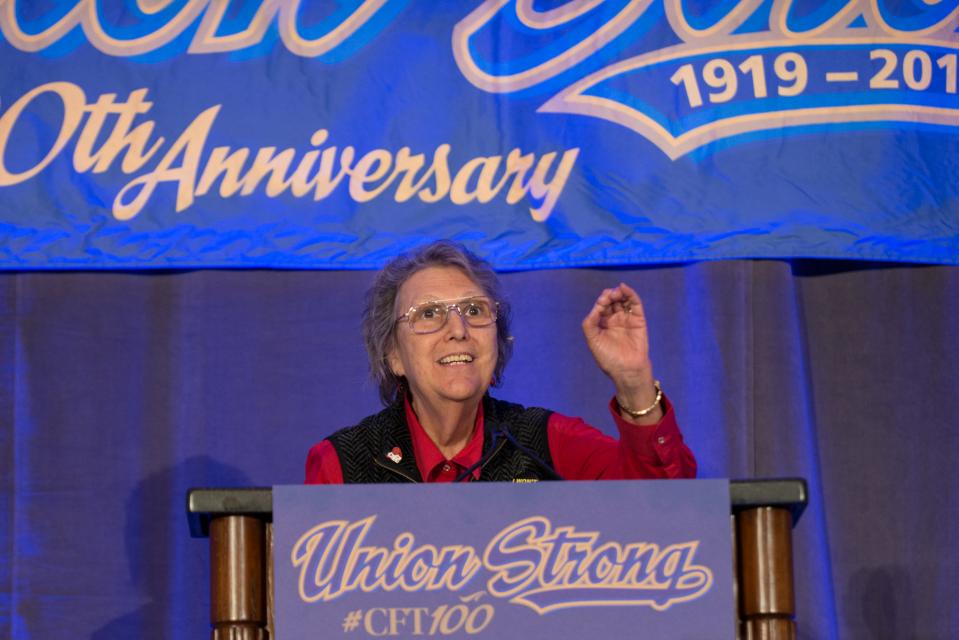 WATCH THE VIDEO: Jackie Goldberg
WATCH THE VIDEO: Bill Fletcher, Jr.
Former teacher and Assemblymember Jackie Goldberg welcomed Convention delegates to Los Angeles on March 22 and recounted an important history in the CFT's 100th Anniversary year. She talked about the need to reverse the damage of Proposition 13.
Before its passage in 1978 reduced property tax rates by nearly 60 percent, California was in the top 10 of spending per pupil – and the schools reflected that.
Goldberg, a constant presence at the United Teachers Los Angeles' six-day strike, has come out of retirement to run for a school board seat in the Los Angeles Unified School District. In the March election she received an impressive 48 percent of the vote, well ahead of the nine other candidates, making her the strong favorite in a May 14 runoff election.
The 74-year-old said probably many people in the room didn't remember the days before Prop 13 passed – but she does.
"I went to UC Berkeley and paid no tuition – nada, zero, rien, nothing. There were grants to help you live when you went to community college that you didn't have to pay back, and we didn't worry if there'd be a nurse or a counselor," Goldberg explained. "It's time to say to legislators in California, 'We have one simple message: If you don't raise taxes on the wealthy of this state, we will find a Democrat to run against you.'"
When she was out on the picket lines for the UTLA strike in January, she met people who had no idea that some schools didn't have a nurse or a counselor, Goldberg said. She encouraged people to visit their legislators to demand better.
"We are literally sacrificing a generation of children who have not had a state that is wealthy invest in their lives," she said. "The children are not part of the future – they are the entire future, and it's the role of adults to take care of the children."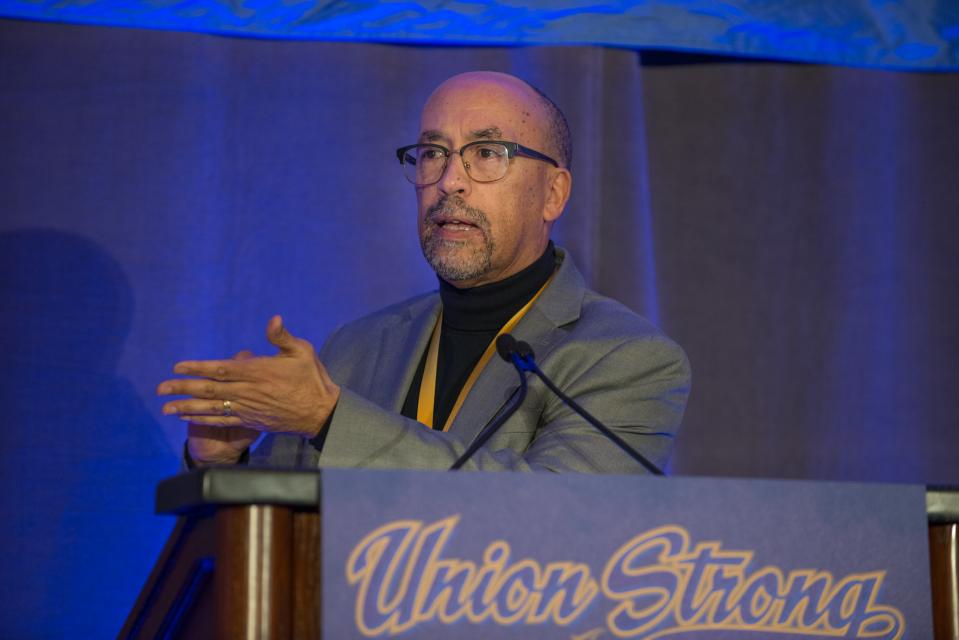 Author and labor scholar Bill Fletcher, Jr. also spoke to the delegates on Friday morning.
We're in a time when abnormality has become normal, the climate is changing, and countries are disintegrating, Fletcher said. He brought up a scene in the 1975 movie, Three Days of the Condor, when asked if he misses that kind of action, John Houseman's character responds no, he misses that kind of clarity.
Fletcher went on to talk about how All Star Major League Baseball player Curt Flood refused to go to the Phillies when he was traded, and his lawsuit went to the Supreme Court. This led to baseball getting rid of the reserve clause, which treated players like chattel. The players' union became stronger and salaries increased, but then they forgot where they came from, Fletcher said.
"They thought their salaries came, not because of collective struggle, but because they were great," he said, adding that unions like UTLA showed a different way of fighting back and keeping the issues of parents and students central.
Fletcher also contrasted UTLA's strike and organizing with the federal sector workers during the government shutdown.
"Why did they not make their issue the public's issue?" he asked. "There should have been protests day after day to say there will be no normality until we resolve this."
Fletcher noted that with the current authoritarianism and right-wing populism, we don't have endless time.
"To win, we need your energy and courage," he said. "We who stand together will never be trampled."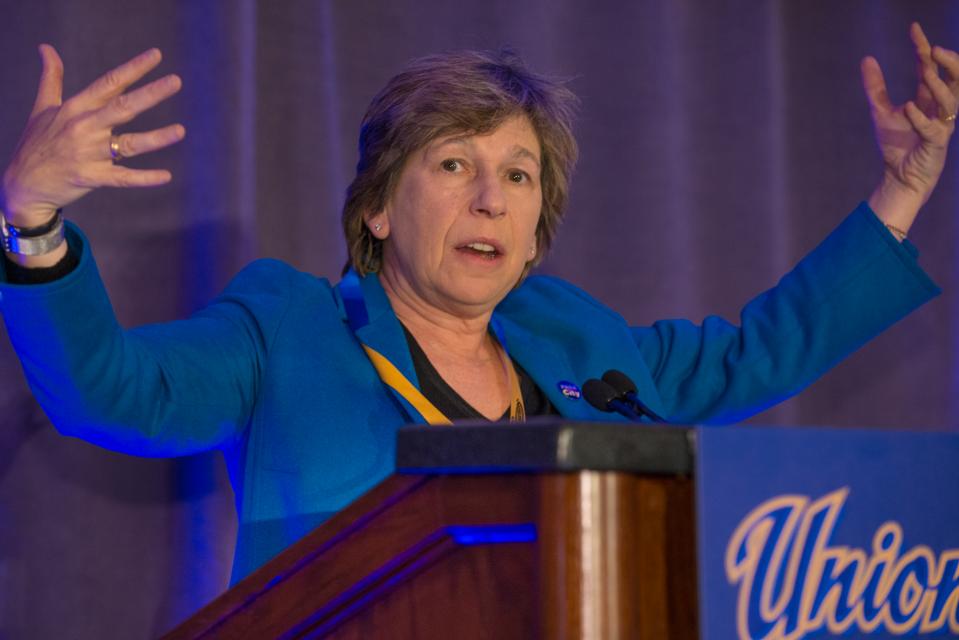 Along with Fletcher and Goldberg, AFT President Randi Weingarten also referenced the UTLA strike in her speech to delegates, saying it didn't happen magically, but like the fight for fair accreditation at City College of San Francisco, it took a lot of seeding the ground.
Weingarten said the strike has created a paradigm shift, with Los Angeles Mayor Eric Garcetti walking the line and a number of presidential candidates tweeting support for the strikers.
She also talked about some of the awful things carried out or proposed by the Trump administration, including tax cuts for billionaires and Education Secretary Betsy DeVos supporting vouchers, charter schools, and for-profit colleges.
Paraphrasing philosopher Friedrich Nietzsche, Weingarten said what doesn't kill us makes us stronger.
Unions are stronger now – thanks in part to UTLA's strike, where she couldn't walk a block without someone beeping at the strikers or coming up to offer support, Weingarten said.
Weingarten wants the next president to be someone who invests in public schools and realizes that the Statue of Liberty, not a wall on the Southern border, is the symbol of America.
"Power concedes nothing without a demand," Weingarten added. "If we can align West Virginia and L.A., we can align the whole country and make it better for all of us."
— By Emily Wilson, CFT Reporter