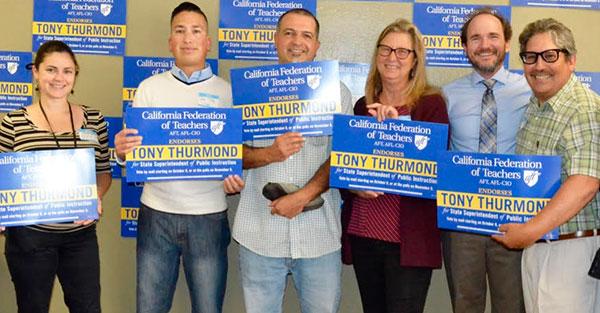 It's not every election cycle that California finds itself with critical, competitive races, but 2018 is not just any election year. California is a battleground state to take back the House of Representatives. Jerry Brown is termed out, so voters will elect a new governor for the first time in eight years. And the race for state superintendent pits charter schools against public schools.
Thurmond is the educators' choice
The most important race for California educators is the contest for Superintendent of Public Instruction. The contrast between the two candidates – both Democrats – could not be clearer. CFT, along with the Democratic Party and all of labor, has endorsed Assemblymember Tony Thurmond.
Thurmond has proven himself to be an ally of public education and of the teachers and classified employees working in our schools at every stage of his professional career — as a social worker supporting at-risk students and their families, as an elected member of the West Contra Costa Unified School Board, the Richmond City Council, and the California Legislature. His priorities are in sync with the values of educators across the state.
Thurmond agrees that for California to lead the nation, we must do more to increase revenue to schools. He will fight for greater transparency and accountability for charter schools. He shares our belief that early childhood education is essential to getting kids started on the right track and will do what it takes to support it. And he believes that our schools should be safe places for students and adults alike.
Running against Tony Thurmond is the same challenger that current Superintendent Tom Torlakson defeated in 2014 — Marshall Tuck.
"A recent op-ed in the San Francisco Chronicle highlighted the ways in which Tuck rigged the numbers in schools he oversaw to produce higher graduation rates when he served as CEO of the Partnership for Los Angeles Schools."
Tuck, a Wall Street investor and charter school operator, is supported by the same deep pockets that want to privatize and corporatize our public education system and give charter schools access to public dollars but with little provision for accountability.
A recent op-ed in the San Francisco Chronicle highlighted the ways in which Tuck rigged the numbers in schools he oversaw to produce higher graduation rates when he served as CEO of the Partnership for Los Angeles Schools. In that capacity, Tuck lowered student learning targets in order to falsely inflate graduation numbers, a move which meant that students in the Partnership were significantly less prepared for college than students in surrounding LA public schools.
The future of public education in California hangs in the balance, and we must elect Tony Thurmond as State Superintendent of Public Instruction.
Newsom is the best choice for governor
Lt. Gov. Gavin Newsom is leading in the polls and has a solid chance to be elected as the next governor of California. While the polls are favorable, the stakes remain high. Newsom's Republican opponent John Cox favors further privatization of public services from education to healthcare, and offers outdated solutions to housing affordability and transportation. We must do everything we can to ensure that this is not a close election and that Gavin Newsom assumes the governorship with a clear mandate.
Help take back the U.S. House of Representatives
California is a key battleground state in a year when progressive allies are hoping to take back the House. In November 2016, Hillary Clinton carried dozens of congressional districts across the nation but voters in some of those districts also elected, or re-elected, a Republican congressperson.
In the current effort to flip those seats from "Red to Blue," California has seven seats – more than any state in the country – in which Democratic candidates are running in Republican strongholds.
In the Central Valley, we are working to elect Josh Harder to District 10 and TJ Cox to District 21.
In Los Angeles County, we are aiming to make Katie Hill the congresswoman in District 25.
Orange County and Northern San Diego County are truly in the eye of the storm, as we try to flip four seats by electing Gil Cisneros in District 39, Katie Porter in District 45, Harley Rouda in District 48, and Mike Levin to District 49. Two years ago, Orange County favored a Democratic presidential candidate for the first time since Franklin Delano Roosevelt carried the county in 1936. So the tide is turning and the task before our progressive community is not an impossible one.
CFT takes positions on key statewide ballot propositions
Several ballot measures directly affect teachers and classified employees and the communities in which they live and work.
Yes on Proposition 10: CFT has joined with many community partners to strongly support Prop 10, The Affordable Housing Act, which would repeal the Costa Hawkins Act of 1995 and allow cities to enact their own rent control measures. Skyrocketing rents across the state have forced middle- and working-class families to seek housing further and further away from their jobs and the conveniences of daily life. This affordability crisis has also exacerbated gentrification and displacement and contributed to homelessness. Passing Prop 10 would be an important step towards addressing this crisis and would give cities the local control needed to create local solutions.
No on Proposition 5: This measure doubles down on 1978's Proposition 13 by freezing property taxes for some individuals, with virtually no restrictions. The nonpartisan Legislative Analyst's Office has found that, if passed, Prop 5 would leech $100 million dollars from the state budget in the early years and, over time, that figure would balloon to as much as a billion dollars annually. This loss of revenue would result in devastating cuts to vital public services including public education, police and fire services, and healthcare. Prop 5 is supported by the California Realtors Association and is largely a giveaway to those who already benefit from current laws governing property taxes. California cannot afford to lose this revenue.
No on Proposition 6: This measure seeks to repeal 2017's so-called "gas tax," which the California Legislature passed with a two-thirds vote in the Road Repair and Accountability Act. The revenue created by the gas tax is vital, and the move to place a repeal on the ballot is a cynical ploy by anti-tax conservatives to overturn a democratic vote taken by state legislators. Prop 6 would also require all similar votes taken by the state Legislature that call for new taxes and fees to be placed on the statewide ballot.
No on Proposition 11: If passed, Prop 11 would make the labor law that entitles hourly employees to take work breaks without being on call inapplicable to private sector emergency ambulance employees. While this may seem limited in scope and not relevant to public education workers, any measure that chips away at the labor rights of any particular group of workers sets a dangerous precedent and paves the way for attacks on worker rights.
— By Jessica Ulstad, CFT Political Director
> Get endorsements on your device from our online voter guide. Simply enter your home address to find endorsements tailored to your local ballot. Now in English and Spanish.
> In our election toolkit, you will find everything you need to get out the word about the union's endorsements.