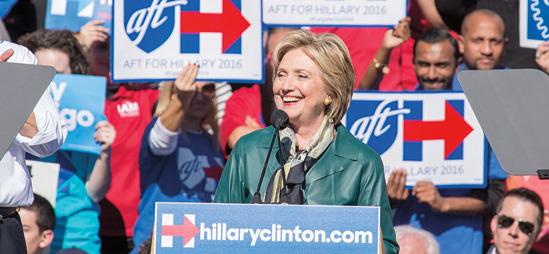 The AFT and the CFT have endorsed Hillary Clinton for President of the United States in 2016. In vision, experience and leadership, she is the candidate working people need in the White House.
Clinton is a tested leader who has fought for the issues most important to AFT members and our communities as a U.S. Senator from New York with a 100 percent AFT voting record, and as U.S. Secretary of State.
As president, Clinton will fight to ensure a stronger, fairer economy that works for everyone, not just those at the top, while advancing racial justice and equity for all. She will fight for strong public schools; to make higher education free for more students; to safeguard our retirement security; to keep public services public; and to protect and build on the Affordable Care Act. She will safeguard the right of strong unions to bargain collectively.
Clinton will be an advocate for equality. She has fought for women and girls — in the workplace, at home and abroad. She will work to strengthen middle class families by increasing wages and fighting for family-friendly policies like paid family leave, paid sick days, and affordable child care.
» The CFT urges your vote for Hillary Clinton.
Kamala Harris for U.S. Senate
For the first time in 24 years Californians will fill an open U.S. Senate seat and the CFT has endorsed Attorney General Kamala Harris for that office.
As the state's top attorney, Harris has taken the lead on issues important to educators, working to reduce elementary school truancy and set young students on the path to educational success. She created the Bureau of Children's Justice to protect our state's youth. And she fought the big banks during the foreclosure crisis to defend our communities.
As San Francisco District Attorney, she worked closely with United Educators of San Francisco to tackle the problem of absenteeism.
As U.S. Senator, Harris will seek stable funding for early childhood and K-12 education, affordable child care for working people, and early childhood education for all kids. She advocates for collaborative learning environments that respect educators' expertise, and providing services that meet the social, economic, and health needs of students.
In higher education, Harris supports making community college free to California students, increasing the size of Pell Grants, lowering tuition at public universities, and ending the predatory practices of for-profit colleges.
» The CFT urges your vote for Kamala Harris.