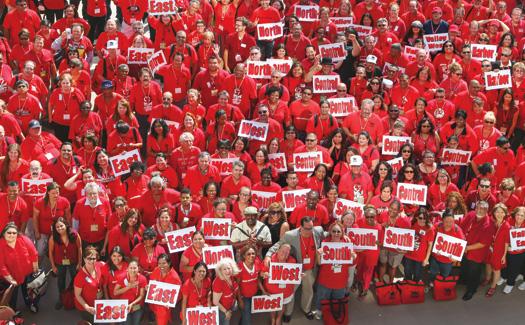 California's largest union of K-12 teachers pens historic merger agreement
Eager to commit unprecedented resources to the expansion of unregulated, non-union charter schools, billionaire privatizers have declared war on public education in Los Angeles, with the goal of moving half of LA's students out of the district and into charters.
To face this attack, the members of United Teachers Los Angeles voted overwhelmingly to support a strategic plan, dues increase, and a full merger of the two state and national unions at the local level.
About 34,000 teachers are employed at more than 650 sites in Los Angeles Unified, the largest K-12 district in the state and second largest in the nation. Under the merger agreement, all teacher members of UTLA will be affiliated with the CFT and the AFT, as well as the California Teachers Association and its national affiliate, the National Education Association.
"This historic merger builds our united power to fight the billionaires who want to dismantle public education," said Josh Pechthalt, who was UTLA's AFT Vice-President before being elected CFT President. "And brings the benefit of belonging to the AFT to more teachers in Los Angeles."
United Teachers Los Angeles is the largest of three merged education unions in California. The other two are the 6,000-member United Educators of San Francisco and the 340-member Paso Robles Public Educators on the Central Coast.
The new merger agreement articulates the expectations and corresponding fiscal implications for all parties, and in a revenue-neutral agreement, preserves the integrity of each affiliate based on the framework contained in the Guidelines for Mergers of NEA and AFT State Affiliates.
"This historic merger builds our united power to fight the billionaires who want to dismantle public education."
— Josh Pechthalt, CFT President and former UTLA AFT Vice President
The merger is one component of the major restructuring UTLA members overwhelmingly approved in February. Previously, new teachers in Los Angeles had to choose between joining the CFT/AFT or the CTA/NEA, or pay double dues. New teachers will automatically be members of all four affiliates for dues equivalent to those of only one affiliate. Members approved a dues increase including a "pass through" mechanism for the state and national dues.
Members will carry both AFT and NEA membership cards and have access to a greater array of member benefits and programs. Through the AFT membership, members are also eligible for benefits from the AFL-CIO and expanded participation in the broader labor movement.
UTLA has already targeted key priorities including funding strategic research, a public media campaign to amplify the union's voice on public education issues, and more union support at the school sites.
The CFT warmly welcomes all teacher members of United Teachers Los Angeles into the Federation!
— By CFT Staff