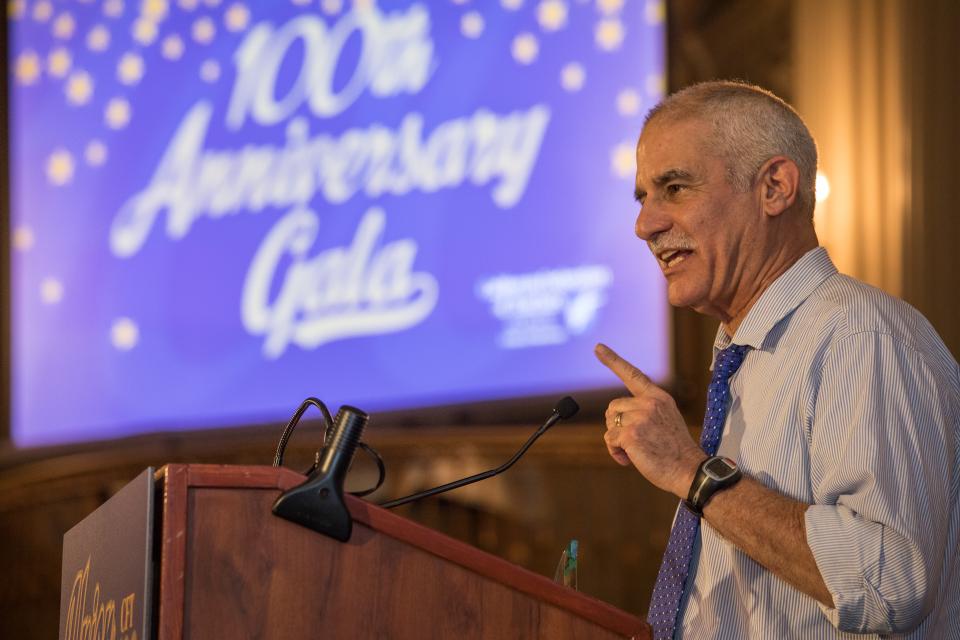 AFT Local 2121 member and former CFT Communications Director Fred Glass presented retiring CFT President Joshua Pechthalt with the CFT's highest honor, the Ben Rust Award. Glass called Pechthalt, who was AFT vice president of United Teachers Los Angeles before being elected CFT president in 2011, an organizer, a trade unionist, and a fighter for social justice like Rust.
Glass recounted an incident showing who Pechthalt is and how in 2012 he didn't give up when most of the state's labor leaders urged him to abandon the Millionaires Tax and to go with what Glass called Gov. Brown's "loser ballot proposition." Brown finally agreed to merge his flawed measure with the Millionaires Tax, which became Proposition 30. The new initiative included most of what the CFT wanted.
But that still wasn't what Glass thought crystallized Pechthalt's leadership. The story he told was about Pechthalt going to address an Occupy meeting, when almost all of the participants were furious with the union as a whole, and Pechthalt in particular, seeing him as a sellout for working with the governor.
"By no means did he convince everyone in the room, but I heard how impressed they were Josh had volunteered to come into the lion's den and face their wrath," Glass said. "That's who he is – a leader who thinks like an organizer and is genuinely curious and makes an effort to persuade, so people might be brought within the circle. The story also reveals his courage, which is necessary for a leader who is interested in making the world a better place. For Josh, it's never been about him – it's always been about building a movement."
Presenting Pechthalt with the award, Glass stressed his bold leadership, sincerity, and abiding sense of humor.
Pechthalt displayed that humor, telling the crowd that they should always plan their retirement when the organization is celebrating its 100th Anniversary because they'll get lots of extra things.
Then Pechthalt thanked people who had come to the gala and talked about how Ben Rust had defended blacklisted teachers, like Pechthalt's uncle.
"I'm completely honored by this award," Pechthalt said. "It's magnificent being a union leader or any kind of leader – you get all the acclaim, while other people are doing the work."