The CFT is boycotting office supply retailer Staples at the request of the American Postal Workers Union, which is opposing a no-bid sweetheart deal between the U.S. Postal Service and the giant office supply retailer to operate postal counters in Staples stores. An estimated one-third of Staples' revenues come from the sale of school supplies, many purchased by teachers and other school employees for classrooms.
"These no-bid contracts point to a dirty deal," said CFT President Joshua Pechthalt. "By the simple act of asking our members and educators across the country to buy their school supplies elsewhere, we put postal service management and a profit-seeking corporation on notice that the quality of mail delivery is not for sale."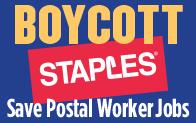 Last fall, the postal service announced that postal counters would open in 82 Staples stores in four states, 29 of them in California. The postmaster general has announced his intention of expanding the Staples partnership to 1,500 Staples locations nationwide following the trial period. The APWU sees this Staples "pilot" as the first step in privatizing retail operations of the U.S. Postal Service and eliminating local public post offices.
"The consumer will suffer." Pechthalt said. "A lack of postal training means less mail security and worse service, without any cost savings for the consumer."
Staples workers — earning minimum wages and meager benefits — will staff the in-store postal counters, rather than uniformed postal employees paid a living wage. Staples sales clerks receive little training and are not required to have a background check or take an oath before handling U.S. mail. Staples also has a high rate of employee turnover.
"This is the people's post office, and the people have choices," said Pechthalt. "We want to send a clear message to the U.S. Postal Service and Staples that we value public service. Our members have choices where to buy school supplies, and we won't shop at Staples as long as it operates postal counters without professional postal workers."
CFT has long been opposed to the privatization of public services in schools, colleges and other public institutions, especially when the contractual terms between the government agency and the private contractor are cloaked in secrecy. The CFT Executive Council passed the resolution on April 28, and it calls on the CFT to introduce a similar resolution at the AFT Convention in Los Angeles this July. — By CFT Staff
>Learn more about APWU's Stop Staples Campaign.
Learn more about the boycott
> Download the flyers
- What's Wrong With This Picture?
- U.S. Mail is Not for Sale
> Download the resolution passed by CFT.
> Learn more about APWU's Stop Staples Campaign.