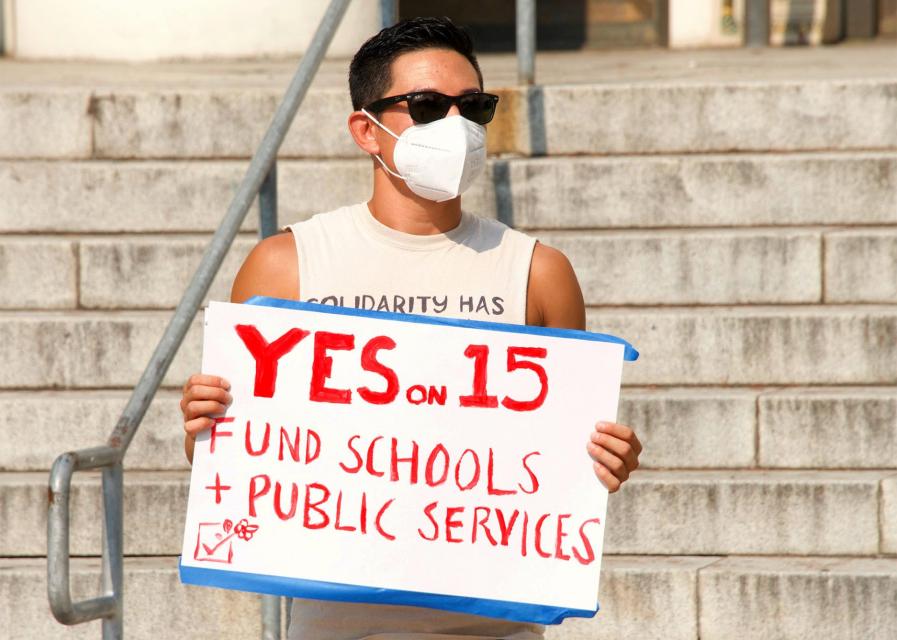 Over the past 40 years, disinvestment in public education has caused California to fall from one of the top states in per pupil spending to one that ranks near the bottom.
The California Schools & Local Communities Funding Act would raise up to an estimated $12 billion every year for schools and local communities by ending the unfair system that allows a fraction of the wealthiest commercial and industrial property owners to avoid paying their fair share in taxes.
THE PROBLEM — Massive, chronic disinvestment in public education because corporations haven't been paying their fair share.
In 1977, the year before California changed how it collects commercial and industrial property taxes, California was 7th in the nation in per pupil spending. Two years later, the state dropped to 18th. By the 1980s California had fallen below the national average and we have never recovered. Even during the economic boom of the 1990s, California remained behind the national average in per pupil spending.
This funding gap worsened during the Great Recession, and was never made up, even after the revenue boost provided by 2012's Proposition 30 and its extension, 2016's Proposition 55. Compared to other states, California funds public education at a level similar to Texas, even though the cost of operating a school in California is more similar to that of New York. In 2014, New York's investment per pupil was double the amount of California.
Today, California ranks near the bottom in spending per pupil and staffing ratios for teachers, guidance counselors, librarians, and administrators. Even more concerning, after 40 years of bare-bone budgeting, the impact on students of color, who disproportionately experience poverty and linguistic and social isolation, has been especially devastating.
The third grade math proficiency rate is significantly lower for students of color and low-income students: While the state average is 50%, the proficiency rate is 30% for Black students and 40% for Latino students. Similarly, it is 38% for economically disadvantaged students.
The third grade English language arts proficiency rate is also significantly lower for students of color and low-income students: While the state average is 49%, the rate is 31% for Black students and 38% for Latino students. Similarly, it is 37% for economically disadvantaged students.
THE SOLUTION — Prop 15 will restore critical funding for California's schools and community colleges
The California Schools & Local Communities Funding Act will provide up to $4.6 billion in new revenue for K-12 schools and community colleges across the state.
But Prop 15 is not just about dollars — it is about giving every student, family, and generation the opportunity to succeed. Despite boasting the 5th largest economy in the world, California ranks 39th in the nation in per pupil funding and near the bottom in the number of students per teacher, guidance counselor, and librarian. Prop 15 can help reverse the decades of disinvestment experienced by California's children and families by restoring billions every year for our schools and community colleges. Join our growing movement!
Below, you can see how schools and community colleges will benefit by passing Prop 15.
K-12 SCHOOLS
This reform will provide schools with up to $4.1 billion in new revenue every year. To ensure the new revenue supports public education in a fair and equitable manner, the measure includes three key elements:
New revenue will add to existing state funding.
The measure treats new revenues for schools as additional to what the state is currently required to provide. The state's General Fund support would not be changed, as would have been previously required under Proposition 98 (passed in 1988).
New revenue will be disbursed across the state equitably, based on student need.
By pooling new revenues into a statewide special fund — the Local School and Community College Property Tax Fund — and then allocating it to school districts across the state based on the Local Control Funding Formula, additional funding will be distributed equitably and provided for low-income students, English-learners, and foster youth. This balances out county to county variability in commercial properties that would be reassessed, and supports rural communities and other communities in need.
New revenue will support basic aid school districts that are funded by local property taxes, but that currently receive no money from the LCFF.
Basic aid districts, which are often in the wealthiest communities and already receive sufficient property taxes to meet the state's target funding level, will receive what they previously received from their local property tax base. In addition, the Schools & Communities First measure specifies that these districts will receive an additional $100 per student, a minimum that all districts will receive over and above current revenue.
How does California's support for K-12 education compare?
Rank
CA
U.S.
Spending per student
Spending per pupil adjusted for cost-of-living (2015-16)
39
$10,281
$12.756
Staffing ratios
Number of pupils per teacher (2018-19)*
50
21.6
15
Number of pupils per guidance counselor (2015-16)
50
685
436
Number of pupils per librarian (2012-13)+
51
7,834
997
Number of pupils per administrator (2015-16)
48
295
189
Note: All staffing figures reflect California Budget & Policy Center calculations. Staffing ratios are based on average daily attendance. *Data are estimated. +Includes the 50 states and the District of Columbia.
MORE FUNDING HELPS NARROW ACHIEVEMENT GAP
New research shows that funding targeted to high-need students is an effective strategy to narrow achievement gaps and reduce poverty.
A $1,000 increase in per pupil spending in grades 10-12 leads to an average 5.3% increase in high school graduation rates, on average, among all students. (6.1% increase for low-income students, a 5.3% increase for Black students, and a 4.5% increase for Latino students).
Studies show a 20% increase in per pupil funding for low-income students leads to a 25% increase in earnings and a 52% increase in family income, thereby making targeted investments earlier ever so important.
COMMUNITY COLLEGES
Serving 2.5 million students, California's 115 community colleges are our engine of economic and social mobility and a vital resource for closing our educational achievement gap and creating opportunity for everyone here. Nearly 50% of community college students are either Latino or Black. Over 40% are the first in their families to attend colleges.
Community colleges will also benefit from the California Schools & Local Communities Funding Act by gaining $506 million in new revenue annually. While tuition is now free for two years for first time students enrolled full-time, the system continues to face funding challenges that will prevent the state from having an adequately prepared workforce.
This new revenue could simply create more than 140,000 additional slots in the system, especially as the system prepares to retrain workers dislocated by the COVID-19 pandemic. Or it could be used to address a number of other critical needs including technology upgrades and modernization, student housing and food insecurity, and the special educational needs of so many students.
The needs of returning students — often those attending to retrain and gain new skills — require more attention and resources. High-needs regions of the state are also not being served adequately. This all means that California will soon be facing a shortage of educated workers, which could contribute to us losing our competitive edge.
KEY FACTS ABOUT COMMUNITY COLLEGE
Student Success
7 in 10 of nurses in California receive their training at a California community college.
Nearly half of students earning a bachelor's degree from a UC campus in science, technology, engineering and mathematics transferred from a California community college.
29% of UC graduates and 51% of CSU graduates started at a community college.
Return on Investment
The California community colleges are the largest provider of workforce training in the nation.
California taxpayers receive $4.50 for every $1 invested in students who graduate from a California community college.
Students earning a degree or certificate from a California community college nearly double their earnings within three years.
Attending a California community college nearly doubles the chance of finding a job compared to those who did not complete high school.