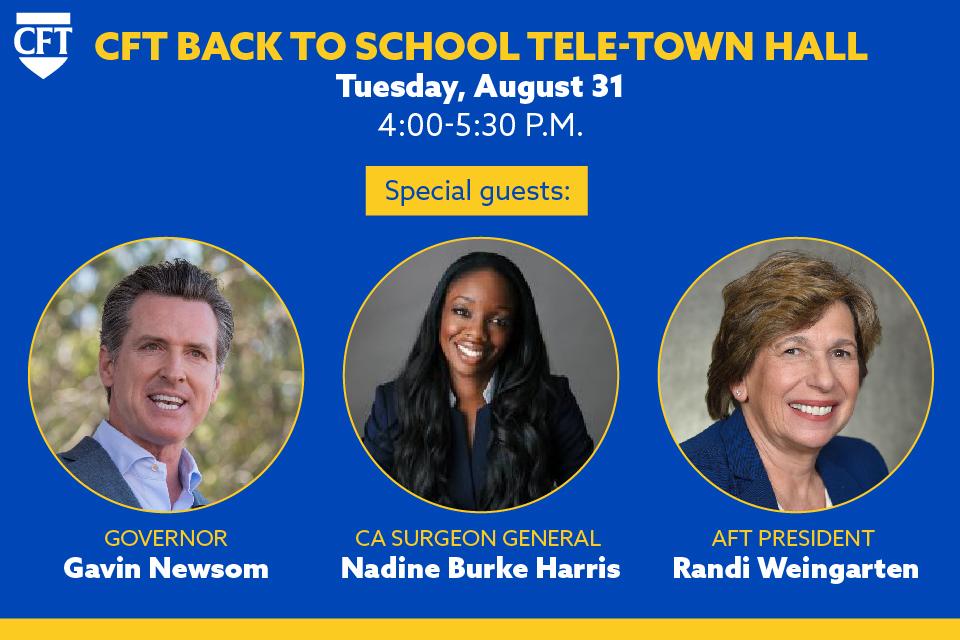 The afternoon of Tuesday, August 31, thousands of educators and classified professionals from across the state joined CFT's Back to School Tele-Town Hall. Three high profile guests joined CFT members on the call — Governor Gavin Newsom, California Surgeon General Dr. Nadine Burke Harris, and AFT President Randi Weingarten.
During his remarks, Governor Newsom thanked CFT members for their dedication to California's students and communities. "Thank you to everyone that makes education work, classified, K-12, higher education and health human services workers," said Newsom, who later added, "You are about the next generation of talent, this is what makes California grow."
Governor Newsom also shared what's at stake in the recall election, not only for him personally, but for California's public education system.
In thanking Governor Newsom for joining the call, CFT President Jeff Freitas urged all CFT members to drop their ballots in the mail and vote no on the recall.
"Governor Newsom has been a champion for our schools, for our students, and for our profession. And working with him we have made significant progress for our schools that will be endangered should the recall prevail," said Freitas. "Instead of going backwards, our schools and our students need us to protect our progress by voting Voting No on the recall."
Dr. Nadine Burke Harris, California's first Surgeon General, also thanked all the CFT members on the call for their essential work during COVID-19. "The pandemic has put an extraordinary amount of stress on all of us, but as educators, you are on the frontlines," said Dr. Burke Harris. "You've dealt with distance learning, restructuring of staff schedules and now you are in the position of supporting all children as the new school season starts — with a new wave of infections due to the delta variant."
Dr. Burke also answered questions from CFT members, who shared their concerns about the delta variant, booster shots, and vaccination rates, reassuring everyone that vaccination is the primary tool we have to fight the pandemic.
AFT President Randi Weingarten, who just took part in the CFT Back to School: Forward Together tour, also thanked CFT members for a successful return to school. "I'm in awe of all of you! There are a lot of issues going on and you all are doing it right," said Randi.
Thanks again to all the members who participated in the CFT Back to School Tele-Town Hall.