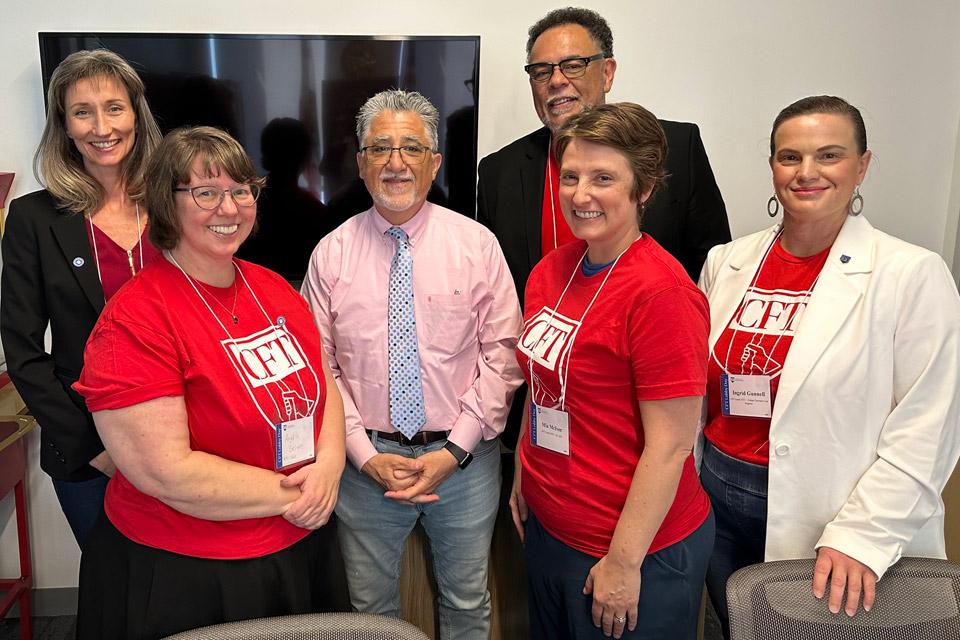 Progress on part-time issues is not something accomplished only through local organizing and negotiating, but also through direct part-time member legislative advocacy. This year, faculty drove this progress through their advocacy at CFT's April 26 Lobby Day in Sacramento.
Part-time community college CFT members, most clad in red and wearing jeans as a show of solidarity with Denim Day, were joined that day by dozens of fellow CFT members, including UC-AFT Lecturers, K-12 faculty and staff, and Pre-K, and Early Childhood educators, and retirees.
The day started in the morning at the California Labor Federation offices just blocks from the Capitol. After a few inspirational words from CFT President Jeff Freitas, Legislative Director Tristan Brown presented CFT's legislative priorities before the group of over 100 members broke into region-based teams and visited their corresponding assemblyperson and senator's offices.
For part-time faculty, being at Lobby Day meant being able to speak not just about bills that impacted their working conditions, but the learning opportunities of their students. For Alyssa Vafaei, a counselor with the Disability resource Center at Palomar College, this meant speaking about AB 811 (Fong), which calls for changes to repeatability and course repetition policies. "Many of my disabled students need to repeat courses to improve skills essential to their success, but are limited by current repeatability policy," stated Vafaei. Vafaei and other part-time faculty also spoke to legislators about the need for part-time pay parity, as well as improvements to part-time working conditions, like paid office hours for part-time faculty.
Layal Lebdeh teaches physics at Cypress College, and came with a member contingent from Adjunct Faculty United, representing part-time faculty at the North Orange College Community College District. Lebdeh spoke strongly for AB 1190 (Irwin), which would require community colleges to negotiate with local bargaining units to provide part-time faculty the same number of paid office hours in proportion to what is required of full-time faculty
Adjunct Faculty United, or AdFac, has just come off a recent hard-fought win for paid part-time. office hours, where faculty teaching over seven LHE are granted one paid office hour per week. "The pay here is not enough for what we as part-timers do, from answering emails to the additional hours of work we do outside the classroom," Lebdeh said.
Another bill that both Vafaei and Lebdeh spoke with legislators and legislative aides about was AB 260 (Santiago, Cervantes). AB260, if passed, would require districts to negotiate with local bargaining units for part-time faculty to be paid in direct proportion to what the full-time counterparts do for the same or equivalent duties.
"We spoke our hearts," said Lebdeh as she and her group spoke to various Orange County legislators, including Senator Josh Newman, Chair of the Senate Education Committee. Lebdeh found the aides and senator to be very attentive to their concerns. What did surprise Lebdeh is that a number of aides and legislators still thought that the majority of community college faculty were full-time faculty, when in fact the opposite is the case, with close to 70% of community college faculty being part-time.
For part-timers though, Lobby Day was not just about just about part-time issue-related advocacy, but showing solidarity and support for UC Lecturers and K-12 faculty in their legislative advocacy on bills like ACA6 (Haney), which would require the University of California to respect basic labor laws, and AB 938 (Muratsuchi), which calls for increases to LCFF funding to create a seven-year path to raise funding for classified and certificated school employee wages by 50%.
Following a day of lobbying, team CFT reconvened once again at the offices of the California Labor Federation for a reception with Legislators.
At the closing event, Jeff Freitas thanked all of the Lobby Day participants for their important work. "It's so wonderful to see so many hard-working CFT members up in the Capitol, speaking truth to power to our elected officials," he said. It's really critical for people in Sacramento to hear directly from the educators and classified professionals who are doing the work day in and day out."