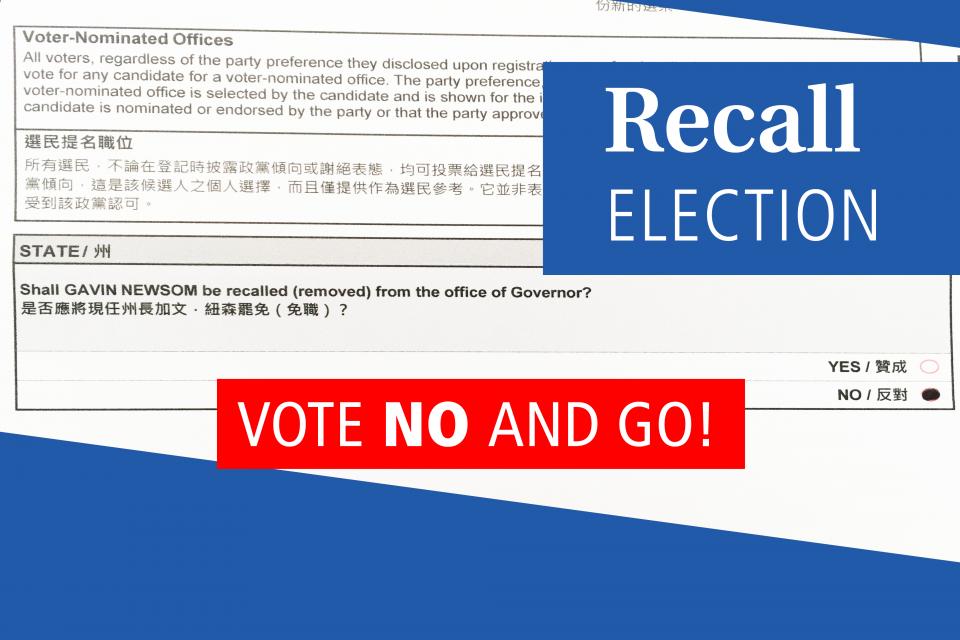 Most voters have received their mail ballots for the September 14 Recall Election and the CFT is hearing many questions. Here we answer the most common questions about the recall ballot and voting and share CFT recommendations and resources.
CFT President Jeff Freitas implores every member to vote. "The race is a virtual tie, and we need every CFT member to vote on or before September 14, either via mail, dropbox, or in person. We can't afford to take our state backwards, so we can't afford to sit this one out!"
Below you will find answers to common questions about the Recall Election.
How do I find out if I'm registered to vote?
You can check your registration status and register to vote at the Secretary of State's website.
I want to vote in person on or before Election Day or drop my ballot off at a dropbox rather than put it in the mail. Where is my polling place? Can I vote early in my county in person?
Each county in California maintains county-specific voting information. Check your county's elections page to find out about alternatives to mail voting.
What will my ballot look like?
There will be two questions on the ballot.
FIRST, a recall question will be presented: "Shall GAVIN NEWSOM be recalled (removed) from the office of Governor?"
SECOND, all qualified replacement candidates for the office of governor will be listed.
Voters can vote "Yes" or "No" on the first question and choose a candidate from the list for the second question. You can answer either or both questions. CFT is urging you to simply vote NO on the first question and leave the second question blank.
Is there anything else on this ballot?
No. This election is only a recall election.
What do the polls say?
The polls are very close. If supporters of Governor Newsom do not turn out to vote, this recall could prevail and we could have a governor who wants to turn back the clock in every possible area from education, labor rights and LGBTQ rights to the minimum wage and climate justice. We can't afford to go backwards!
As an educator or classified employee, why should I support Gavin Newsom and vote NO on the recall?
Governor Newsom has a proven record of supporting public education and union members. This year's budget has the most money for public education in California history. Newsom also helped ensure free lunch for every California public school student. During the COVID-19 crisis, he has worked with us to ensure early vaccine access for educators and school staff.
What else has Gavin Newsom done as governor?
Governor Newsom has a history of standing up for LGBTQ rights, for immigrant rights, for criminal justice, and for responsible climate action. All of his leading opponents want to unravel decades of progress. We can't afford to go backwards!
Where can I get more information on why I should vote NO on the recall?
You can visit the recall section on our website and the California Labor Federation's No on the Recall website. Both have excellent resources like news stories and fact sheets, and offer opportunities to volunteer.
Who is running to replace Gavin Newsom?
46 candidates have registered to replace Gavin Newsom. All of the leading candidates — Larry Elder, John Cox, Kevin Faulconer, and Kevin Kiley — want to take us backwards when it comes to public education and union rights. They are climate deniers who want to eliminate unions and the minimum wage, and they seek to dismantle protections for LGBTQ people and immigrants.
If I vote NO on the recall and then choose a candidate "just in case" Newsom loses, will my ballot be invalidated?
No. You can vote NO and still select a replacement candidate or write in a qualified candidate if you choose. However, CFT is simply urging you to vote NO and leave the second question blank.
Even if I vote NO on the recall, is CFT recommending that I choose a particular candidate to replace Governor Newsom "just in case"?
No. The CFT has not made a recommendation for a replacement candidate, and we will not be making one. Our job is to stop this recall, and so we are simply urging you to vote NO. We are joining the governor, the Democratic Party, and the California Labor Federation in this recommendation: "Just vote NO and go!"
Can I write in Gavin Newsom on the second question?
You technically "can" write in Gavin Newsom and doing so won't invalidate your ballot. However, if you write in Gavin Newsom, your write-in vote will not count for him, and therefore this is not a recommended strategy. Newsom is not a qualified write-in candidate and is furthermore barred from appearing on the ballot because he is the candidate being recalled. For these reasons, CFT and other organizations (and the governor himself) are not making this recommendation.
The CFT recommends "Just vote NO and go!"