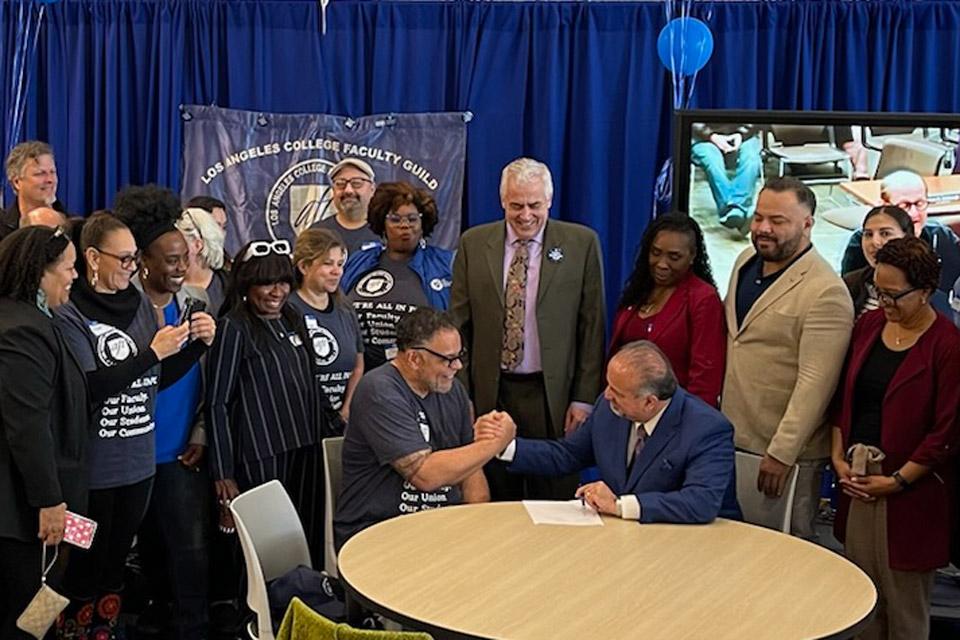 Following CFT's historic victory to secure $200 million annually in ongoing state funding for community college part-time faculty healthcare, the campaign's next phase has moved to the bargaining table.
At press time fourteen districts have made agreements to offer healthcare to part-time faculty, with part-timers in twelve of those districts represented by CFT locals. Four of the most recent successes were at the San Francisco, West Valley Mission, Los Angeles, and North Orange Community College Districts. These are the stories of their success.
For the faculty of San Francisco City College, their healthcare victory was very welcome in light of the tremendous struggles they have faced for well over a decade, from an accreditation crisis to a collapse of enrollment which resulted in mass layoffs of part-time faculty. The faculty unified and organized mass actions to face these challenges head on with rallies, information sessions, and targeted speaking at their local board of trustees meetings.
While this work was important, the union still faced obstacles in dealing with their administration, and with governing board members who seemed progressive and supportive on the campaign trail but became admin-friendly and faculty-distant after the election.
This pushed union members to successfully elect new, more faculty-friendly candidates who they could trust after they got elected. This turned out to be key, as the real trick that moved the ball, according Malaika Finkelstein, a part-timer and past union president, was "one-on-one meetings with board members." Faculty on the ground worked with CFT staff to prepare and conduct detailed, district-specific policy presentations directly to CCSF trustees, which won the day.
At West Valley Mission, AFT Local 6554, President Kate Disney described their campaign for healthcare as involving a process of "drip, drip, drip," or constant and steady, but measured discussion and progress towards a larger goal. Disney explained that the fight for part-time healthcare is one that began well before this past year's most recent legislative action. "It (the part-time healthcare issue) was brought to the board many times over multiple years," said Disney.
Part of the work involved making the board of trustees understand that part-time faculty, while often thought of as temporary, are in fact integral to the mission of the college. This, coupled with the board realization that quality part-time healthcare could be realized at no cost to the district, ultimately allowed faculty union members to sufficiently pressure and persuade the board and chancellor to reach this agreement.
Two part-time faculty who Disney cited as being very much involved were Jory Segal and Margaret Niven. Segal, Disney noted, made repeated appearances at board meetings speaking about what it's like to be a part-time faculty member. Niven also spoke to the board in particular about the district's previous inferior health plan, and how it created situations where part-time faculty would avoid going to the doctor for fear of cancer diagnosis, and, "they wouldn't be able to pay for the treatment."
The part time victory is particularly poignant for Niven who after 26 years of teaching art for the district is retiring, and will not be able to reap the benefits of the years long, hard fought campaign. Still, she is happy with what it will mean for other part-timers now and in the future.
In Los Angeles, winning full-time equivalent healthcare coverage for part-time faculty required faculty to lead a two-pronged campaign that involved local site organizing and a working group with administration to get the deal done. Representing over 2,700 part-time faculty spread out over nine colleges, the Los Angeles Faculty Guild faced unique challenges in organizing. The union''s efforts were already boosted by the earlier creation of a CAT, or contract action team. The team helped organize and mobilize local sites scoring both contract and some part-time healthcare wins previous to the signing of the AB 190, the bill that incentivized districts to offer part-time faculty full-time equivalent care at zero cost.
"Once the trailer bill was passed, we asked 'what can we do?'" said Jessica St. Paul, head of the Los Angeles Faculty Guild's part-time committee. Over the next three months they organized not just part-time faculty, but full-time faculty, students, and community members, engaging in three specific actions directed at the governing board, culminating in the delivery of a petition with 985 signatures demanding the district settle a healthcare agreement. The delivery of this petition roughly coincided with the successful election of their slate of four board of trustee members (including El Camino Federation of Teachers president Kelsey Iino), also the result of the LA Faculty Guild's organizing efforts.
Behind the scenes, the union and administration collaborated to push away early obstacles, like meeting complicated PERS regulations via the use of board of trustee resolutions, and retaining the low threshold of 33% of a full-time workload to qualify for employer-paid health insurance coverage (instead of the 40% that gets reimbursed by the state under AB 190). The attitude of the work group, as expressed by Los Angeles Faculty Guild President James McKeever, was "Not if we can get the deal, but when." The new plan will be available to part-time faculty teaching above 33% from January 1st, 2024.
Adjunct Faculty United, or ADFac, the largest part-time only faculty union in California, won their agreement with the North Orange County Community College District through a massive resurgence in local organizing power. For many years their membership had waned and a number of previous agreements had left part-timers disheartened. After the election of Seija Rohkea as president and with organizing support from CFT, member involvement grew and AdFAc saw the addition of 300 new members.
AdFac took this energy to the NOCCCD board of trustees with rallies and faculty testimony on March 14 and April 11 of this year. The rallies featured labor leaders like CFT President Jeff Freitas, local members of the Orange County Labor Federation, state legislators, and even a staffer from US Representative Katie Porter's office. The union had a consistent message that "getting the deal done would save money," because the district could recoup all its costs, as opposed to only getting 50% reimbursement on the existing healthcare plan, according to lead negotiator Marlo Smith.
Smith in particular credited the April 11 meeting as the one which finally got the board to move. It also helped, Smith noted, that the new chancellor also wanted to move on.
While each of the four locals had different approaches to getting their part-time faculty healthcare packages, a common theme emerges—persistence, and a belief that healthcare, which should be a basic human right, can be won.