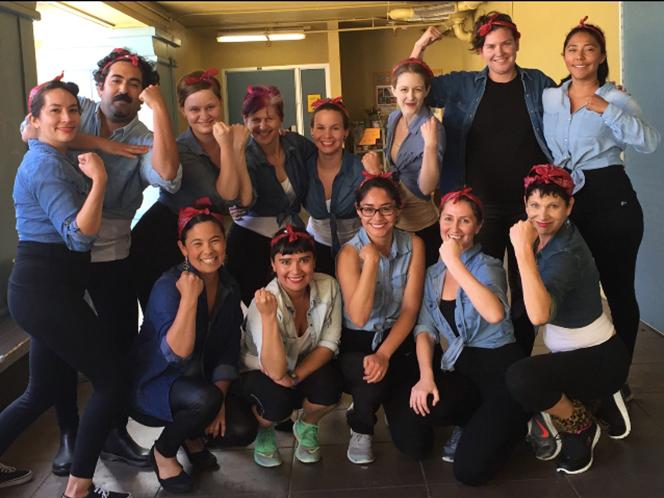 Each year one month finds creative activities by teachers and students celebrating the mostly unsung history of the labor movement. May is Labor History Month in California, as declared in AB 2269 (Swanson, D-Oakland) and signed into law by Gov. Jerry Brown in 2012. Exhibits, classroom lessons, in-services and sometimes entire schools explore the rich history of collective struggle that brought us worker rights on the job and better lives for families in our communities.
In May 2016 students and teachers at Buena Vista Horace Mann School in San Francisco undertook a number of activities, including classroom lessons featuring CFT Labor in the Schools Committee curricula. Union banners were hung around the school, labor hero posters were placed on the walls, and students and teachers participated in a "dress as a worker" day. The Labor Hero posters were based on trading cards created by retired San Francisco elementary teacher Bill Morgan, with portraits and thumbnail biographies of labor activists through the years.
Teachers Frank Lara and Erica Gallegos spearheaded the effort, organizing their colleagues to offer the lessons and place educational materials around the school, which serves a combined elementary and middle school population of dual Spanish immersion students in San Francisco's Mission District. Gallegos, who teaches kindergarten, worked with her students on a coloring book featuring longshore workers, and had her students describe for the class what their parents did for a living. "I just wanted them to feel like all work is important and honor that," she said.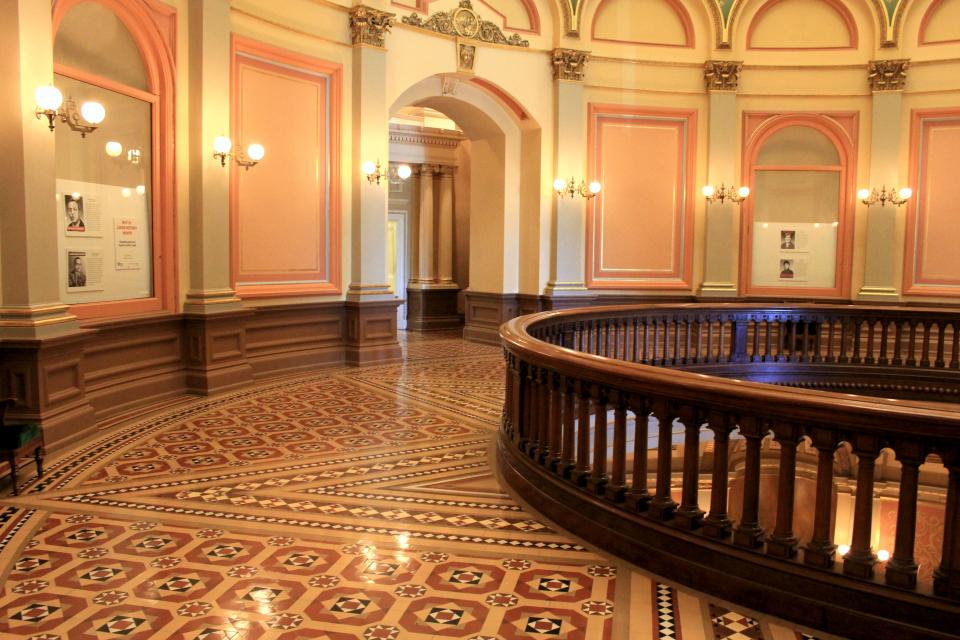 In Sacramento, two displays provided an opportunity for legislators and visitors to learn about Labor History Month. The Labor Hero posters were featured in the Rotunda of the Capitol, which hosts displays throughout the year on topics related to California history, and also in the lobby of the California Department of Education. A number of exhibits are made available by CFT, the California Labor Federation and other organizations for reservation and use during May each year.
High school teachers in the Oxnard High School District attended an all-day professional development in-service on labor history on May 4 organized by CFT Labor in the Schools Committee Co-Chair Ben Todd, who teaches social studies in the district. In the morning attendees heard from CSU Channel Islands history professor Frank Barajas and City College of San Francisco labor history instructor Fred Glass on local labor history, and in the afternoon Pierce College instructor Shiguero Tsuha led the group in a role play from the Collective Bargaining Education Project lesson plan set.
"The teachers felt it was an extremely valuable day," said Todd. "Several told me it was the most useful in-service they had ever attended."