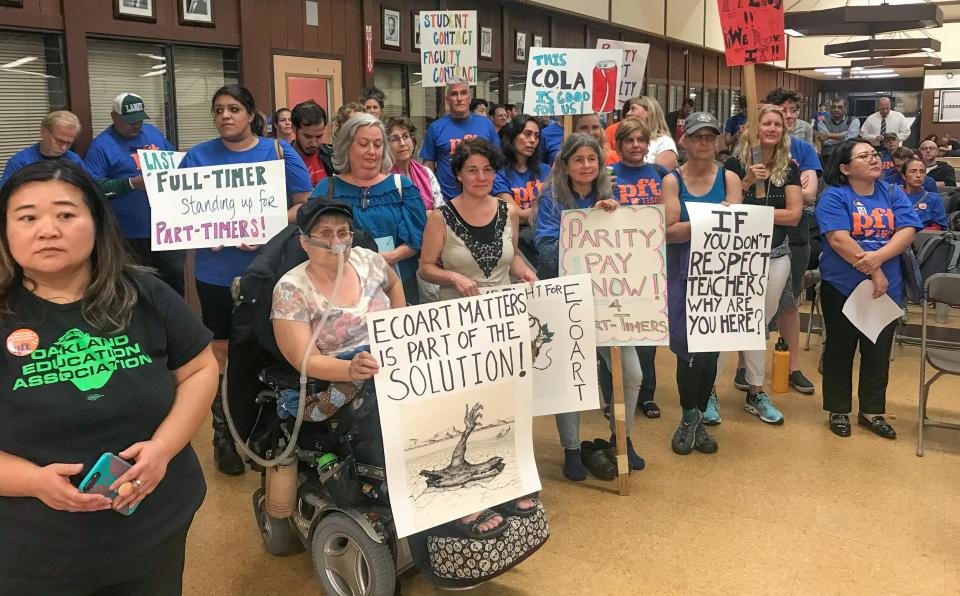 Equal pay for equal work. It's a simple idea, but one that has remained all but elusive for part-time faculty, so much so that some have decried the quest for it as a Sisyphean effort. However, the recent gains made by the Peralta Federation of Teachers shows that parity is possible.
Now, Peralta pays its adjuncts at the same hourly rate for teaching and office hours as its full-time faculty — a first in the California Community College system.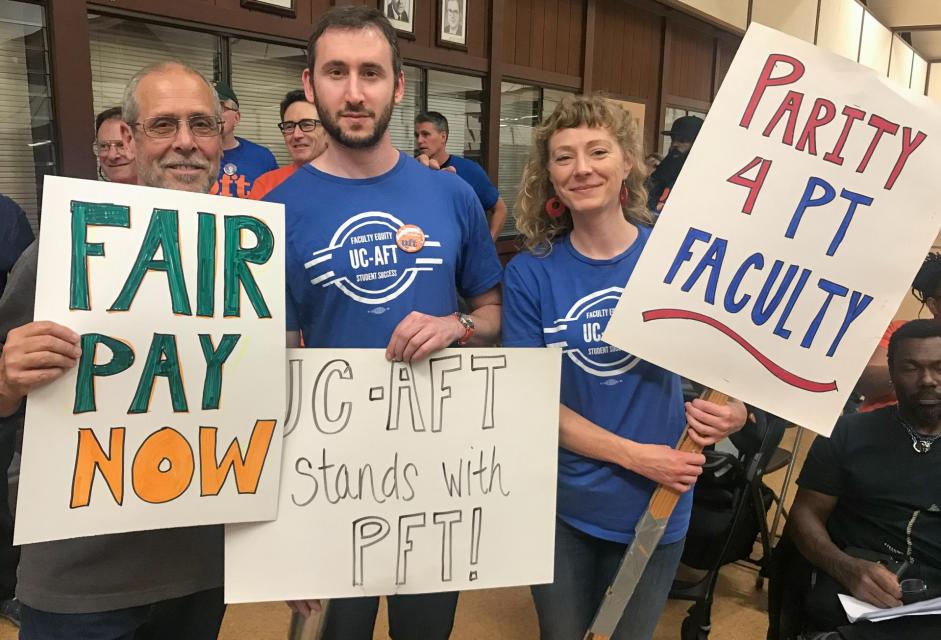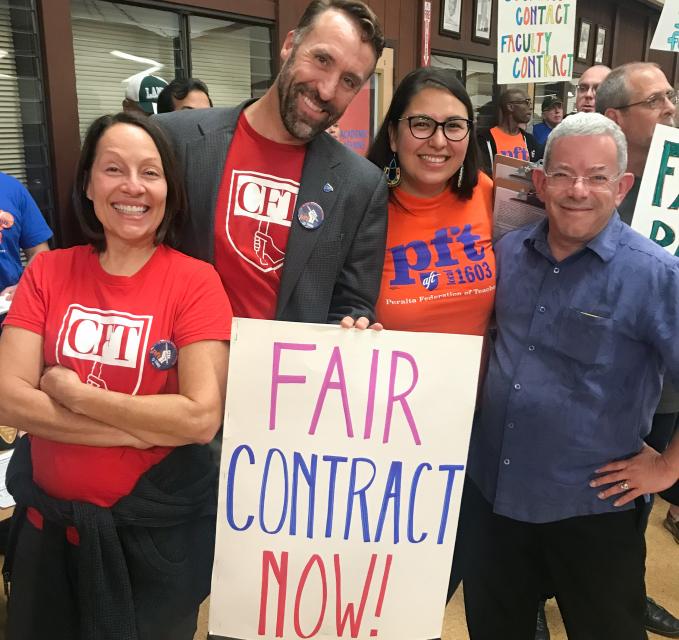 Recently, Jennifer Shanoski, president of the Peralta Federation of Teachers, presented the local's 10-year fight for pay parity by explaining, "We started our journey 10 years ago when we decided to shift our part-time salary schedule to have an equivalent number of steps and column as the full-time schedule." The reasons for this, Shanoski explained, was that it allowed the union to literally use "equal pay for equal work" as a simple parity slogan, and to define in real numbers, what inequity for part-time faculty looked like, and then "organize around those numbers."
Often parity campaigns struggle due to a lack of solidarity and trust between part- and full-time faculty. The Peralta Federation was fully cognizant of this and were aware that without solidarity, the campaign could not succeed. The local started by tying their membership drives to a "50/50" campaign, meaning that they would divide state COLA money received 50/50 between full-time faculty and adjuncts in order to begin closing the parity gap. At the same time, members participating in the drive began having one-on-one conversations with other faculty about the importance of parity, resulting in nearly all faculty signing onto a parity pledge. From there forward, the local made part-time parity its primary goal.
Shanoski said the work involved actions to engage faculty, staff and students, and outreach to community partners including the classified staff union (SEIU Local 1021), UC-AFT at nearby UC Berkeley, the K-12 district teachers union (Oakland Education Association), and local elected leaders, from assemblypersons to mayors, all of whom who wrote letters of support.
How the Peralta pay system breaks down
Adjunct and full-time salaries are broken down to an hourly rate. Part-time and full-time faculty are paid at the same hourly rate on the same step-and-column structure (experience and educational attainment), relative to the work they do. A full-time teaching load is 15 units, and with regard to teaching and prep, this represents 30 hours of a 40-hour full-time work week. For every unit a part-time faculty member teaches, they are paid at the exact same rate as the full-time faculty member.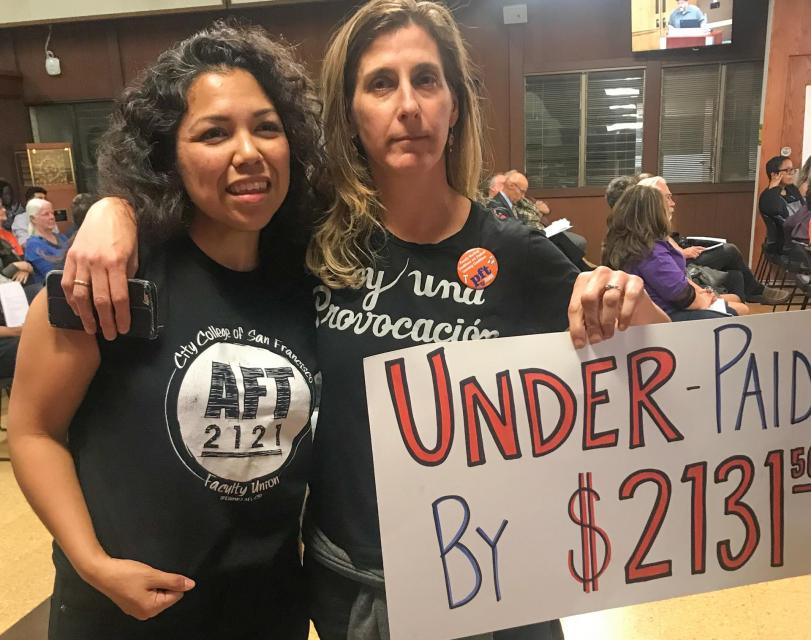 But it doesn't stop there. Full-time faculty are required to hold five hours of office hours a week. For adjuncts who choose to hold office hours, they are paid the same (up to two hours), pro-rated as full-time faculty.
There is still, of course, another five hours of work per week full-time faculty are required to do for ancillary activities like committee work, shared governance, program review, etc. Here Shanoski admits that, with the exception of specified stipends, adjuncts are not paid for this work, but then again, the local strongly discourages part-timers from taking on this work unless they volunteer — the local doesn't want any adjuncts working for free.
For the Peralta Federation, the road ahead is to fully pay adjunct faculty for ancillary work, but with the 67% rule in place, it may be hard to get this ancillary work properly paid and reported to CalSTRS. Peralta is also trying to improve health insurance coverage for its part-time faculty, and with what they've accomplished to date, it's not hard to believe they'll get there.
San Mateo campaign makes inroads
Other unions are also working hard to make inroads on pay parity. In the San Mateo district, non-instructional adjuncts (such as counselors and librarians) were already close to pay parity, but instructional adjuncts were further away. Like the Peralta local, the San Mateo Community College Federation of Teachers, Local 1493, had been engaged in a long and serious campaign.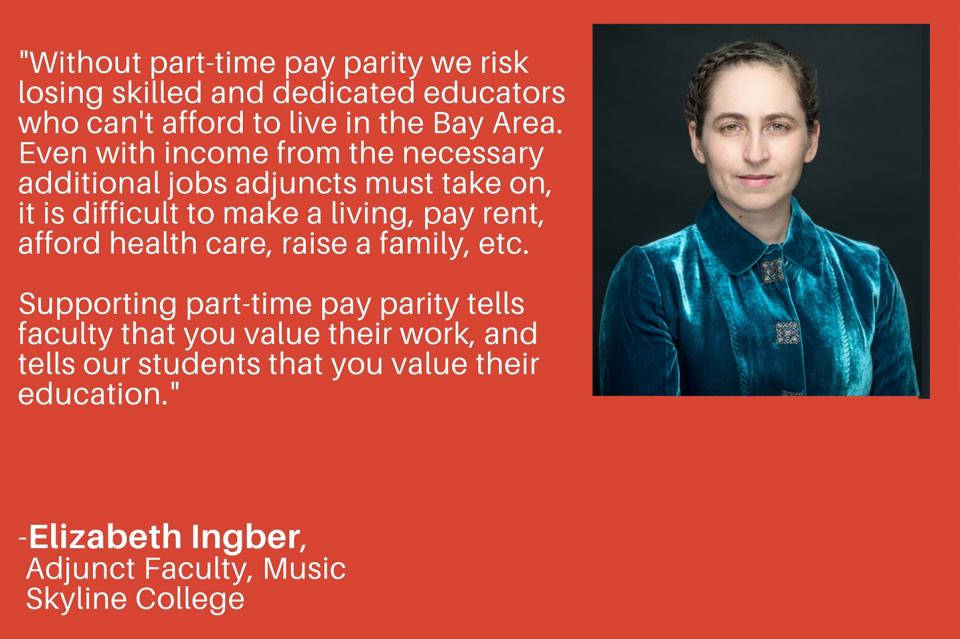 But unlike most districts in the state, San Mateo had not defined its part-time pay parity rate as the state requires. In the end, the district finally agreed to define parity as 85% — representing the time that full-time instructional faculty spend on teaching, preparation and grading. In San Mateo 85% parity would mean equal pay for equal work, so Local 1493 set a goal to reach 85% parity for instructional adjuncts.
The local held a series of membership meetings to discuss issues such as pay parity and was undeterred by the pandemic in 2020. Union members packed a board of trustees meeting on February 26, held a virtual rally on May 1, and launched a pay parity petition that collected 640 signatures in just two weeks and was presented to the board of trustees and chancellor.
More than 170 students, staff, and community members attended a teach-in on "Part-Time Pay Parity and Anti-Oppression Organizing" with particularly powerful testimony presented by San Mateo adjuncts Sarah Harmon, Maryam Khan, and Timothy Rottenberg. And the union conducted a survey on part-time working conditions to assist the bargaining team.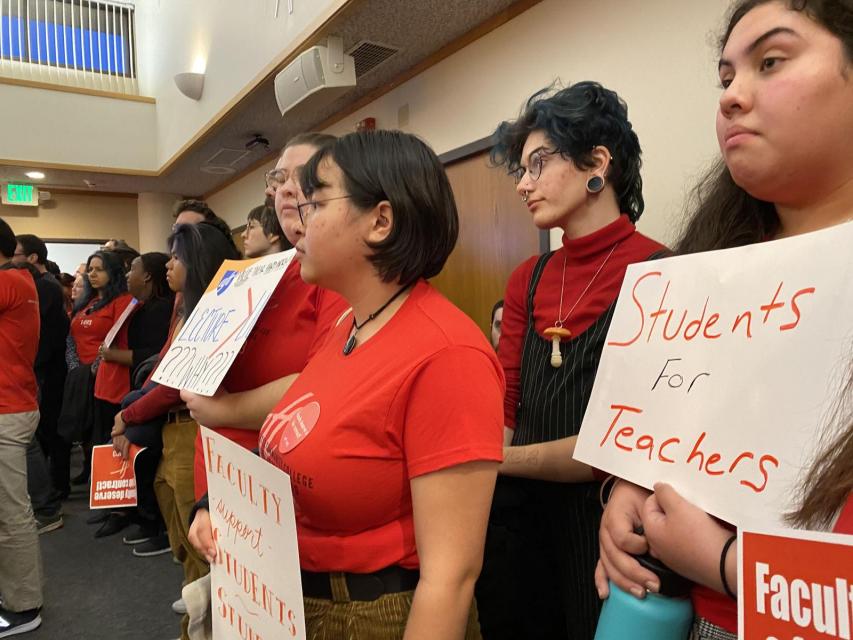 By the start of this year, the local was creating faculty video statements and engaging faculty in a letter-writing campaign, which yielded 180 letters in only four days, according to Local 1493 President Monica Malamud.
The results speak for themselves, as does the lesson to be learned here and at Peralta: "Good work and good trouble lead to good results."
In the newly negotiated contract, instructional adjuncts will receive a 4% increase in addition to the across-the-board raises negotiated for all faculty in 2020-21, and there will be an additional $1.5 million for instructional part-timers in 2021-22.
Though a solid achievement in itself, perhaps more significant is the work the local has done towards achieving an instructional adjunct salary schedule with the same numbers of steps and columns as for full-time faculty.
Prior to the new contract, San Mateo instructional adjuncts had one column — but starting in 2022-23, they have will five, meaning adjuncts are getting the recognition they deserve for their educational attainment. As for steps, the instructional adjunct schedule will go from the present 11 to 25. The full transition to the new steps for senior adjuncts will take some time, Malamud explains. The senior adjuncts will be able to come in at step 14, and from there they can continue to advance to step 25.
It is a strong move in the right direction, as is the $600 per year increase in medical reimbursement for part-time faculty. San Mateo's adjunct gains are clearly putting them on par.

— By Geoff Johnson, assigning editor of Part-Timer newsletter, member of the CFT Part-Time Faculty Committee and the AFT Guild, San Diego and Grossmont-Cuyamaca Community Colleges