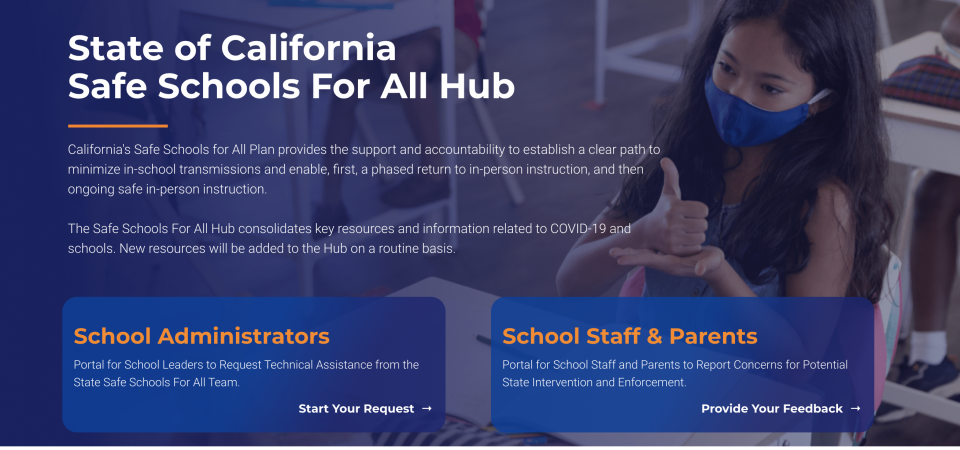 On January 14, the California Department of Public Health released several important resources related to the state's K-12 schools and COVID-19. Our summary below is meant to guide members and local unions through the new materials, especially the changes and most critical elements. The governor and the CDPH are still developing additional resources, so watch for updates about the plan in the coming weeks.
The key changes announced on January 14 include: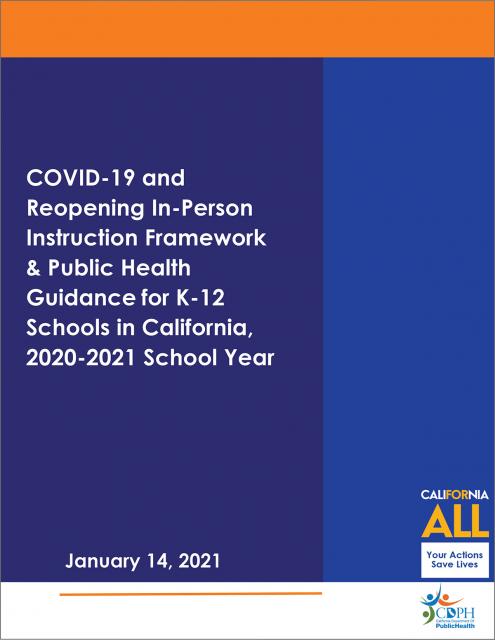 A new requirement for all schools to develop a COVID-19 Safety Plan that conforms to Cal/OSHA and the updated CDPH guidance for schools, prior to reopening for in-person instruction and in consultation with unions. Schools already reopened must also submit.
A hotline and safety portal for school staff and parents to submit safety concerns to the CDPH's Safe Schools Team, either online or by telephone (1-833-422-4255).
New reporting requirements for schools, including weekly reopening status reports and positive COVID-19 case reports that must be filed within 24 hours from the time the school is notified of the case.
​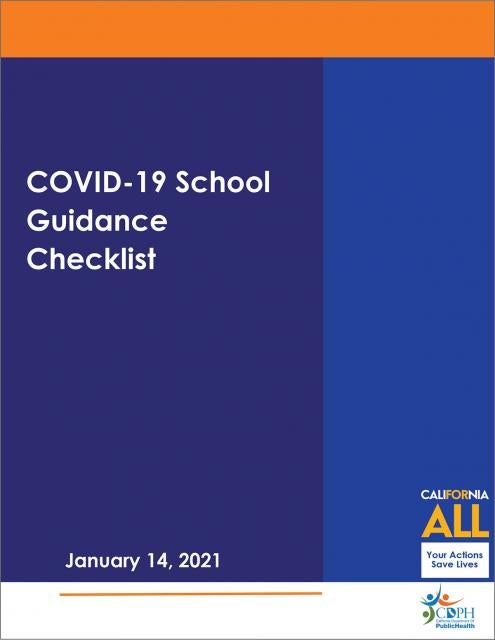 COVID-19 testing guidelines that include testing of staff and students at regular intervals.
Clarification about critical but confusing rules that define when a school is technically "reopened" and new physical distancing rules; this is included in the updated guidance and was also sent to all counties as a separate letter.
Note: These new materials and updated guidance are issued independent of the governor's proposed incentive grants for reopening. However, if a school applies for and receives the funding, the testing and safety protocols in this guidance would be required. All schools, regardless of whether or not they apply for funding, will be required to follow the new guidance.
Consolidated guidance
The January 14 guidance consolidates and updates previously issued guidance, including the initial Industry Guidance for Schools, the In-Person Learning Framework document from July 17, the previous Elementary Education Waiver process documents, and the CDPH Schools FAQ. Page numbers in the new guidance are included below for fast reference.
Notably, the consolidated guidance does not modify or supersede the guidance on cohorts, under which many schools have brought small groups of students back for in-person specialized instruction. The Cohort Guidance applies to groups of no more than 14 children or youth and no more than 2 supervising adults (16 total at most) and the most recent update was made on September 4, 2020.
In-person instruction defined
So much of the guidance and what is permitted and not permitted hinges on whether or not a school is technically "open" or "reopened" or "in the process of a phased reopening"and there has been significant confusion over this determination. The new guidance elaborates and further clarifies what this means on pages 5-6, and in a separate letter to counties. Local unions should read this section carefully to understand the technical status of their schools.
Starting on January 25, schools will have to report to the state exactly what their status is, and this information will be published on the Safe Schools for All Hub website. (pages 48-49)
Schools that have brought students back in-person using cohorts (as defined by the Cohort Guidance) are not considered reopened. A full grade must have been back, at least part-time as in a hybrid model, in order to meet this criteria.
New COVID-19 Safety Plans (CSPs)
All schools must establish and implement a COVID-19 Safety Plans (CSP), which has two parts.
New conditions for reopening and closures
Schools in Red, Orange, or Yellow Tiers may reopen while following the reopening guidance. Schools must post their CSP before reopening.
Schools in counties that are in the Purple Tier may not reopen grades 7-12.
Grades K-6 may reopen in Purple when adjusted case rates are less than 25 per 100,000 population per day, for at least 5 consecutive days. The new criteria replace the Elementary Waiver process, however any waivers previously approved remain valid. (pages 8-9)
Schools that have already reopened must complete and post a COVID-19 Safety Plan by February 1, 2021. Schools that have reopened are not required to close if a county moves to the Purple tier or has a case rate of 25 per 100,000. (pages 7-8)
Schools are expected to continue to offer distance learning for students who request it. (page 13).
Schools may be required to close for 14 days when there is an outbreak in 25 percent or more stable groups in the school; if there are at least 3 outbreaks within a 14-day period and more than 5 percent of the school population is infected; or for other reasons as determined by a local health official (page 37).
A classroom may end up closing because of exposures to a positive case(s). The table that starts on page 31 instructs that those in close contact to a person who is confirmed positive, must quarantine for 10 days after the last date the case was present at school while infectious. Though the school can remain open in this scenario,, the guidance anticipates the classroom — "possibly the entire stable group" — would need to quarantine. Note that scenarios 1, 2, and 4 state that school/classroom would remain open but scenario 3 refers to only school remaining open.
Updated school reopening guidance
School reopening guidance is elaborated on pages 14-30. Please note a few provisions:
NEW mask requirement requires all students in all grade levels K-12 to wear face coverings, unless exempted (page 16). Staff who come into contact with others should use disposable surgical masks (page 17).
Suggestions are offered for setting up stable groups at elementary, middle, and high school levels (pages 18-20).
NEW physical distancing requirements call for more than 6 feet between teacher, staff, and student desks. The vague "where practicable" language is deleted and the guidance requires evidence of a "good-faith" effort to distance students at least 6 feet from one another. Under no circumstances can student chairs be less than 4 feet. (pages 21-22).
NEW language calls for ensuring sufficient ventilation in all classrooms and shared workspaces, in accordance with the American Society of Heating, Refrigerating, and Air-Conditioning Engineers (pages 23-34).
New requirements for reporting and notifications of positive COVID-19 cases
A table is included, which specifies what actions should be taken when there are confirmed or suspected cases of COVID-19 in a school (pages 31-32) and an outline of actions that the school and local health department should take, including timelines for actions (pages 33-34).
An outbreak is defined as 3 or more confirmed or probable cases of staff or students within a 14-day period who are epidemiologically-linked in the school, are from different households, and are not contacts of each other. The definition and instructions for actions in case of an outbreak start on page 34.
A NEW directive instructs schools to report COVID-19 cases to the local health officer within 24 hours of being aware of the case. The report includes name, contact information, date of positive test, school location, and dates when the individual was at the school. (pages 45-47)
New K-12 school COVID-19 testing guidance
The new guidance defines symptomatic, response, and asymptomatic (surveillance) testing and includes a testing strategy approach that the state will support. The strategy varies according to the color tier of the county and the case rates in the county, with more frequent testing cadences when COVID-19 rates are higher.
Testing intervals for both students and staff are included. The testing is not mandated as part of the guidance, but the framework would be required if the reopening is supported by the reopening grants proposed in the governor's budget. Cal/OSHA has minimum testing requirements that all schools currently open must meet. only
Vaccines
The guidance states that CDPH "strongly recommends" everyone eligible to receive the vaccines receive them at first opportunity. At this time there is no further connection between vaccination and the reopening guidance but it states that further information is forthcoming. (pages 40-41.)

— By Aimee Shreck, CFT Research Director