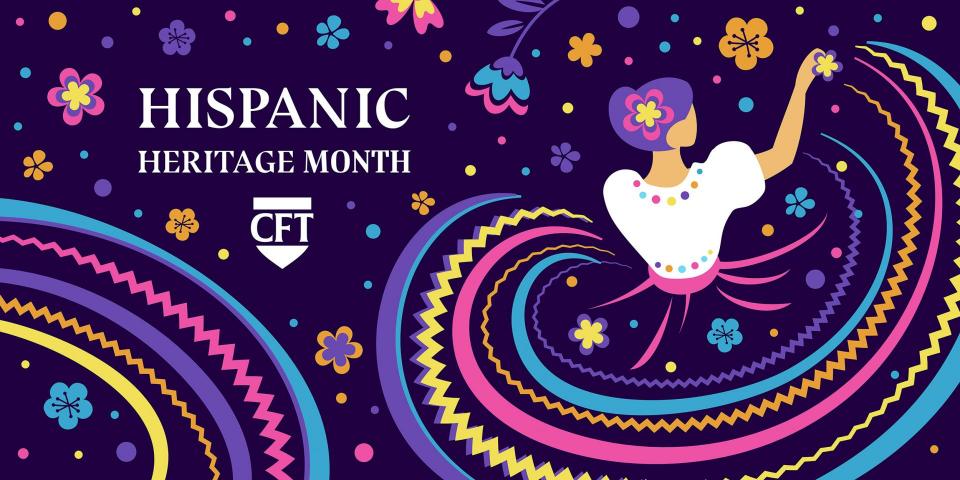 Hispanic Heritage Month takes place September 15 to October 15 every year to recognize and celebrate the contributions, diverse cultures, and histories of the American Latino community. With California's Latino population continuing to grow, and to make up nearly 40% of the state, it's particularly important to recognize accomplishments and history. In fact, two of the state's most iconic labor leaders, Cesar Chavez and Dolores Huerta, the founders of the United Farm Workers, are Latino.
Acknowledging these contributions began in 1968 as a week-long celebration under President Lyndon Johnson and was extended to a month during President Ronald Reagan's term in 1988 after the idea was introduced by California Congressman George E. Brown.
It may seem unusual to start in the middle of the month, but September 15 was chosen as the kickoff because five nations—Costa Rica, El Salvador, Guatemala, Honduras and Nicaragua—declared their independence from Spain on September 15, 1821.
FOR EDUCATORS
Ideas for Lessons on Latinx History, Politics, Art, and Civil Rights
This site from AFT has just about everything you could think of, for all grades. Want to teach high school students about the Bolivian Revolution? Maybe talk about the life of Pura Belpré, the first Latina librarian at the New York Public Library with young children? Or you could learn about Jovita Idar, a Mexican American journalist and activist, with your middle school students. Divided into sections that include Civil Rights and Labor Heroes, Art and Literature, Music and Dance, and History and Politics, this has great resources for learning about all kinds of things from Latinos and the 14th Amendment to the significance of weaving in Incan culture.
Speaker Highlights Latinx Leaders on Social Media
Assembly Speaker Anthony Rendon
California Assembly Speaker Anthony Rendon, a resident of southeast Los Angeles, represents AD 63 where more than 70% of the population is Latino. If you feel like getting social, you can follow the speaker on Instagram, Twitter or Facebook, @rendon63rd, where he will be highlighting Latinx leaders and their work from September 15 to October 15.
Learn About the Farmworkers' Movement in California
Here you can learn all about the history of the UFW, cofounded by Cesar Chavez and Dolores Huerta, including how "Si, Se Puede" became the rallying cry for the organization, how Filipinos and Mexicans joined together for the Delano Grape Strike, and a biography of Dolores Huerta, the first Latina inducted into the National Women's Hall of Fame, and still an activist at 92.
The Impact of the Mexican Revolution
National Endowment for the Humanities
Here you'll find lesson plans, learning objectives and reference websites for teaching high school students about the Mexican Revolution, which shaped contemporary Mexico. Included are primary sources, such as texts and maps and photos, so students can understand the factors that led to the revolution as well as its key figures and legacy.
Resources for Educators from Library of Congress
National Hispanic Heritage Month
This site hosted by the Library of Congress has a large array of resources for teachers, from Latin American music to urban photography to a PBS documentary on Latino Americans. From the National Archives, there are also Spanish language lessons and primary sources.
Supreme Court Ruling to Stop Segregation in Schools
This short video from PBS is on the 1946 Supreme Court case Mendez v. Westminster in which Mexican Americans in Orange County won a class action lawsuit to stop segregation in the schools. The video shows Sylvia Mendez talking about what triggered the lawsuit and how her parents were involved.
Learn About Mexico Through its National Holidays
National Endowment for the Humanities
This has lesson plans for middle school students to learn about the ethnic and religious influences on Mexican culture and their traditions and history of some holidays, including Dia de los Muertos, Dia de Nuestra Señora de Guadalupe, Grito de Dolores, and Cinco de Mayo.
Hear Great Authors Read their Work
This site has videos, activities, and texts for different grade levels. For young kids, for example, there's a video of percussion instruments in South America and coloring pages of famous Latinos such as baseball player Roberto Clemente, Supreme Court Justice Sonia Sotomayor, and Nobel Laureate physicist Luis Walter Alvarez. With middle school students, you could watch a video to learn about Latinas in STEM fields or an interactive presentation about Tikal, Guatemala, or research the myriad figures in the Mexican Revolution such as Emiliano Zapata or Francisco Madero. For high school students, suggested resources include a podcast about the Aztec empire, and a feature on the Library of Congress website where you can hear authors like the great Julio Cortázar, poet Gabriela Mistral, and even Gabriel García Márquez reading their work.
Scientists Who Changed History
Here are 11 scientists working in different fields from soil to biochemists to the first Latina in space and a director at NASA. Included in the list are Dr. Helen Rodriguez Trias who served as Director of Pediatrics at Lincoln Hospital in New York, brought attention to the devastation caused by AIDS and HIV, and founded the first center for newborns in Puerto Rico; Ynes Mexia, a conservationist and early fighter to save Northern California's redwood trees who went to UC Berkeley to study botany at age 51. She traveled all over the Americas and discovered two new plant genera and 500 new plant species; and Mario Molina, a chemist who won a Nobel Prize for his research on how man-made compounds threaten the ozone layer.
Latinx Biologists, Ecologists, Astronomists and Historians
This site has interactive lessons for introducing elementary and middle school students to the idea of first contact between cultures, such as the Europeans and indigenous people in the 16th and 17th centuries; a video on coral restoration; and the "I Can Science" video series, including Latinx scientists talking about their research into antibiotics, designing a telescope, and researching fruit flies to learn about neuroscience.
Latino Voices in Poetry
The Poetry Foundation has put together a list of Latinx poets to read and introduce your students to. The list is meant to be inclusive and show the varied perspectives and styles of Latinx poets. A quote from the introduction to El Coro: A Chorus of Latino and Latina Poetry is included, reminded us that literature from crisis doesn't need to be "didactic and polemical, obsessed with simplistic affirmations of identity and written in a raw idiom unconcerned with nuance."
The poets include Martín Espada, born in Brooklyn to a community organizer father; Native Californian Francisco Aragón; Gloria E. Anzaldúa, co-editor with Cherie Moraga of This Bridge Called My Back: Writings by Radical Women of Color; and New York Times bestselling author Elizabeth Acevedo.
Celebrating Our Latina Poet Laureate
National Endowment of the Arts
This site from the National Endowment of the Arts has more poetry, in this case, quotes from different poets, including the current poet laureate (who grew up in California), Ada Limón: "Tell me what it is to be the thing rooted in shadow./ To be the thing not touched by light (no that's not it)/ to not even need the light? I envy; I envy that."
FOR HOME, FAMILY & BEYOND
How Latino Trade Unionists Advocate for Workers
Labor Council for Latin American Advancement
The Labor Council for Latin American Advancement has information about the group's work for labor rights, equal pay, civil rights, and environmental justice. It includes toolkits for Latina Equal Pay Day, the Immigration Day of Action, and how to find apprenticeships for Latinx youth. They also have information about upcoming events and what's going on in their chapters, such as the Los Angeles chapter standing in solidarity with striking workers in Mexico.
Five Latino Labor Leaders
This site (in Spanish and English) lists five labor leaders. A couple of them are already familiar to you — the founders of the United Farm Workers — Dolores Huerta and Cesar Chavez. But there's also Santiago Iglesias Pantin, who organized for Puerto Rico and Cuba for the American Federation of Labor and; Luisa Moreno, a Guatemalan who helped create a coalition of Latinx labor rights activists in the 1930s, advocating for cane workers in Louisiana, cigar rollers in Florida, and garment workers in New York; and Emma Tenayuca, a Mexican American who led a wave of strikes by women workers in her home state of Texas, including 12,000 pecan shellers, mostly Mexican American women who demanded better working conditions and higher wages in their factories in San Antonio in 1938.
A Mexican University Opens Labor Center Similar to UCLA's
Inspired by the UCLA Labor Center's education, research and community engagement, the Autonomous University of Queretaro in central Mexico recently opened the Centro Laboral UAQ. The timing is important with a deadline in May of next year to ratify collective bargaining agreements to comply with the U.S.-Mexico-Canada Agreement. Labor representatives from Mexico, Latin America, Europe and the United States attended the opening forum where there were discussions about academic alliances with labor and how to promote unionization efforts.
A Law School Offers Books, Databases about Latino Identity
The UC Hastings School of Law in San Francisco has highlighted some resources in their collection as a way for people to learn more about Latino heritage and history. Books featured include La Nueva California: Latinos from Pioneers to Post-Millennials, on the influence Latinos, more than 50% of those born in the state since 2001, will have on California; and Inventing Latinos: A New Story of American Racism, on how Latino identity affects race in the United States.
There are also databases you can access online about political, social, and economic viewpoints, with discussions of foreign relations between Central American and South American countries. There are all kinds of correspondence, reports, commentary as well as maps and statistics. They include audio and video.
Learn About Events Celebrating Latino Contributions
National Hispanic Heritage Month
This is a compilation from various government agencies like the National Endowment of the Arts, Library of Congress, and the Smithsonian. You can find out about virtual events such as "Celebration of Children's and YA Latin American and Latinx Literature," and "Latino Heritage Festival Evening Dance Celebration."