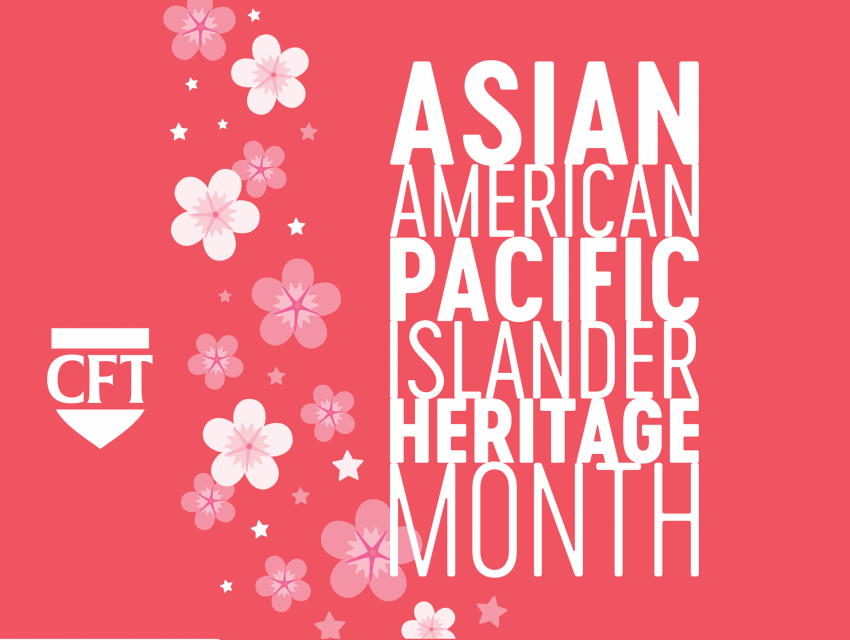 The month of May was chosen to commemorate the arrival of the first Japanese immigrants to the United States on May 7, 1843, during the beginning of the California Gold Rush. It also marks the anniversary of the completion of the First Transcontinental Railroad on May 10, 1869. Most of the workers who laid the tracks that connected the frontier to the rest of the country were Chinese immigrants.
Many years after the initial waves of immigration, the official celebration of Asian Pacific American Heritage Month began as a shorter, 10-day celebration in 1977; however, President George H.W. Bush expanded it to a month-long commemoration in 1992.
FOR EDUCATORS
11 Important Moments in History
Time Magazines offers some milestones in AAPI history. One is a history of the killing of Vincent Chin, who two white auto workers in Detroit beat to death with a baseball bat in 1982. It was during the height of anti-Japanese (Chin was Chinese American) sentiment due to the collapse of the auto industry. When his killers were fined and released, Asian Americans across the country came together in a national civil rights movement. Other moments include Filipino Farmworkers leading the Delano Grape Strike in the 1960s, and in 1913, when California passed the Alien Land Act, prohibiting "aliens ineligible to citizenship" from owning agricultural land.
A Chinese American Family and School Desegregation
California History Social Science Project
In spite of being in the country for years, sometimes Asian Americans are not seen as Americans. This lesson gives resources for teaching about a Chinese American family, the Tapes, who won their case that their children were entitled to attend public school in the California Supreme Court in 1885, well before integrated schools were made standard with Brown vs. Board of Education (1954).
APALA – Taking Steps to Support AAPI Workers
Asian Pacific American Labor Alliance
The Asian Pacific American Labor Alliance (APALA), which is affiliated with the AFL-CIO, is the only national organization of Asian American and Pacific Islander workers, with more than 20 chapters and a national office in Washington, D.C. They offer a toolkit for organizing, which has grassroots organizations to support, a list of media and readings, and tips for talking about anti-Asian violence. There's also a video of a Labor Town Hall on Anti-Asian Racism that features CFT Vice President Kent Wong, the director of the UCLA Labor Center.
AAPI Heritage and History in the United States
National Endowment for the Humanities
This site has an array of lesson plans, on topics including The Korean War, the internment of Japanese Americans in World War II, and animals in the Chinese Zodiac. The lesson plans (for different age groups) include objectives, activities, and guiding questions.
AAPI Contributions in San Diego
California Department of Parks and Recreation
This site from the California Department of Parks and Recreation has resources such as a personal account from a Chinese laborer rebuilding the California Southern Railroad in 1884, an interview with a curator at the San Diego Chinese Historical Museum who wrote a history of the Chinese in San Diego, and high school lessons plans on the Chinese workers who built the Transcontinental Railroad.
Asian American Resistance
These resources from the Smithsonian include a video, We Are American and We Stand Together: Asian American Resilience & Belonging, with a range of activists and scholars talking about Asian American resistance. Some of the people you'll hear from include Kiran Gill, Director of the Sikh American Legal Defense, rapper Ruby Ibarra, and Ronny Chieng, an actor and comedian on the Daily Show. There's also a one-hour program, Music for the Moment — an Asian American Offering, which features a program of Asian American women musicians and performers in genres including hip hop, rock, and pop and performance art.
Asian Americans in History
Grace Lee Boggs, who died in 2015 at 100, was an activist her whole life, working for tenants' rights and then joining the Workers Party. She was involved in the 1941 March on Washington and her work focused on women and people of color. January 20 is Fred Korematsu Day in California, honoring the man who refused to evacuate when President Roosevelt ordered the internment of Japanese Americans during WWII. He filed a case, and the Supreme Court ruled against him. But in 1983, in a big moment for civil rights, his conviction was overturned in a San Francisco federal court. These are a couple of the more than 20 profiles of Asian Americans and events of note from the Zinn Education Project.
Breaking Down Asian Pacific American Bias
The Smithsonian also has resources from teachers, including a video series, We Are Not a Stereotype. Some of the topics the videos explore are Asian-Black Solidarity, Occupation of the Hawaiian Kingdom, Queer and Asian Identities, Important Court Cases in Asian Pacific American History, and Muslims and Islamophobia in the 9/11 Era.
Learn About Perspectives and Struggles in the AAPI Community
These digital resources for preK-12 include lessons on Wong Kim Ark, who was born in San Francisco and denied reentry to the United States after returning from a trip to China. His case went to the Supreme Court and when he won his rights as a citizen it was an important civil rights victory. Other lessons include superstar Michelle Yeoh (of Everything Everywhere All the Time, Crazy Rich Asians, and Crouching Tiger, Hidden Dragon, among other movies) reading Ji-li Jiang's children's book, Lotus & Feather, and a lesson on the brutality of colonialism in India.
Lesson Plans, Concerts, and Storytelling
San Francisco's Asian Art Museum offers online events such as storytelling by Asian American women, art activities and lesson plans, a virtual concert of Thao Nguyen of Thao & The Get Down Stay Down, and cooking lesson and recipes, such as one for red bean mooncake. There are also explorations of the artwork on view at the museum, including I was, I am, I will be, from Chanel Miller, who wrote the best-selling memoir, Know My Name.
Life in Ancient Cities, Cambodian Textiles and Health Care in Rural Areas
The National Geographic offers articles and videos with lesson plans for different ages on subjects including physics, geology, anthropology, biology, and arts. There are videos about Cambodian textile art and resettling Vietnamese refugees in the United States, as well as articles on a scientist bringing healthcare to rural populations and one on what life was like in ancient cities.
Stop AAPI Hate and Bullying
Primarily made up of middle school students, AAPI Youth Rising offers educational resources such as a youth curriculum to stop AAPI hate and an anti-bullying campaign, particularly important since COVID led to increased physical and verbal attacks against Asian Americans, both adults and youth. The site also includes where to report hate crimes.
Stories and Advice from AAPI Geoscientists
Scrips Institution of Oceanography
Asian Americans are underrepresented in the geosciences, and to bring out voices not often heard from, Scrips invited four AAPI members — three doctorate students in as well as a staff member to share their stories, advice, and how they celebrate their heritage. One piece of advice a Native Hawaiian student gives as a way to support the AAPI community is to try not to generalize and remember there are huge differences in culture across Asia and the Pacific Islands.
FOR HOME, FAMILY & BEYOND
31 Ways to Celebrate AAPI Month
This site offers many ways to learn and celebrate virtually. You can watch a recital by Uyghur musician Kaisar Anvar; see a video of dance, "Persistence of Memory" by choreographer Ting-Ting Chang that reexamines Salvador Dali and Sigmund Freud's unconscious mind; listen to a Turkish music festival; master folding an origami crane; learn how to make fried rice; or listen to some Bollywood songs.
A Playlist Featuring Artists of AAPI Descent
This list, put together by members of the Recording Academy of AAPI descent, aims to showcase how diverse AAPI artists are with genres including jazz, classical, pop and more. Some of the songs on the list are K-pop stars BTS' "Butter," Nandemonaiya by the Japanese rock band, Radwinps, and "Focus" by the Vallejo-born R&B singer H.E.R.
Fight Systemic Racism
This organization, which tracks and responds to issues of hate, discrimination, and harassment against Asians, was launched in March 2020 due to the escalation in xenophobia and bigotry with the COVID-19 pandemic. Made up of the AAPI Equity Alliance, Chinese for Affirmative Action, and the Asian American Studies Department of San Francisco State University, members also advocate for policies to strengthen civil rights protections and dismantle systemic racism.
Hear from Some Filipino American Writers
This Long Beach store, founded by Filipina-American poet Jhoanna Belfer, has a lot of events, and on May 17, they will have an online conversation with Jason Tanamor's who wrote the young adult novel, "Love, Dance & Egg Rolls," and Grace Talusan, author of the memoir, The Body Papers. On May 21, they host "Readings by Filipino American Authors," both in person and online.
How AAPI Women are Portrayed in Media — Or Left Out
The Representation Project at Miss Representation has a fact sheet about AAPI women in media. Among other pieces of information, it includes that AAPI women constitute 3.1% of the speaking characters in film, 64 % of the top TV shows have not AAPI girl or women characters as regulars, and that AAPI women are often stereotyped as submissive, hypersexualized, and exotic, appearing as the "Geisha Girl," "China Doll," or "Dragon Lady" trope. Positive representations of AAPI women include Lara Jean, the protagonist of the popular movie, To All the Boys I've Loved Before and Umma, the mother on the TV show, Kim's Convenience.
Learn about AAPI Artists
These videos from New York's Metropolitan Museum show some of the range of contributions from the AAPI community to the arts. They include a short documentary about the artist Isamu Noguchi; the founder of the New York Mongolian Cultural Council talking about discovering her Mongolian heritage at The Met; and the opening ceremonies for an exhibition, Atea: Nature and Divinity in Polynesia, of Polynesian artists expressing the divine.
Mental Health Resources and Challenges
National Alliance on Mental Illness
For a host of reasons including stigma, language barriers and systemic barriers to access, AAPIs have the lowest rate of seeking help for their mental health issues. Also insufficient research can lead to an inaccurate picture of the experience and needs of AAPI communities. This site gives several resources including the Asian Mental Health Collective, Asian American Health Initiative, and Asian American Psychological Association.