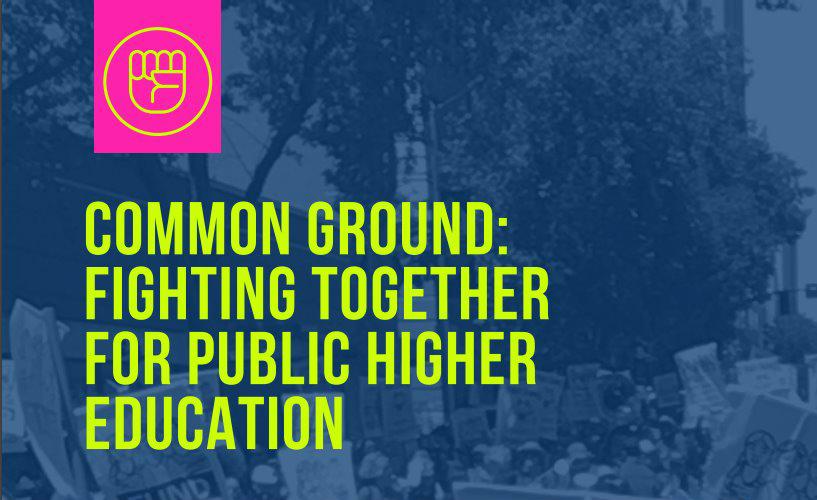 In an event which channels the spirit of Campus Equity Week, leaders from the Peralta Federation of Teachers, San Mateo Community College Federation of Teachers, UC-AFT, and San Francisco State will host a free conference on the future of higher education at Berkeley City College on October 25.
Common Ground: Fighting Together for Public Higher Education, the four-session conference will focus on both the plight and challenges facing higher education in California, with a significant focus on part-time, or contingent faculty.
The use of the term "Common Ground" in the conference title is not incidental — the conference will be bringing together contingent faculty from all three of California's public systems — the California Community Colleges, California State University, and the University of California.
Contingent or part-time faculty in California are often marginalized not just by their local work environments, but by the fact that they work in very three different systems. At a local or even regional level, the teachers' unions in these three systems only periodically interact with each other, despite the fact that there are contingent or part-time faculty that will teach in two, or even all three systems. Still, these contingent faculty face similar challenges in each of the systems, from a lack of job security, to inequitable pay, a lack of benefits, to even threats on academic freedom.
The hope of the conference, as expressed by one of the event organizers, Paul Bissember, executive secretary of the San Mateo Community College Federation of Teachers, is that conferences like this will "bring together the formation or rhetoric which creates a bigger picture and action planning" similar to the K-12 coalitions that have formed around educational funding.
The conference will take place at the Berkeley City College campus, which is easily accessible by BART, from 9 a.m. to 4:30 p.m.