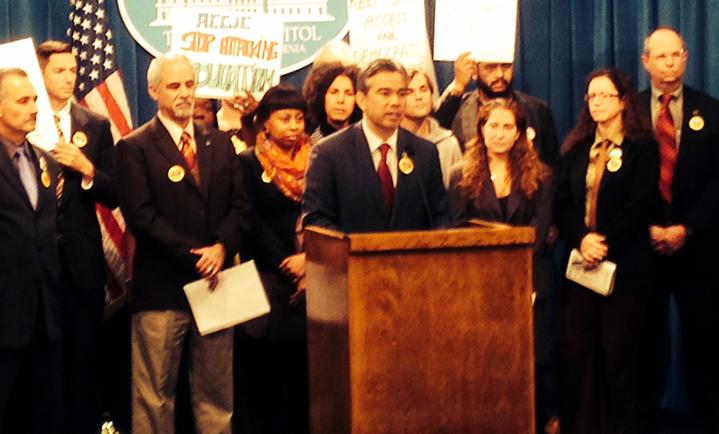 Sacramento—In front of a packed room of supporters at the State Capitol, Assemblymember Rob Bonta, D-Oakland, announced the introduction of the Fair Accreditation for California Community Colleges Act, which would reform the accreditation system for California Community Colleges.
AB 1942 will restore transparency, accountability, and due process to the state community college accreditation system by establishing consistent and fair evaluation standards in the accreditation of our state's 112 community colleges, which serve more than 2.4 million students. The bill will also allow community colleges to choose their own accrediting entity, setting the stage for a more refined system through competition.
"The Fair Accreditation for California Community Colleges Act is a response to a number of issues that have arisen regarding the current accreditation agency for the state, the Accrediting Commission for Community and Junior Colleges," said Assemblymember Bonta.
"While California community colleges are widely recognized as a model of higher education excellence and access for low-income students, current actions by the ACCJC have compromised and unfairly singled out community colleges in an inconsistent manner."
Bonta described the four key components of the bill as follows:
Introduces competition to the accreditation process: Allows community college districts to choose their accreditation agency.
Restores transparency and accountability: Requires an accreditor to make decisions at a public hearing and requires public disclosure of income and expenditures of accreditors' employees and contractors. Requires accreditation documents to be maintained for at least 10 years.
Restores fairness to the accreditation process: Requires an accreditor to provide due process and notice to the public and colleges about evaluations and allows colleges to appeal decisions.
Maintains integrity of the accreditation system: Eliminates potential conflicts of interest by accreditors. The integrity of the system is further ensured by requiring the accreditor to annually disclose to the public information regarding charges to member institutions, and fiscal data for the accreditor's employees and contractors, including the source and amount of income and expenditures.
Josh Pechthalt, president of California Federation of Teachers, said that the current system of accreditation has forced California's community colleges to "divert precious time and resources away from the classroom to satisfy the politicized and costly dictates of an accrediting commission gone bad. A rapidly growing number of experts and elected officials from San Francisco to Sacramento to Washington, D.C. agree that we need to reform the ACCJC. AB 1942 will restore fair accreditation practices in California."
CFT Community College Council President Jim Mahler of San Diego said, "Among the 30 community college districts represented by our council, we have heard tragic stories for many years of ACCJC overreach, causing the diversion of time, scarce resources, and funding away from the classroom in the name of 'compliance.' The absurd levels of bureaucratic paperwork, and the focus on administrative minutia at the expense of educational improvement, is the exact opposite of what should be the focus of any respectable accrediting agency."
Also speaking was Alisa Messer, English instructor and president of AFT Local 2121 at City College of San Francisco. "Unchecked, the ACCJC's ill-advised decisions will continue to do untold damage in our community college system, she said. "Their lack of transparency has trickled down to City College of San Francisco, where the state-imposed 'Super Trustee' who displaced CCSF's democratically-elected board is making secret decisions that violate the Brown Act, not to mention good taste, by hiring administrators and giving them unauthorized raises in the face of faculty pay cuts and canceled classes. The ACCJC's lack of accountability and bullying behavior has a multiplier effect in the institutions it oversees. That's why we need AB 1492."
The final speaker before Bonta closed the press conference was Shanell Williams, CCSF student trustee, who said, "My ability to reach my educational goal of transferring to a four-year university and becoming an urban studies major has been jeopardized by the unfair and unjust disaccreditation of City College of San Francisco. The out of control accreditation agency has thrown thousands of my fellow students out of their educational plans and into the streets with nowhere to go for their next steps. This denial of access to higher education for low-income students of color must never be replicated. That's why I support AB 1942."
Bonta concluded, "Community colleges in our state are critical to providing our students with the knowledge and background to compete in today's economy. I am confident that AB 1942 will further strengthen community colleges, helping 2.4 million students reach their educational and career goals and become productive, skilled workers in our growing California economy."
Also speaking was San Francisco Deputy City Attorney Sara Eisenberg.
The press conference was attended by community college students, professors and advocates from throughout Northern California.