Find Creativity, Innovation, and Compassion
Help bring culture & calm to your household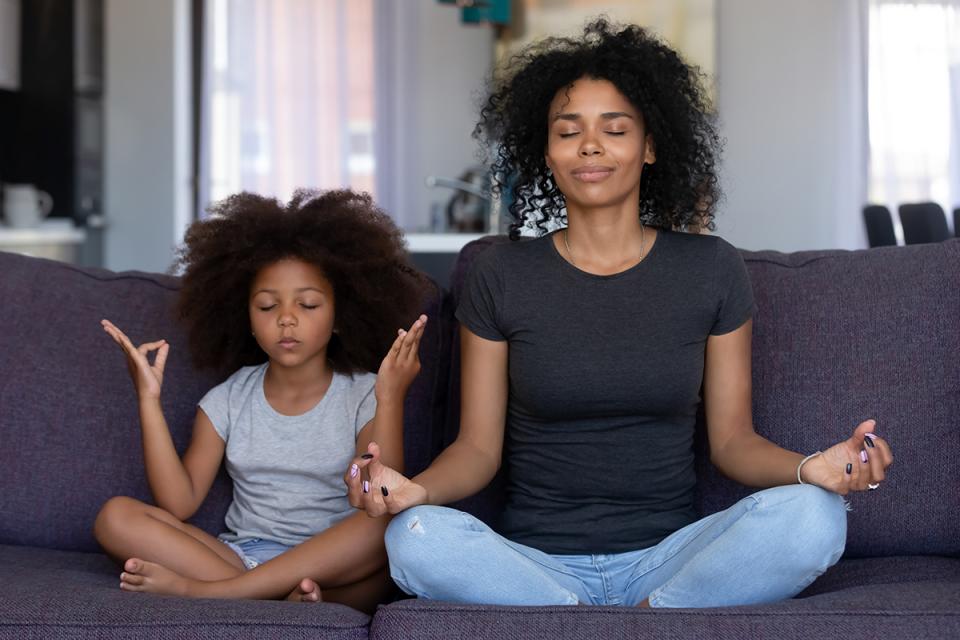 We can all use some culture and creativity during our days at home. After the learning is done for the day, or in between activities, here are some of the best out there — from the super visual animal cams to calming audio and innovative home art projects — there's something here for you and your family in our curated collection. If you have a link that you would to see included here, please email us.
AUDIO
Actor Patrick Stewart reads Shakespeare sonnets
Instagram and Twitter
Sir Patrick Stewart started his career with the Royal Shakespeare Company, and now he's maybe best known for his role as Captain Jean-Luc Picard in Star Trek: The Next Generation. Stewart has a lovely, soothing voice, and while theaters are shuttered he's using it to read you Shakespeare with #ASonnetADay both on Twitter and Instagram.
Actor Anthony Hopkins​ plays piano for his cat
Twitter
Sir Anthony Hopkins, the 82- year-old actor, maybe best known for his role in the Silence of the Lambs, always has loved music and composing. Now, while self isolating during the COVID-19 pandemic, he's playing for his cat on Twitter. The video, with Hopkins comment, "Niblo is making sure I stay healthy and demands I entertain him in exchange… cats," has been viewed half a million times and thousands of comments compliment the playing and Hopkins' adorable companion.
Have Dolly Parton read your kids a story
Imagination Library
Known for her music, Dolly Parton is also a philanthropist, and her Imagination Library has earned recognition from Congress for delivering more than 130 million free books to children. Now the singer is starting a weekly series, reading a children's book to an online audience in the evenings, to give kids and families a "welcome distraction during a time of unrest and also inspire a love of reading and books." The series, "Goodnight With Dolly," will be streamed on YouTube and elsewhere on Thursdays at 7 pm EST (4 pm Pacific). Books include The Little Engine That Could and Llama Llama Red Pajama.
Classical music and opera to stream at home
The Guardian
Performers are providing music from comedian Steve Martin playing the banjo in the woods to Yo-Yo Ma who launched #SongsofComfort, inviting others to share some joy in the midst of anxiety, like Ma playing Dvořák on his cello. This Guardian article lists classical music concerts and opera you can listen to while concert halls and opera houses are closed, including Beethoven's Fifth Piano Concerto and Mozart's The Marriage of Figaro.
Watch one of the best orchestras in the world
Berlin Philharmonic
Established in 1882, The German orchestra based in Berlin is known its virtuosity and compelling sound. Now, due to the COVID-19 pandemic, music lovers can't go to the concert hall…so the orchestra is bringing the hall to your living room, making their digital concert hall free. Sign up and you can watch and listen to concerts of Brahms, Beethoven, Dvořák, and Prokofiev, as well as more modern composers, on your couch.
Weekly concert from a Rock and Roll Hall of Fame band
Metallica on YouTube and Facebook
Right now, we can't go see live music. So Metallica, whose Damaged Justice Tour Rolling Stone called one of the 50 greatest concerts of the last 50 years, is doing their part to provide free concerts online. The heavy metal band is broadcasting full sets from past tours on its YouTube channel and Facebook page. Dubbed #MetallicaMondays, they stream on Mondays at 5 pm PST.
Celebrate this park's 150th with free virtual concerts
Golden Gate Park
San Francisco's Golden Gate Park, with hiking trails, playgrounds. museums, and gardens in its more than 1,000 acres, turned 150 on April 4. Since COVID-19 prevents people from gathering to celebrate, the celebration has gone online. The park has hosted concerts over the years from the free Hardly Strictly Bluegrass to the definitely not free Outside Lands. You can now attend virtual concerts in the park, with new artists announced each week.
The kind of story we need right now
Late Night with Seth Meyers
Late night host and comedian Seth Meyers is broadcasting from his home where, inexplicably, he has the 1977 Australian romance novel The Thorn Birds on a table behind him. He wants to deliver stories we need right now, or some good news. So he tells us about a Rhode Island liquor distillery giving away free hand sanitizer they make from the high volume alcohol that's a byproduct of the process of making spirits; a bagpipe player who played out on his balcony after the St. Patrick's Day parade was cancelled; and people in Spain playing bingo out of their windows in a courtyard. Generosity, innovation and connection — those are the kinds of stories we need now.
HUMOR
An introduction to Zooming for Teachers
The New Yorker
Understanding that many teachers have been thrown onto Zoom with minimal preparation, The New Yorker is here to help with helpful tips like not scaring students with your gray roots by making hair dye out of Epsom salt, red pepper, turmeric, and eggs, and adding shoe or nail polish color for color. Also wearing pants is essential. Other suggestions include using flattering lighting such as a tea light or maybe your cell-phone flashlight, and keeping children and pets from popping in during the middle of a lesson by putting them behind closed doors — but remember a closet is not a room.
A London couple makes tiny art space for their gerbils
Hyperallergic
We've paid a lot of attention to what humans can do while home during the pandemic. But what about pets? Or rather, what can humans do for their pets? A London couple, worried about their gerbils, brothers Pandoro and Tiramisù, made them a mini-museum to entertain them. The gerbils' owners are art lovers (obviously) — one a curator and one an artist — who recreated four masterpieces — Edvard Munch's The Scream, Leonardo da Vinci's Mona Lisa, and Gustav Klimt's The Kiss, and Johannes Vermeer's The Girl With the Pearl Earring — all with rodents subbed into starring roles, so their gerbils could relate. A sign saying "Please don't chew" is displayed — but it wasn't heeded, probably since the gerbils can't read.
Don't just look at artwork — BE the artwork
Getty Museum
Los Angeles' Getty Museum challenged people overcome with the stress and isolation of the COVID-19 pandemic to recreate famous artworks with a few objects lying around the house. People have been wildly creative in their responses, using their pets as stand ins for hares or lions or using bottles of wine and a pepper mill to recreate the remains of a Roman building and Edvard Munch's "The Scream" with clothes, gloves, Clorox, and other items.
My Corona Home ("Kokomo" Parody Song)
YouTube
"Baby, why don't we go? Because we can't – we're in quarantine." Musician Jon Pumper uses the Beach Boys' last No. 1 hit, "Kokomo," as the basis of "My Corona Home," which deals with issues we may know a little too well — not showering, panic shopping, scrubbing up like a thoracic surgeon many times a day, and trying not to touch our faces. Pumper ends: "Stay strong and stay considerate and I'll see you on the other side of this, he says at the end." Good to remember.
Neil Diamond sings a coronavirus PSA
YouTube
"Hands, washing hands, reaching out, don't touch me, and I won't touch you," Neil Diamond sings while strumming an acoustic guitar by the fire to the tune of his hit "Sweet Caroline," in a clip that went viral on social media with millions of views. The lyrics have been changed to encourage good hygiene and social distancing, but the refrain, "Good times never seemed so good," remains the same. Yep.
The Borowitz Report brings you a laugh a day
The New Yorker
Andy Borowitz, The New Yorker's iconic satirist has humor for you – and sometimes it's education-related. (For example, Borowitz recently said teachers' were suggesting the president use time at home to repeat the first grade – except for some who feel he should repeat kindergarten.) Regardless of your politics, Borowitz, a best-selling author and America's leading satirist, will bring a smile to your face. You can sign up to get The Borowitz Report in your email inbox every day.
MINDFULNESS
#MomentsofZen from a San Francisco Museum
Asian Art Museum
This San Francisco museum, which has one of the best collections of Asian art in the world, offers three short videos (1-3 minutes) — two meditations with Buddha sculptures narrated by Himalayan art curator Jeff Durham, and one of an ink drawing of a waterfall with the calming sound of water.
Headspace app helps you and yours be more mindful
Headspace
Meditation has been shown to help people stress less, focus more and sleep better. The Headspace app helps train you to be more aware and observe your thoughts without judgement. You can choose different subjects to focus on, such as sleep or anxiety. It's free for two weeks, then there is an annual or monthly charge. Why meditate? Here's what Headspace has to say about meditation.
How to talk to your child about coronavirus
County of Los Angeles
Some of the ideas in this short YouTube video include remain calm as children will pick up on your tone; teaching actions to reduce the spread of germs like washing hands, sneezing and coughing into an elbow, and staying away from people who are sick, and not using language that blames others and makes assumptions about who could be sick.
Managing stress & mindfulness tip sheets
Los Angeles County Library
This is a stressful time, and the Los Angeles County Library has provided some ideas for taking care of your physical and mental health like staying informed from credible sources, keeping in contact with friends and family, staying resilient by using skills that have helped you through hard times, and practicing mindfulness with some simple breathing exercises. Tip sheets available for adults, parents and children, and teens.
Memory activities for adults
Los Angeles County Library
One effect of stress is becoming more forgetful and distracted. The Los Angles Library also has some activities for adults, including ways to improve your memory and keep your brain "plastic," and able to adapt and change. Various methods are included, like puzzles and games, sites to train your memory and brain teasers.
MOVEMENT
Broad range of live-streamed dance classes
Dance Alone Together
This site aims to be a central resource for the dance world while things are shut down during the COVID-19 pandemic. Along with dance-making challenges from choreographers and companies, there are links to performances and live-streamed dance classes on platforms like Instagram Live or Facebook Live. There's also a range of online classes, including Cuban Popular Dance, Hip Hop, Latin Fusion or Voguing.
Contemporary dance classes
Kristin Damrow & Company
Kristin Damrow studied dance in Chicago before moving to San Francisco. She has taught at New York University, the University of San Francisco, and ODC Dance Commons. This Contemporary Online Movement Class series is modified for small spaces, and the beginner, intermediate and advanced classes emphasize finding alignment and balancing and building momentum.
Free online exercise
Fast Company
Fast Company has put together a few gyms offering free trials via apps and websites. To keep you moving and your head clear, you can try yoga classes, gym classes from Planet Fitness and The Bar Method, a sort of combination of ballet, Pilates and yoga.
Retro workouts to get your heart pumping and have fun
Mashable
This is a collection of some retro fitness videos, including activist, actress and icon of celebrity fitness, Jane Fonda, who does low impact aerobics, complete with shoulder rolls and step taps and explanations about how this is good for your brain, heart and lungs, and gets rid of the marbled fat. And no one wants that marbled fat! There's also Jazzercise, and Richard Simmons' Sweatin' To the Oldies. These workouts offer constant positivity, brightly colored leggings and outfits, and plenty of clapping, snapping, and upbeat music.
Yoga routines and classes to try while you're at home
Los Angeles Times
With all the stress you're going through with this COVID- 19 outbreak, it's easy to feel your shoulders around your ears and your jaw clenching. You could try some online yoga routines to stretch and your hips and back and to relieve tension from the news or from hunching over your laptop. There are also full classes on YouTube and streaming classes on Instagram Live and on Zoom.
VISUAL
Animal cams — Penquins, otters, birdsong…
There's not much as good for calming your nerves as watching members of a penguin colony waddle about, seeing otters frolic, or hearing birdsong and maybe catching a glimpse of an eaglet in the nest. The good people at the California Academy of Sciences, the Monterey Bay Aquarium, and the Audubon Society can provide you with all that and more through their live cams.
Get a pep talk from painter Bob Ross
Hyperallergic
American painter Bob Ross created the PBS show, The Joy of Painting, which aired from1983 to 1994. Ross posthumously became an Internet celebrity in the 21st century; he was spoofed in popular culture on shows like Family Guy and The Boondocks, a chia pet was made in his likeness, and Target stores released and carried a board game called Bob Ross: The Art of Chill. Ross was known for painting landscapes, often with trees, mountains and clouds and for saying things like, "We don't make mistakes; we just have happy accidents."
Now all 403 episodes of his show are available on YouTube, and a writer at the arts website, Hyperallergic, has picked five of the most inspiring if you're feeling a little down and you need Ross to tell you "Let your imagination run wild, let your heart be your guide," or "Talent is a pursued interest. In other words, anything you're willing to practice, you can do."
See a classic scene from a hit Bollywood movie
YouTube
"Chaiyya Chaiyya" is a wildly popular and catchy song from 1998 Bollywood film Dil Se.Grammy and Academy Award winning musician A.R Rahman (who recently asked Indians to stop congregating in religious places due to the Coronavirus, telling them God is "in their hearts"), has composed music for more than 170 movies, including this one. The male lead is Shah Rukh Khan, nicknamed the "King of Bollywood," a superstar who has appeared in more than 80 movies. The video (featuring people dancing on a moving train!) achieved cult status, and director Spike Lee remixed the songs and used it in the opening and credits to his 2006 movie, Inside Man. What a ride!
Virtually visit sites in Yellowstone National Park
National Park Service
With this site, you can go for a virtual walk to Canary Hot Springs, and watch videos of a geyser erupting, a bison calf's first steps, or a bobcat stalking a duck. There's also an aural library where you can hear a bald eagle's calls, a grizzly bear popping its jaw, huffing, and growling (which I'm pretty sure is one thing that's more relaxing in your home than in the wild), and listen to an early morning chorus of birdsong. There's also a photo gallery of Yellowstone's canyons and rivers as well as its ponds and lakes.
Visit art collections around the world online
Hyperallergic
One of the most popular articles recently on the arts website, Hyperallergic, is this one, recommending 12 museums out of the thousands worldwide that are offering virtual tours and online collections. Recommendations include the Van Gogh Museum, Amsterdam with the largest collection by the painter, including his sunflowers and wheat fields, the Musée d'Orsay, Paris, where you can see French painters like Monet and Cézanne, and the National Museum of Modern and Contemporary Art, Seoul, with the latest in Korean art.
Popular actor dedicated to Some Good News
Some Good News
John Krasinski, best known for his role on NBC's The Office, has a YouTube channel, SGN (Some Good News) dedicated to sharing heartwarming stories like people cheering for healthcare workers, helping local businesses, or leaving gifts for delivery drivers. It's a low-tech affair with artwork by his daughters, but he did get a special guest — Steve Carell, who played his boss on The Office.
Russian Facebook group re-creates artworks at home
Facebook
Many people have more time on their hands staying at home during the pandemic. And for some people that has meant more time to be creative. That and maybe the longing for connection, has made a Facebook group where people post recreations of famous paintings using things they find around the house, along with their family members and pets, enormously popular – the group already has more than half a million members. Items like toilet paper rolls and masks pop up in a lot of works. A tech company project manager in Moscow started the group, Izoizolyacia, which combines the Russian words for "visual arts" and "isolation." and she has just a few rules like props must be made out of whatever is found at home and no photo-editing allowed.
Some works are more obscure, and others are well-known works by famous artists such as Johannes Vermeer's "Girl with a Pearl Earring," and Leonardo da Vinci's "Mona Lisa" made with lentils, beans and rice. In another work by the Italian artist, "The Last Supper," nurses replace the apostles. The groups' slogan is "a community of people with limited mobility and unlimited imagination," and that seems about right.
Take a virtual tour of a Frank Lloyd Wright house
City of Los Angeles Department of Cultural Affairs and Department on Disability
The celebrated architect's house, Hollyhock, was the first one he designed in California, for an oil heiress in the 1920s. Recently, the house was added to the UNESCO World Heritage List, the first time that organization recognized modern American architecture You can see the California modernist house on a free virtual tour, with stops in the foyer, music room, study, roof terrace, and more.
Take a virtual garden tour
San Francisco's Strybing Arboretum
Do you like flowers? How about foliage? Trees? And what about garden curators who bear a resemblance to Ben Affleck? You can't visit San Francisco's Strybing Arboretum's on their Instagram page, where you can see photos of the maples and magnolias blooming, as well as see short one-minute or so videos of gardens curator Ryan Guillou as he brings the garden to you, talking about the spring foliage and flowers in the garden.
Take a tour of New York's classic skyscrapers
New York Times
The Times architectural critic, Michael Kimmelman, is offering a series of virtual tours around Manhattan, including this one, of the sleek, shiny midcentury modernist buildings along Park Avenue. Kimmelman "meets" architect, Annabelle Selldorf, at the Seagram Building on 52nd and Park Avenue, a 38-story building completed in 1958 that set the architectural style for skyscrapers in the city for several decades. They discuss other buildings in the immediate area, with Selldorf talking about how they influenced her thinking when she first came over from Germany after finishing high school.
Be uplifted by the Bird Song Opera
ShakeUp Music
ShakeUp Music bills itself as adding "value by hitting the exact tone and acoustic mood to compliment and stage our projects with magnificent sound." That's what Bird Song Opera, this recent video project, did, recomposed Mozart's famous Magic Flute Papageno/Papagena Duet into an audiovisual bird song aria. It's so fun to see the red robins, screech owls, ostriches, kingfishers and dozens of other birds, and beautiful to hear.
Go on a tour of California paintings
Crocker Art Museum
Sacramento's Crocker Art Museum in Sacramento, like others in California, is closed, but you can take a six-minute virtual tour of an exhibit up when the museum shut down – Granville Redmond: The Eloquent Palette. The artist, who was born in Philadelphia, lost his hearing when he had scarlet fever. He went to a school for the deaf in Fremont and took art classes. He's known for his paintings of California's topography- its coastal landscape as well as hills covered with poppies, the state flower. His friend Charlie Chaplin said there was a "wonderful joyousness" about his work. That's something we could use right now.
Photos of baby birds will make you melt
Audubon Society
Young leggy Sandhill Cranes, a downy Piping Plover just stretching out its wings, or fuzzy grey baby swans that are not ugly at all — as soothing and cute as photos of birds are, photos of baby birds are even cuter. And the care that went into making that soft nest for the hummingbird babies — just take a look at these to bring down your blood pressure.
Celebrate female artists
Oakland Museum of California
March, Women's History Month, may be over, but it's always a good time to celebrate some female artists from the Oakland Museum's collection. They include Oakland artist and political activist Favianna Rodriguez, whose work addresses migration and economic inequality; Faith Ringold, whose work was in the museum's All Power to the People: Black Panthers at 50; and documentary photographer Dorothea Lange, whose work was designed to provoke social and political change, around class, race, and justice. Lange left her archive to the Oakland Museum, and it recently opened Dorothea Lange: Photography As Activism, which will be on view when the museum reopens.
Watch a documentary about a prolific, renowned artist
Metropolitan Museum
Considered one of the greatest artist of our times, Gerhard Richter has produced both abstract and photorealistic paintings, as well as photographs and glass pieces. New York's Met Breuer Museum opened a show of his in March, Gerhard Richter: Painting After All, which of course is now closed. But, starting Saturday, April 11, through the end of July, the Metropolitan Museum will stream a documentary about his work, Gerhard Richter Painting, filmed mostly at his studio in Cologne, for free.
MOVIES
Best movies about unions
IMDb - Union Movies
This comprehensive list of more than 40 movies, includes classics such as On the Waterfront, which starred Marlon Brando as a prize fighter turned longshoreman trying to decide whether to stand up to corrupt bosses, and Norma Rae, with Sally Field playing a single mother who fights to unionize the mill where she works. There are some musicals such as Newsies, based on the 1899 New York City newsboy strike, and The Pajama Game, set in a pajama factory. The list also includes comedies, like Charlie Chaplin's Modern Times, where he struggles to live in an industrialized society, and Ron Howard's Gung Ho, where a Japanese car company buys an American plant.
Expansive look at labor in a globalized economy
American Factory
This movie, the first one Barack and Michelle Obama's production company, Higher Ground Productions, made, premiered at the 2019 Sundance Film Festival, and is distributed by Netflix. This documentary, reviewed by a CFT member in the union's newsletter, tells the story of a Chinese billionaire re-opening a factory in Ohio and hiring 2,000 blue-collar American workers. It got excellent reviews such as "American Factory takes a thoughtful — and troubling — look at the dynamic between workers and employers in the 21st century globalized economy," and "It's a great, expansive, deeply humanist work, angry but empathetic to its core."
The movie that brought attention to inequality
Parasite
This movie, so beloved that it inspired a hashtag #BongHive (after director Bong Joon-ho,) won four Academy Awards in 2019 — for Best Picture, Best Original Screenplay, Best International Film, and Best Director. And its emphasis on inequality has prompted housing reform in South Korea, where the movie is set. The country's government announced it would launch an initiative to help families like the movie's working class one in the movie to improve housing conditions. Different government agencies will offer money to replace floors, improve heating systems, and install things like windows, fire alarms, and humidifiers to semi-basement apartments where about 1,500 families live, like the Kim family in the movie. In Parasite, their gloomy, cramped apartment floods when the heavy rains fall, and they come up with a plan to get each member of their family employed with the Park family who live in a palatial modern mansion. The movie is now streaming on Hulu.
The inspired origin of the disabled rights movement
Crip Camp: A Disability Revolution
One of the filmmakers of this documentary attended Camp Jened, in upstate New York in the '70s. The camp was one full of progressive ideas about changing the status quo and treating disabled people not as patients, but as members of a community. He and many other former counselors and campers took that spirit of radicalism and change, moved out to Berkeley and became active in the disabled rights movement. The film shows many of them taking part in an astonishing 28-day occupation of the Health, Education, and Welfare offices in San Francisco in 1977, where the support of other organizations, like unions and the Black Panthers, was critical. The movement eventually led to the 1990 passage of the Americans With Disabilities Act. The movie is now streaming on Netflix.