Featured panel spotlights four incredible women organizers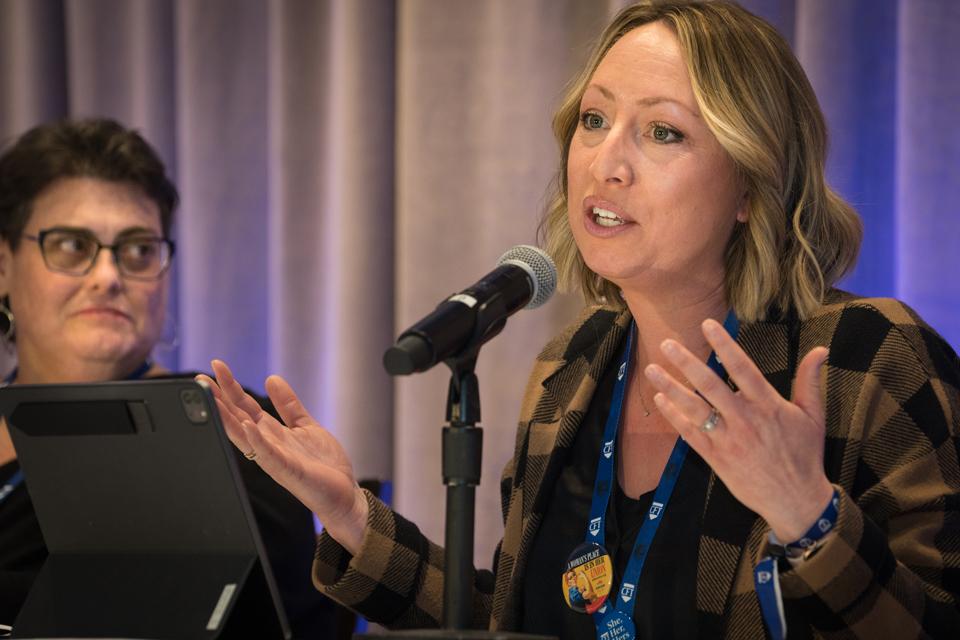 During the featured panel discussion on Saturday afternoon at the 2023 CFT Convention, four incredible women shared the work their unions are doing in their communities to fight for education, worker, and labor justice
Teanna Tillery with the United Educators of San Francisco shared how they increased unity between certificated and classified staff. Marcy Goodnow with the Paso Robles Public Educators talked about how attacks on human rights led to educators and students working with the community to flip the school board. Arden Stern told delegates how the ArtCenter College for Design in Pasadena had successfully unionized with CFT's help. And Linda Sneed, with the Los Rios College Federation of Teachers, explained about the planning, lobbying, and bargaining that led to successfully winning healthcare for part-time faculty.
Monica Casey, president of AFT Local 1481 in Daly City, moderated the panel of women talking about their work for education and labor justice. She shared some of the panelists' favorite quotes. Stern's was: "A union is not a social club for people of shared progressive values. It is a shared struggle."
The CFT helped alleviate that struggle, Stern said. Talking with colleagues, they found similar concerns about getting support and respect. In two years, they had organizing committees across departments and formed the first faculty union at the college.
"We thought we were alone, but we weren't. Our conversations became a movement," Stern said, crediting CFT for its help. "They supported our grassroots campaign, and their organizing model was a great fit for us. They know how to build unions, and we know our workplace and our colleagues. So, we had plenty of fuel, and our connection with CFT was the spark."
Tillery spoke about the need for higher wages — especially for classified staff. She says they love the students — but love isn't enough.
"We have educators who can't afford to live in a city where we work. We have educators who commute from as far as three hours one way to work," she said. "We have educators who are making $26,000 a year."
Determined to come up with a better contract, Tillery said they hit on a plan involving some healthy competition. They sent out member surveys, and any school that returned 85 % (55 % has been the previous average) of them were allowed to select someone to be part of the bargaining team. They ended up with over 70 members on the team.
"This was made up of more than just teachers," Tillery said. "This was para-educators. This was nurses, social workers, these were security guards."
Bargaining team members decided to focus on raises, improved working conditions, student support, and fully staffed schools. Tillery said they have been talking with people all over San Francisco about their plan, and they are planning informational pickets.
Goodnow said she had been a teacher for years in Sacramento, where she and her wife would walk hand in hand when going out at night. When she got a job in the theater arts department in Paso Robles, people told her she needed to be careful in the small, conservative community. Goodnow tried being quiet. But after two students ripped down a Pride flag in the school and filmed themselves defecating on it, she got louder.
The principal didn't recognize the act as a hate crime, and the school superintendent responded by not allowing flags (except the American flag) of bigger than two feet by two feet.
"I was all done being quiet," Goodnow said. "I got organized."
They held a panel where students told stories about being threated on campus. Many teachers put up more Pride flags.
"There were maybe two, and now there were 50," Goodnow said. "Imagine you walk into a teacher's room and the first thing you see is a Pride flag. You can take a breath."
With some school board actively trying to eliminate LGBTQ protections, Goodnow and other allies supported candidates for the four open spots that on the board. They won three of them.
When Sneed got involved in the campaign to win healthcare for part-time faculty in 2021, she said she and CFT Field Rep Jason Elias decided if they achieved that goal, but didn't build the union, they had failed.
The statewide campaign included lobbying, and statewide monthly meetings that they tried to make as fun as possible to get people mobilized. Sneed emphasized that they tried to stay positive.
"A key feature of the statewide campaign was a high energy humane approach," she said. "Burnout is a real threat. The work should continue if I don't' show up one day. We can't always be in crisis mode."