Dick Hemann
Former CFT Field Representative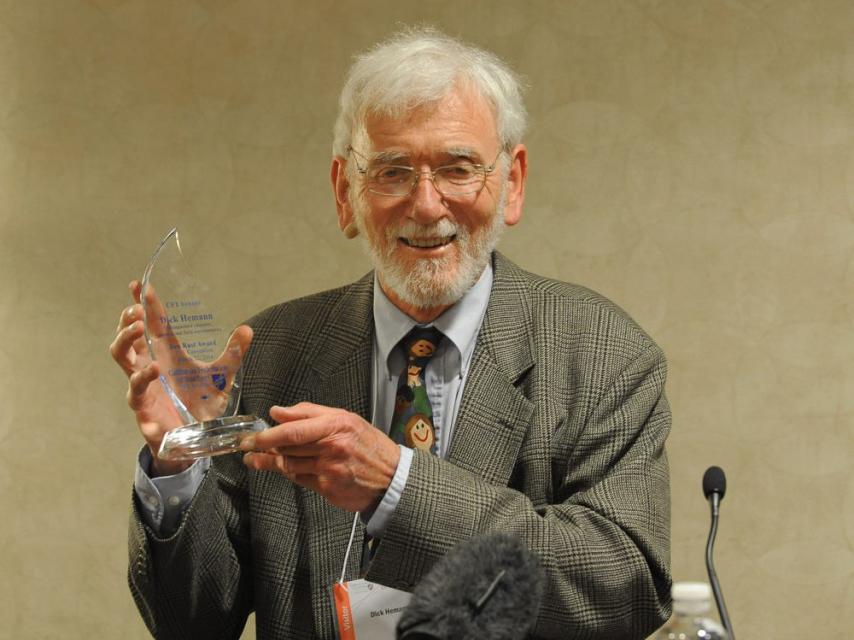 Ben Rust Award 2014
English teacher, organizer, expert on Education Code and teachers' legal rights, Dick Hemann's long career as a union activist spanned decades and varied jobs.
Dick started out in Burlington, Iowa, where his zealous selling of advertisements turned his school newspaper into the most profitable student paper in the state. At Elmhurst College, in Chicago, he supported himself by selling Fuller brushes for five summers. He earned his degree in English Literature in 1963. All that early experience in salesmanship no doubt contributed to Dick's later effectiveness in selling union membership and solidarity to potential members.
Dick lit out for the West Coast after graduation from college and worked as a playground director in Emeryville, while studying at the Pacific School of Religion. He earning a teaching credential at San Francisco State, where he also added a second major, in history.
Dick began teaching English and journalism at Pacific High School in the Mount Diablo School District in 1966 and was also advisor to the school paper. Soon he was transferred to Concord High School.
In 1979, the Diablo Valley Federation of Teachers, AFT Local 1902, went on strike. Dick's teacher union activism went into fast forward and he was drafted to be president of the Diablo Federation, serving from 1982 to 1986. In 1986, he left the teaching profession to become Executive Director of the Los Rios College Federation of Teachers, AFT Local 2279. Dick worked in that capacity for four years.
In 1990, he joined the staff as a CFT Field Representative. He was also an ace organizer. Dick organized four local unions: Cuesta College Federation of Teachers, AFT Local 4909, South San Francisco Federation of Adult Educators, AFT Local 6179, Aromas-San Juan Federation of Classified Employees, AFT Local 4840, and the Summerville Federation of Teachers, AFT Local 6007, thus helping to greatly increase CFT ranks.
Dick was a generous contributor to the AFT Western States Union Leadership Institute, and attended the inaugural session in 1983. He was an instructor and guru of Grievance Administration and Negotiations, and was also famous for serving as the Trivial Pursuit Competition's Master of Ceremonies, a thankless task of mostly policing trivia buffs.
Dick served with many legendary CFT leaders, including Raoul Teilhet, Miles Myers, Mary Bergan, and Marty Hittelman. He also served for many years as the Chief Negotiator and Treasurer of the Field Representatives Union, the union that works to protect the workplace rights of CFT professional staff.
As "Hired Hand Hemann," Dick served numerous Bay Area locals. His low-key midwestern-style humor and puns entertained many a local through low points and the inevitable boredom at the bargaining table. His encyclopedic knowledge about the 
Ed Code and labor law often stopped administrators in their tracks. Never impressed by management's scare tactics, or administrative law judges, or long-winded mediators, Dick would pause theatrically and then deliver verbatim sections of Ed Code from memory refuting their positions.
Local presidents could count on Dick to back up them up, to insist on fairness and equitable treatment for all, and to inspire and encourage them in their own capacities to organize, build political power and strengthen their locals.
After "retiring" from CFT, Dick put in many months writing an invaluable CFT resource guide for new local leaders to use called 12 Actions of Effective Unions. This practical resource helps new union leaders with the myriad duties which are so important in kick-starting an effective local but have never before been cataloged in one slim volume. The AFT awarded 12 Actions its highest communications honor.
Dick is respected, admired, and appreciated by CFT and all those who have had the opportunity to know and work with him and reap the benefit of his wonderful spirit, his commitment to making a difference in the world of workers and beyond. We are lucky that he chose to use his considerable knowledge and intellect to further labor's goals. His dedication to the success of locals and his unflinching stand for justice and democratic process is a big part of the foundation on which the CFT stands today.