Dennis Kelly
United Educators of San Francisco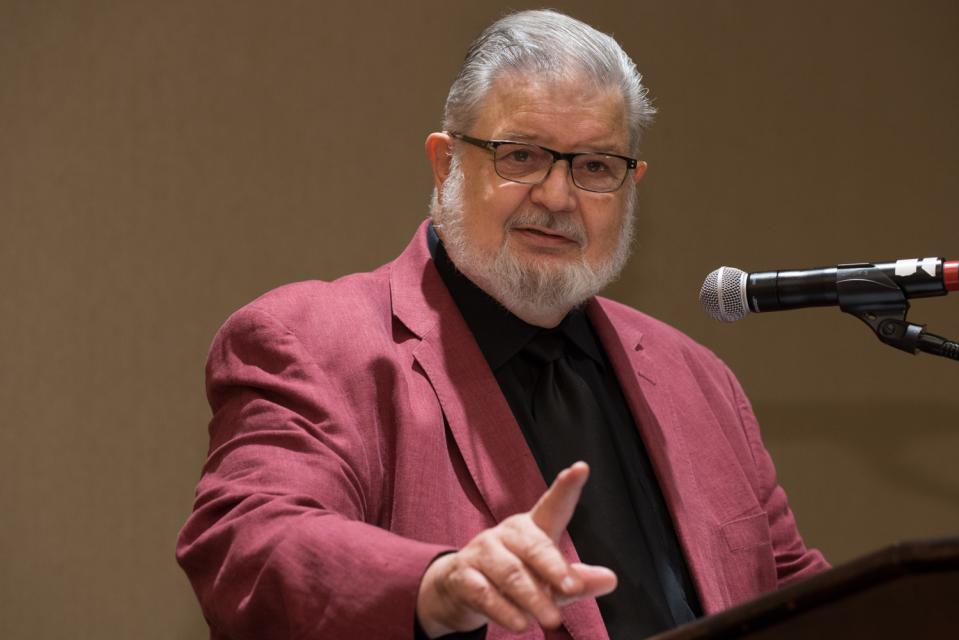 Ben Rust Award 2018
Dennis Kelly is a master of the English language, a master teacher, and a unionist to the core — all qualities reminiscent of Ben Rust, the teacher unionist.
His dedication to the CFT and the AFT has been unwavering for 50 years. In his many roles, Dennis has exemplified a vision for public education and unionism that has left an indelible mark.
Dennis has been an AFT member throughout his long career — in the early years as a member of what was then the San Francisco Federation of Teachers, and after the merger of SFFT and SFEA in 1989, of United Educators of San Francisco, AFT Local 61. In 1971, Dennis joined the SFFT Executive Board, and became a delegate and a leading voice at the San Francisco Labor Council. Dennis went on to serve as union Secretary for 26 years, and after 35 years in the classroom, served as UESF President from 2003 to 2015.
He has attended every CFT Convention but one since 1968, and served as parliamentarian to six CFT presidents, quietly and capably guiding them and the sometimes raucous delegates. In later years, he was elected a CFT Vice President as well as an AFT Vice President. He served on the AFT Teachers Program and Policy Council.
As a leader in a successfully merged local, Dennis advocated for AFT-NEA merger statewide and nationally, seeing this potential strength as a way to build support for educators and public education. He shared the UESF structure, in which all members belong to both unions, with United Teachers Los Angeles, helping that union, the state's largest, realize full merger recently.
Yet his most memorable traits may be persuasiveness, a biting sense of humor, and a formidable public persona.
In 1985, Dennis was the lead CFT spokesperson at a legislative hearing that explored how to improve public education and attract and retain teachers. His testimony, an articulate reflection on the craft and conditions of teaching, helped shape the report of the California Commission on the Teaching Profession, Who Will Teach Our Children? A Strategy for Improving California's Schools, and underscored what Ben Rust had helped establish — the CFT's reputation as a thoughtful and articulate champion of public education and its teachers.
At the AFT Convention in 2014, Dennis gave a rousing speech that led delegates to put Secretary of Education Arne Duncan on an improvement plan as a prelude to replacing him, because good educators always give people the opportunity to improve.
When he received the EC/TK-12 Council's Raoul Teilhet Award in 2001, Dennis recalled the melody of Rodgers and Hart as he led an unforgettable chorus in "Fools for Labor."
Dennis's mighty pen extends to the visual arts. When people thought Dennis was furiously taking notes during union meetings, more than likely he was actually capturing people's likenesses in strikingly accurate caricatures. He also applied his artistic talents to union organizing, sketching out ideas for campaigns and UESF apparel, in particular classic t-shirts.
As UESF President, Dennis led the 6000-member union in many victories, including deserved respect and better contract language for paraeducators, and bringing representation to educators at Creative Arts and Five Keys Charter Schools. Dennis played a key role in passing a 2007 parcel tax that has significantly increased compensation and benefits for UESF members by generating about $35 million per year. It was Dennis who started the conversation about long-needed housing for San Francisco educators, making it an issue the city ultimately had to address. As a result, educator housing will finally be built by 2021.
In retirement, Dennis continues to be a mentor for union members and officers. For example, his experience and knowledge were put to use when AFT assigned him to help restructure the teachers' union in Orange County, Florida, so that the local could better meet the needs of its members. Dennis remains an advisor to many, union historian, and the parliamentarian at CFT Convention.