David Yancey
San José/Evergreen Federation of Teachers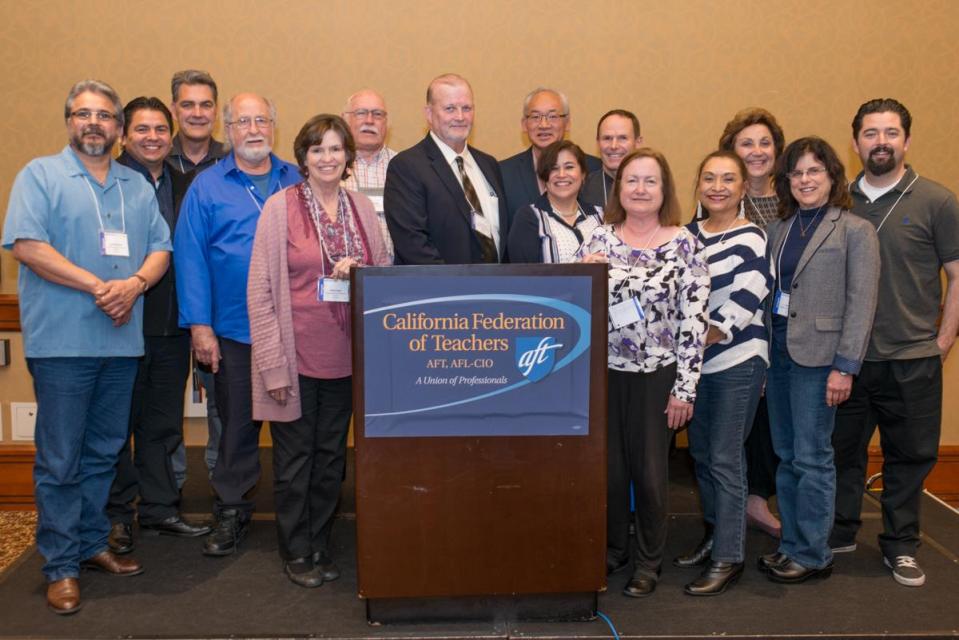 Ben Rust Award 2017
David Yancey has been a remarkably effective and influential voice for faculty rights and shared governance for almost 36 years in the San José-Evergreen Community College District. He helped launch the affiliation effort that brought faculty into the AFT/CFT.
Throughout that process, David explained to executive board members and faculty that our then-weakened union was ineffectual and had to grow in its ability to represent members. He insisted the union could gain power by participating more in the political process. After tirelessly campaigning, the ratification vote was 92 percent in favor of affiliating with AFT/CFT.
David's sense of what AFT Local 6157 could become was prophetic. With guidance and support from AFT and CFT, and AFL-CIO Labor Council influence, the "little union that could…" was built. Union power within the district grew dramatically, due largely to trustees suddenly being willing to engage with union leaders. The results were spectacular. There were salary increases and many contractual gains for full-time and especially part-time faculty.
After almost seven years as vice president, David began his 10-year stint as president of AFT Local 6157. He took the union to a new level. The website and member communications evolved, and he wrote persuasively about social activism. David transitioned the union from constant administrative opponent into more of a partner role than had previously seemed possible, or even desirable.
His sheer will fueled much of this miraculous change. David's leadership style is captured by two of his mantras: 1) "speak truth to power," and 2) "defend the process." When neither of those tactics work, he simply intimidates the powers that be with his brilliance and consistency. His high standards led the union to be so admired that a top level administrator confessed that the district needed to build such a reliable and respected structure.
David also lent his leadership to the South Bay AFL-CIO Labor Council, to which he was a delegate for more than 20 years and an elected vice president for five years.
During this time David was elected a vice president of the CFT, a position he held for 10 years. He chaired the CFT Convention Committee for five years, beginning with the 2012 event in San José. He has been active in local and statewide elections, including the effort to help CFT and the education community pass Proposition 30.
David passionately supported our brothers and sisters at City College of San Francisco during their successful but prolonged battle with the Accrediting Commission for Community and Junior and Colleges, and represented the CFT at a community forum led by Bay Area congresswomen.
Aside from his talent as a union activist and leader, David's greatest legacy may be his influence on students, on and off campus. David led students to participate in the "March in March" at the State Capitol for many years. He was instrumental in creating "Student Success Outside the Classroom" workshops that allowed students to meet with community and political leaders.
The various presidents of the Associated Students have always sought his advice. Some of his former students now work at the South Bay Labor Council and in the California Legislature.
Like Ben Rust himself, David is a master teacher. Go with him anywhere in San José, and a former student will blurt out, "Mr. Yancey, you were my favorite professor." He does not teach the students history and political science so much as he envelops them in it. He starts every class the same way, by engaging students with a discussion of current events; and he uses those conversations to segue into the lesson of the day.
Simply put, as a faculty union leader of the San José/Evergreen Federation of Teachers, David Yancey exemplifies the genuine commitment and heart that has motivated a new generation of activists that he insists can change history.