Charles "Chuck" Canniff
Former CFT Field Representative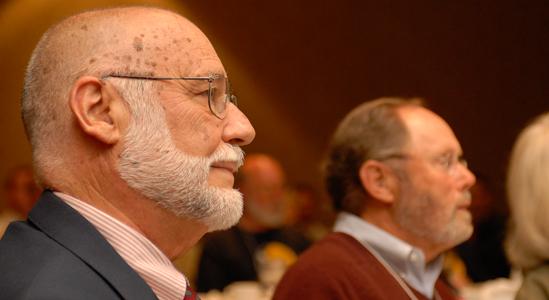 Ben Rust Award 2008
In May of 1969 the Newport-Mesa Federation of Teachers, AFT Local 1794, was chartered by AFT with 22 members. Chuck Canniff was elected the first president of NMFT, with 1997 Ben Rust Award recipient Maya Decker as vice president.
The task facing the new local was to organize and communicate with well over a thousand teachers. Since the district's superintendent was a whaling enthusiast, the first newsletter was called the Harpoon. Articles were published on a borrowed mimeograph machine and then distributed to teachers' mailboxes by what was called a "Pony Express run."
Led by Chuck, everyone worked hard to recruit new members so that NMFT could gain a seat on the Certificated Employees Council (CEC) and take part in the meet-and-confer process. Over the next seven years, NMFT succeeded in gaining enough members to claim three seats on that council.
In 1972, the CFT hired Canniff as one of its early staff organizers working primarily in southern California. He played an instrumental role in organizing teachers into CFT up and down the state during those critical years when we were pushing so hard to gain collective bargaining. That dream was realized with the passage of the Rodda Act in 1975, later named the Educational Employment Relations Act.
In accordance with the EERA, scores of elections to select an exclusive bargaining agent were conducted beginning in 1976. Chuck worked in many of these elections and the pace was grueling: often from 6 a.m. until midnight. The work included school site visits, running home visit programs, producing high-quality campaign literature, coordinating building stewards, supporting the overwhelmed local officers and obtaining an accurate assessment of each voter. It was Chuck's calm air of self-confidence that reassured so many activists who were new to the role of union leadership.
Chuck loved the six-foot-long sandwiches that the organizers brought in for school site lunches to attract potential voters. After the election was conducted, an organizer would go on to the next election while simultaneously helping the victorious local union successfully negotiate its first contract.
There were some locals that had lost their first bid to be the exclusive bargaining agent and had an opportunity to attempt to decertify the incumbent bargaining agent. Chuck was the "lead" staff person in many of these elections. Two of the successful attempts were in 1979 when the Newport-Mesa Federation of Teachers decertified the California Teachers Association and in 1980 when the ABC Federation of Teachers decertified the CTA in ABC Unified. Both of those locals are still bargaining agents with long and healthy lives.
Yet another contribution that Chuck made to the CFT and the AFT was as co-founder of the current Union Leadership Institute West. In January 1983, in his role as a Leadership Development Coordinator in the CFT (i.e., trainer), Chuck said, "Let's have a ULI on the West Coast this summer. We can do this!" ULI West was born. Forty-two participants attended the first ULI at UC Santa Cruz.
Chuck retired from CFT in 1994 after serving as a staff member in the Sacramento area. His quiet manner and positive attitude were greatly admired by his Field Representative Union colleagues and the many locals that he served. CFT is proud of Chuck's achievements and is pleased to honor him for his service to our union.