CFT Strategic Plan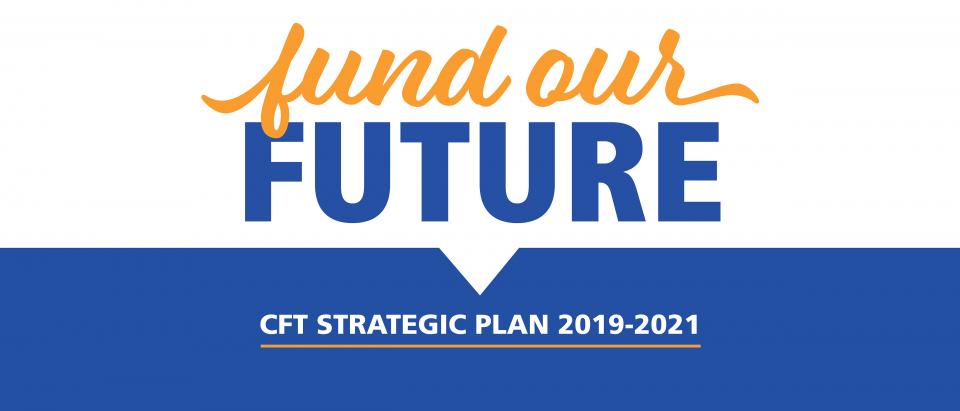 In 2019, the CFT undertook a process to identify priorities that will guide the work of the Federation through the spring of 2021. Building on previous efforts, and guided by new leadership, this planning process yielded four strategic priorities and related action plans that comprise the Fund Our Future Strategic Plan 2019-2021.
During the past three years, while confronting ongoing and increasing threats to public education as well as a hostile federal government, educators and classified employees have fought back in defense of our members, our students, and our communities. In joining with community partners, building member actions, and even striking, it is more apparent than ever that people stand with us when we stand up for the public good.
As a result of these actions, public support for teachers and support staff has increased, creating new opportunities for education and education workers. Our strategic planning acknowledges the public support and seeks to seize this moment to reassess our priorities, goals, and future actions.
Building on Past Efforts
Our previous planning efforts spurred the CFT Executive Council into fruitful discussions and a mode of strategic planning. As a result, in 2014 the CFT published The California Principles That Unite Us, a document that lays out a shared vision of what a fully funded, fully inclusive public education system looks like for educators, parent advocates and community leaders.
In 2017, recognizing and valuing the Black Lives Matter movement, the CFT published its Racial Equity Task Force Report describing our vision and strategy for addressing racial inequalities in our union, our schools, and our communities.
That year, we also published a Structural Organizing Plan, which was created and implemented to help fortify the CFT and local unions against the impacts of the U.S. Supreme Court decision in Janus v. AFSCME, a ruling which eliminated agency fees in the public sector. These documents and others provided a solid starting point for strategic discussions.
Because the CFT values the experiences and voices of its members, we wanted to ensure that a strategic planning process encompassed this value. This plan has been developed with input from local union leaders and rank-and-file members to guide and provide direction for CFT leadership and staff. It sets clear goals to be achieved during the next 18-24 months. The strategic plan will be implemented using CFT's vision, mission, and principles as guidelines.
Vision, Mission & Principles
All Californians benefit when our educational system is fully funded, accessible, and equitable. Working together with students, parents, teachers, support staff, families, communities, and community partners, CFT will be the champion for the public education system that Californians deserve. We will be the trusted voice fighting against corporatization, privatization, and underfunding.
The CFT's progressive agenda provides a collective and transformative map for educational change. We envision our work to be built upon a platform of education and labor justice that includes, among others, women's rights, LGBTQ+ equality, climate justice, and racial justice.
The mission of the CFT is to represent the interests of its members and the interests of the communities they serve, through support for local collective bargaining, legislative advocacy, political action, and organizing. Through these means, the CFT helps members achieve dignity and respect in their workplace, decent lives for themselves and their families, and security in retirement. The CFT brings its members together to act on behalf of education workplace rights and full access to quality education for all California students.
Using The California Principles that Unite Us as a guide, this strategic plan focuses our work through the following underlying principles:
Public schools, community colleges, and universities are part of the social fabric of our state. We must resource and sustain them;
Public education must be fully funded for success, access, and equity;
Those closest to the classroom — educators, support staff, students and their families — deserve a voice in setting policy and practice in our public schools and colleges;
All students deserve a well-rounded curriculum and rich educational experience;
All teachers, professors, and support staff should be treated as the professionals they are, with opportunities for ongoing professional development, a place at the decision-making table, and the respect they deserve;
Schools, colleges, and universities must be welcoming and respectful places with equitable opportunity;
Schools and colleges are an integral part of our neighborhoods. Strong public education creates strong communities — and vice versa.
Strategic Priorities
1. Increase funding for public education
Funding must be increased for all divisions of public education, from early childhood through higher education. CFT is committed to helping secure new and ongoing revenue for California's public education system sufficient to realize our progressive vision of creating schools that all students deserve. CFT's work will be centered on the following efforts:
Pass the Schools and Communities First ballot measure in November 2020. This commercial property tax reform will raise over $12 billion for public services, including $4.5 billion for education. This much-needed funding for our K-14 schools will reduce class sizes and provide more educational opportunities. The revenue will also help our communities provide funds for housing, healthcare, and public safety.
Fund IDEA and Title I federal funding. The resource needs for special education services are escalating faster than revenues from state and local budgets can meet the demand. Mandates from the federal Individuals with Disabilities Education Act (IDEA) go largely unfunded. Similarly, funds to assist schools with high percentages of low-income students (Title I) are simply not enough to meet the need. The AFT is bringing a national focus to the shortfalls in federal education funding, specifically for special education. The CFT commits to stand with AFT in their call for Congress to fully fund IDEA and increase funds for Title I.
Support local bond measures and parcel taxes. Many local unions are planning parcel tax initiatives, which are often a critical means of generating revenue given the inadequacy of state funding to meet student and employee needs. CFT will continue to support such local initiatives, and use these opportunities to highlight the need for increased state education funding.
Close state tax loopholes. Under current California law, many items and services are under-taxed, including hedge fund and private equity firm income, high-end business services, luxury items (such as yachts), and the inheritance of expensive luxury homes and rental properties. Closing these loopholes would generate billions more in state revenue. CFT will continue to advocate for closure of such state tax loopholes.
Fund community colleges based on student needs. The new "student-centered" funding formula for community colleges moves California in the wrong direction. Funding must consider student needs and inputs, not student outcomes or outputs. Students who need to work full-time, or struggle with housing, food, and employment insecurities, cannot be expected to achieve outcomes at the same rate as students without such insecurities. The new funding formula will effectively penalize colleges that provide services to the students most in need, and in turn, effectively undermine community colleges as places of lifelong learning. CFT continues its commitment to ensure fair and equitable funding for the community colleges without financial penalties based on false metrics.
2. Fight back against privatization and corporatization
Defending public education for all students — and fighting any and all attempts to privatize and corporatize our public schools and colleges — must be front and center for CFT. Our efforts will be centered on the following:
Holding charter schools accountable for meeting the needs of all students. The passage of four bills mandating charter school reform (AB 1505, AB 1507, AB 406, and SB 126) has been a tremendous and historic accomplishment. CFT has led or been at the forefront of fights to ban for-profit charters, to require transparency at for-profit charters, hold charter schools accountable, slow the growth of charters, and return local control. CFT will continue its advocacy to ensure public schools are truly public and serve the needs of their communities. CFT will remain vigilant to ensure that the new charter laws are being enforced and that charters remain accountable to their communities.
Opposing statewide online-only community college. The new statewide online-only community college — Calbright — ­­increasingly resembles a higher education analog of a charter school. Already there have been multiple allegations of Education Code violations and concerns that enrollment growth for this college may come at the expense of growth at traditional colleges. This has prompted CFT to escalate its opposition to the online-only college, and reiterate its stance to keep the community in our community colleges.
3. Demand equity in higher education for faculty and students
Inequity has taken many forms in higher education, and CFT is one of the leading voices for equity. We have redoubled our commitment to help end the growing inequities and will center our efforts on the following:
Advocating for faculty equity in pay, benefits, and working conditions. We have helped bring much attention to the disparity between part-time faculty in the community colleges and contract faculty at UC as compared to full-time faculty. We will continue to oppose the systemic over-reliance on part-time employment to educate our students. Through publicity campaigns and legislative approaches, the CFT will continue to advocate for the creation of more full-time faculty positions, and equalization of pay, benefits, and working conditions for community college part-time faculty and UC contract faculty.
Tackling the student debt crisis. AFT and CFT are heavily invested in fighting unscrupulous lenders and the federal government to provide relief for those saddled with onerous student debt. We will continue standing up to predatory lenders and advocating for greater relief of student debt. AFT's lawsuit against the Navient Corporation, CFT's legislative work to expand loan forgiveness programs, and our local student debt clinics are critical to supporting our members and our higher education community, including students.
Advocating for free community college. Following the successful creation of a tuition-free community college by San Francisco's AFT Local 2121, the state of California followed suit in the 2019-20 budget by expanding free college to the whole state for first-time students. As the popularity of this concept grows with faculty, staff, students, and communities, CFT will continue to advocate for making free community college permanent.
4. Implement recommendations from the CFT Racial Equity Task Force Report
The CFT believes that education and social justice are inseparable. Our Racial Equity Task Force identified significant priorities to guide CFT's work in this area. The four priorities identified in that report include:
Diversifying teachers and staff. Developing and implementing programs to help identify, recruit, develop, and retain Black male educators and classified staff.
Unconscious bias training. Providing professional development and training for cultural competency, racial equity, and unconscious bias to help teachers and staff understand their own personal biases.
Apprenticeship programs. Establishing partnerships with trade unions and industry groups to develop apprenticeship programs that provide job training and placement in trade careers for young Black men.
Restorative discipline practices. Changing K-12 school discipline practices to include restorative practices and fairer processes.
Action Plans
To address our strategic priorities, the CFT will continue dedicating resources and attention to assist locals in achieving their goals as identified in the "Vital Signs for a Strong Local Union." We recognize that helping local unions develop strong worksite structures and build grassroots power enhances CFT's capacity to take powerful action. We will carry out these efforts through a continued program of member engagement and organizing, and a robust political program.
Member engagement and internal organizing
Member engagement is the most successful way to build power within our membership and beyond our union with community partners and the general public. We recognize that when the public stands with us, our density is multiplied and strengthened and our power deepened. Our capacity to rise to action in support of public education and social justice will be strengthened.
Organizing. CFT will continue dedicating resources to new and ongoing internal organizing efforts, particularly in local unions with high numbers of part-time employees in both teaching and support staffs.
CFT-hosted local events. We will continue to host events and actions with our local unions to build momentum and visibility. These collaborations will range in form from local days of action with coordinated messages to single-day statewide actions organized in the Capitol. Successful coordinated actions will provide opportunities to amplify our voices within and beyond our communities.
Training. CFT will continue to provide training support to local unions, including but not limited to internal organizing, contract campaigns, membership drives, and strengthening worksite structures. Social media and digital organizing will also be part of our training program to support local unions in engaging members. Our work will help foster local leadership through support and training, including Union Summer School.
Materials. CFT has identified that additional focus be given to new employee orientations and back-to-school events to help local unions amplify their voice and presence, as well as their state affiliation with CFT. Materials to assist these efforts will include short CFT introductory videos and informational leaflets about CFT events and strategic priorities.
Unified political program through November 2020
The year 2020 will provide an unprecedented opportunity to activate our members politically and to affect significant changes throughout our state and our nation. We face a challenging presidential election, the need to pass a state revenue measure (the Schools and Communities First initiative), and many critical state and local races. The CFT will engage in the following efforts to address these challenges:
Encourage more local COPE committees. Local unions are strongly encouraged to create standing COPE committees, and CFT will offer support to any local in need. COPE forms will be included in new employee materials, which will include both a union overview and constituency-specific information.
Grow the number of member policymakers. CFT will provide training where appropriate to support members who run for public office. Having union members hold office helps create a cadre of pro-labor and pro-public education policymakers in government.
Strengthen CFT and local coordination. The 2020 elections are an opportunity to publicize and advance our goals. Whenever possible, we must coordinate election and initiative campaigns between local, state, and federal races. Important electoral and legislative strategies should be shared between CFT and local unions. Locals should coordinate COPE drives with organizing in support of prioritized state and local initiatives.
Increase community engagement. Local unions are encouraged to engage parents in the Local Control and Accountability Program (LCAP) process as a way to educate parents about school revenue and build relationships in their communities. CFT will work with local unions to expand and strengthen coalition-building locally and statewide in support of our priorities.
Hold town halls. Local unions are encouraged to host community events (e.g. town halls) to find common ground to address the many problems in our schools, particularly the lack of adequate revenue and the impact of bad education policy.
More support for local political and lobbying events. CFT will provide training and support for local unions to engage in regional lobbying efforts regarding state and local strategic priorities.
Conclusion
The goal of CFT's Fund our Future Strategic Plan 2019-2021 is to achieve success for our members, our schools, and our communities. We will do this by working to provide the resources that are so desperately needed to improve education in California, and by organizing our members and coalition partners in support of policies that promote progressive change across a spectrum of education and social justice issues.
Our work will be informed by the knowledge that a successful education system is inextricably linked to people and their communities, and that no person or community is untouched by issues of race, class, or environment. Together, we can work to create a more equitable and just society with an education system that fulfills its promise to every student, teacher, staff member, and community in California.