Faculty Files Lawsuit to Block Closure of City College of San Francisco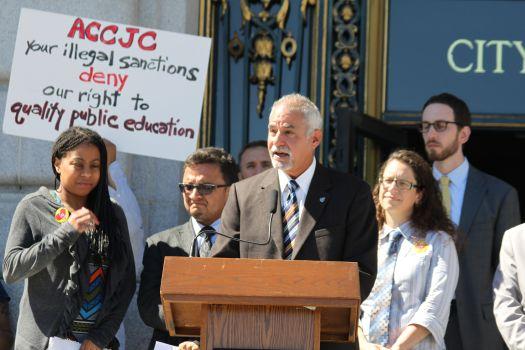 FOR IMMEDIATE RELEASE: Monday, September 23, 2013
San Francisco—Today on the steps of San Francisco City Hall, the California Federation of Teachers (CFT) and the American Federation of Teachers (AFT) Local 2121 held a press conference announcing they are filing a lawsuit in San Francisco Superior Court to block the planned closure of CCSF. Speaking were students, faculty, and elected officials determined to keep CCSF open and fully accredited by overturning the illegal actions of the Accrediting Commission for Community and Junior Colleges (ACCJC).
"The students of CCSF deserve the highest quality education we can provide, and the ACCJC must be held accountable for their reckless, irresponsible and illegal actions,¨ said CFT president Joshua Pechthalt, whose statewide union represents 25,000 community college faculty. "The ACCJC has engaged in unfair and unlawful business practices. Our lawsuit seeks to reverse the terrible effects of this rogue agency's ill-conceived sanctions by restoring full accreditation to City College."
Alisa Messer, an English instructor at City College San Francisco, and president of the faculty union, AFT Local 2121, said, "The decisions made and processes used by the ACCJC were flawed, not just at CCSF but in numerous other cases as well. Their sanctions have destabilized our college, our community and the education of more than 80,000 students. The truth about the overreach of this unaccountable accrediting commission that is harming the interests of students, faculty and staff in San Francisco must be told. Our suit makes that important statement."
National AFT president Randi Weingarten sent her observation on the suit via email: "Higher education is critically important to the success of our nation—and particularly community colleges, which serve so many students from working class families and communities. Accrediting agencies should be focused on ensuring that students receive a high quality education. Instead, the ACCJC has ignored its own policies and imposed baseless, punitive sanctions that are harming tens of thousands of students. This lawsuit should never have been necessary, but the actions of the ACCJC at City College and other institutions show that we must stop this commission from causing further senseless and baseless harm."
Shanell Williams, CCSF Student Trustee, said, "As a full time student at City College of San Francisco, I believe that the ACCJC must be held accountable for the great harm it has done to our entire campus community. Students should not live in fear that they will not be able to access this institution and meet their educational goals. The diverse population of the San Francisco Bay Area, including working families, single parents, new immigrants and others, depends greatly on this college being here. This is a senseless, mean spirited attack directed at the heart of our working class communities. I refuse to let this runaway commission take hope and opportunity away from students like me who need CCSF the most."

Peter Lauterborn, speaking on behalf of San Francisco Supervisor Eric Mar, said, "CCSF is San Francisco's indispensible engine of opportunity and economic activity. The entire City must remain focused on preserving our City College and resolving this crisis."
Assemblymember Tom Ammiano added, "The blatant lack of transparency, loose interpretation of the rules, seen through a lens of hubris and elitism, cannot continue. San Francisco is our backyard and the college is our treasure. You don't destroy the village to save it."
Key elements of the lawsuit include:
ACCJC in 2012 misrepresented its actions of 2006, when it made recommendations for improvement, as if it had identified deficiencies, when it had not. This was critical to the "show cause" sanction imposed on CCSF. The U.S. Department of Education (U.S. DOE) agreed that ACCJC had not distinguished clearly between recommendations to improve, and the need to cure deficiencies.
ACCJC violated state and federal conflict of interest laws. The U.S. DOE agreed that the appointment of ACCJC president Barbara Beno's husband, Peter Crabtree, on site evaluation teams, violated one Federal regulation, and the lack of faculty representatives on the teams violated another.
ACCJC blocked students, faculty and the media from public meetings and destroyed public documents.
ACCJC publicly undermined the democratically elected Board of Trustees empowered by San Francisco voters to manage the college.
ACCJC sanctioned the college when students and faculty exercised their first amendment rights and challenged the outcome of the evaluations.
ACCJC advised districts, including CCSF, that they had to "prefund" future liabilities for retiree health benefits, by depositing huge sums into an irrevocable trust — money steered away from instruction. This is not a legal requirement. Yet, ACCJC evaluated colleges on whether they followed this advice. This policy reflects the perspective of ACCJC Commissioners who also happen to administer such a trust.
ACCJC illegally held a meeting where it disaccredited CCSF in June 2013, when its own policy required that it not decide CCSF's status until January 2014.
Click here to download CFT and AFT Local 2121 Class Action Complaint for Injunctive Relief (pdf, 4 Mb)