Part-Time Faculty Conference
Organizing for Equity in Higher Education
Update: The Part-Time Faculty Conference has been postponed from February 25-26 to May 1-2 and will now be held in Sacramento, at a venue yet to be determined.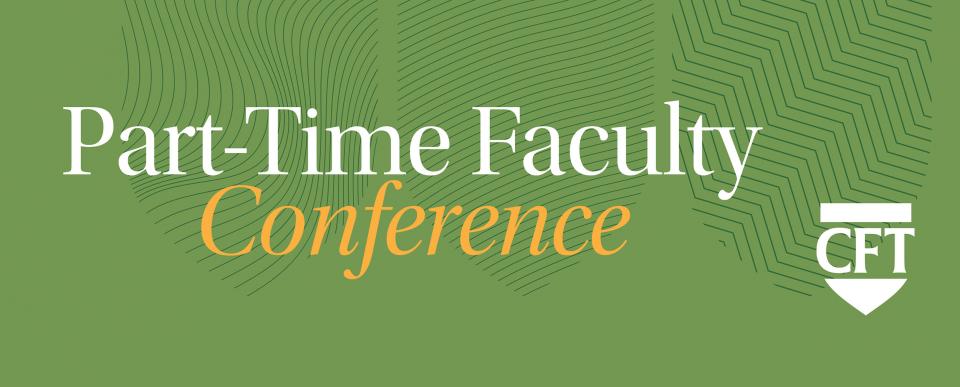 Join us at this CFT conference that will bring together part-time faculty in the community colleges, lecturers at the University of California, and part-time faculty at private universities to focus on issues, advocacy, and the CFT's new equity campaign.
The program will highlight challenges, best practices, and legislative priorities concerning part-time and contingent faculty. The conference will include useful workshops and provide opportunities to network so as to share successful campaigns, collective bargaining solutions and organizing strategies. There will be time to socialize as well.
Please note: COVID safety protocols will be in place. Attendees with be required to show proof of vaccination in advance of the event. A booster is recommended. Rapid COVID tests will also be administered at the conference.
Register Now!
Register your attendance at the Part-Time Faculty Conference.
There is no registration fee.

Tentative Schedule
SUNDAY, MAY 1
11 am Registration Opens
12 pm Lunch
2 pm Opening Plenary
6 pm Dinner General Session
8 pm Social Time and Networking
MONDAY, MAY 2
8 am Breakfast
9 am Morning Plenary
10:45 am Workshops
12 Noon Lunch
1 pm Workshops
2:15 pm Closing Plenary
3 pm Adjourn
Tentative Workshops
Local Campaigns for Equity
Overcoming Challenges to Adjunct Organizing
Increasing Faculty Diversity
Academic Freedom
Tackling the Student Debt Crisis
Part-Time Faculty and Shared Governance