Classified Conference: October 27th-29th
Annual event for paraprofessionals and classified employees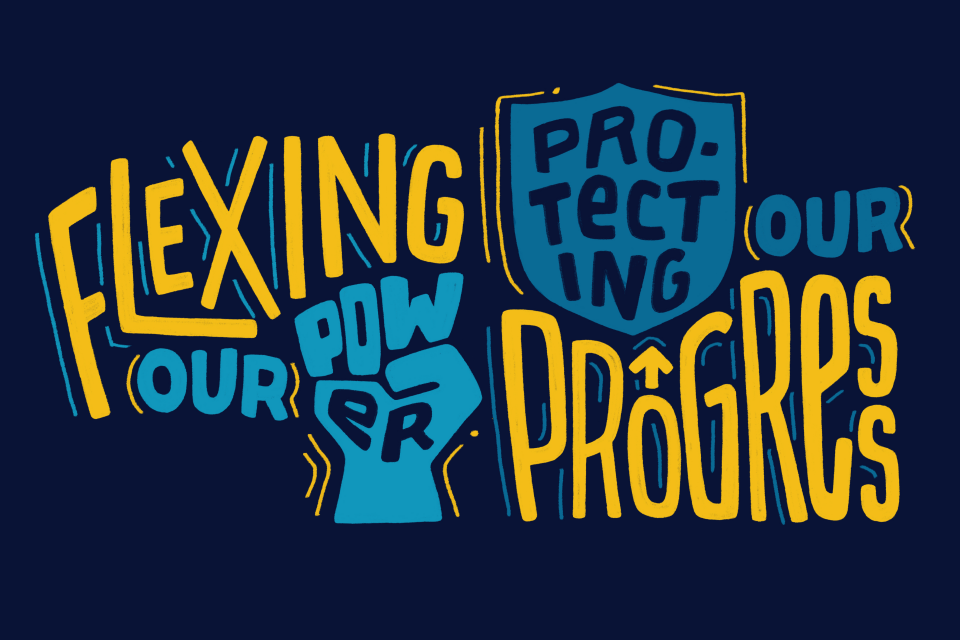 At our annual Classified Conference, with the theme Flexing Our Power – Protecting Our Progress you can expect to find an exciting line-up of events with plenary sessions, meal events, workshops, and social events.
Registration and hotel booking are now open:
Click here to register for the CCE Conference
Click here to book your room
October 27-29, 2023 Hyatt Regency San Francisco, 5 Embarcadero Center
Room rate: $199/night
Schedule At-A-Glance
FRIDAY, OCTOBER 27
12 noon Registration
2 pm Local Presidents Collaboration
5 pm Meet and Greet
7 pm Dinner on your own
SATURDAY, OCTOBER 28
8 am Breakfast General Session
10 am Workshops
12 pm Lunch General Session
1:45 pm Workshops
3:30 pm Workshops
5 pm Dinner on your own
8 pm Social Event
SUNDAY, OCTOBER 29
8 am Breakfast General Session
12 pm Conference ends
Workshops
First Aid/CPR Training Pre-registration Required plus 3 hours online training required prior to conference
This blended CPR, AED and Adult First Aid certification course option is an excellent choice for both the community and workplace setting. The course equips attendees to recognize and care for a variety of first aid, breathing, and cardiac emergencies involving adults, children, and infants. It is designed for attendees who need a certification that satisfies workplace requirements.
Attendees must enroll and complete the online portion of this course by October 25, 2023. The course will available online starting October 12, 2023. The online portion of the class takes 2-3 hours to complete, it is self-paced and can be completed over several days. During the conference, you will complete the hands-on performance evaluation of the course. The hands-on portion of the class takes 1.5 hours to complete. There is maximum number of 24 attendees for this workshop, so please sign up early if you would like to attend.
Upon successful completion, a valid 2-year certificate for All Ages CPR, AED and Adult First Aid from the American Safety & Health Institute, a nationally recognized CPR, AED and First Aid provider.
This workshop is designed to help participants understand, quickly identify, and reasonably adapt to the variety of behavior styles and personalities demonstrated by others in the workplace. It will provide proven tools to help manage the strengths of your own communication style and appreciate the variety of communication styles on your team.
Anti-Racist Actions We Can Take In Our Personal & Work Lives
Creating an inclusive culture that supports every member to do their best work and thrive is essential. In this workshop we will discuss ways to combat explicit and unconscious racial bias to build a culture where individuals are comfortable with constructive challenges and feel able to raise concerns.
Is it a gripe or is it a grievance? Participants will learn basic information on what grievances are, how to file them with their employers, and the union's duty of fair representation as it relates to representing all bargaining unit members. Participants will also gain insight into how they can advocate for their members who believe they may have a grievance but actually have not been aggrieved as specified in their collective bargaining agreement (CBA/Union contract).
Mental Health Awareness Training
In this workshop you will learn about mental health, its conditions, and how to promote a stigma-free workplace. We will share best practices on how to increase mental health awareness amongst union members and discuss how to support members in the workplace.
AFT Member Benefits for You and Your Local Union:
The AFT+ Member Benefits add value to union membership. Whatever your union role, AFT+ benefits give you a reason to reach out and engage with members. This workshop will provide information about the benefits and spark ideas on how your local can use the more than 45 AFT+ programs, many of which offer features, services, and discounts not available to non-members. We'll also discuss two important voluntary local-paid benefits, Accidental Death and Dismemberment and Occupational Liability Insurance.
The rising cost of higher education has led more than 45 million people in the United States to seek out student loans, many of whom have been unable to make their monthly payments.

The student debt relief landscape has improved, thanks to the work of AFT members' advocacy. However, there are still millions saddled with student loans. That's where the AFT's student debt clinics come in. The clinics empower members to manage their student debt by providing information on free federal programs that may lower their monthly payments and could help to get loans forgiven.
Trauma-informed Training Resources: ACEs Aware & Safe Spaces
The ACEs Aware initiative is a first-in-the nation effort to screen patients for Adverse Childhood Experiences (ACEs) to help improve and save lives.
This workshop will help members understand what ACEs and toxic stress are and how they impact our health by learning to recognize how our own trauma histories influence us.
In addition, this workshop will give training and resources to address toxic stress in the classroom, at work, in the community, and in our own families to improve working and learning conditions.
Preventing Targeted Violence
This presentation will provide an overview of the use of behavioral threat assessment and management concepts to identify persons of concern that are on a path to commit an act of targeted mass violence. The presentation will provide emphasis on pre-attack warning signs and behaviors. Additionally, the workshop will teach best practices for identifying high risk individuals.
Getting there
AIRPORT INFORMATION
If you are flying, you may choose San Francisco International Airport (SFO) or Oakland International Airport (OAK).
SFO is slightly closer being 14.5 miles from the hotel; OAK is 19 miles from the hotel. (Southwest Airlines usually offers more flight options to Oakland.)
Public transportation is available through the Bay Area Rapid Transit, or BART.
Taxis and rideshare are also available at the airports.
ABOUT TAKING BART
You may take BART from either airport. The Hyatt Regency San Francisco is a five-minute walk from the Embarcadero BART Station.
From SFO: The San Francisco Airport BART station is located at the International Terminal (you will likely arrive in the Domestic Terminal). Board any San Francisco bound (northbound) train to the Embarcadero Station. Trains run about every 15-20 minutes; the fare is $10.00 each way and $3.75 each way for seniors/disabled. Once in the Embarcadero Station, use the Drumm Street exit.
From OAK: The Oakland Airport BART station is located across from the Terminal 1 baggage claim area and a short walk from Terminal 2. Take the shuttle train to the Coliseum Station, then board a San Francisco/Daly City-bound train to the Embarcadero Station. Trains run every 15-20 minutes; the fare is $11 each way. Once in the Embarcadero Station, use the Drumm Street exit.
ABOUT PARKING
Hotel Guests
Per Day $80.00
Public Parking
First Hour $18.00
(or portions thereof)
Each/Additional 20 minutes $6.00
(or portions thereof)
24 Hour Maximum $80.00
Self parking: Self park is available nearby at 3 Embarcadero Center Garages. There are no in/out privileges. The entrance/exit is on Drumm Street between Clay and Sacramento Streets. Garage phone: (415) 772-0670.
COVID Protocols
Rapid antigen COVID tests will be available on-site and attendees may voluntarily test if they choose to do so. Wearing of a mask is highly recommended but not required.