AFT Townhall: Confronting the Climate Crisis in the 2020 Election and Beyond
AFT Virtual TownHall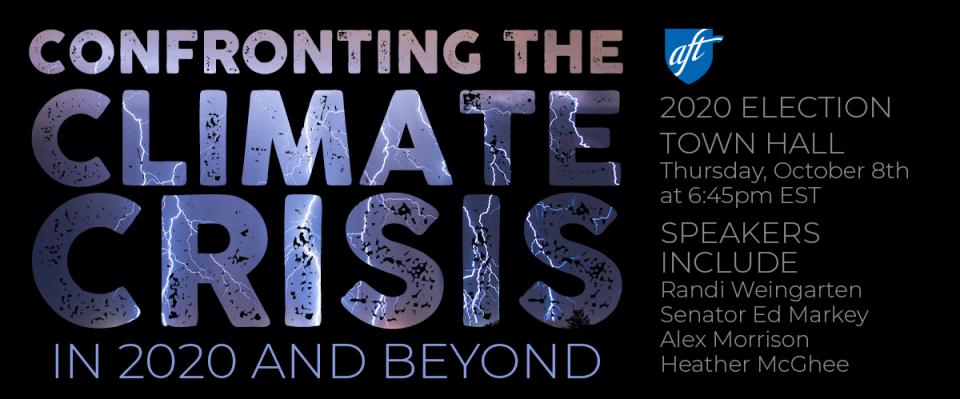 Entire towns in California and Oregon have burned to the ground from the worst fires in generations. Tens of thousands of acres of forests, national parks, homes and other structures continue to be destroyed. The skies are full of smoke, and people are fleeing. More hurricanes are hitting the coasts and Gulf Coast of the United States than ever recorded. While it's undeniable that climate change is real, this is an issue for this year's election.
To that end, on Thursday, October 8, the AFT is hosting a nationwide virtual town hall, "Confronting the Climate Crisis in the 2020 Election and Beyond." AFT President Randi Weingarten will be joined by Sen. Ed Markey (Mass.), author and Color of Change Board Chair Heather McGhee and Alex Morrison of the Sunrise Movement.
In this moment, our country is dealing with four crises—a pandemic, an economic crisis, a racial justice crisis and a climate emergency—all made worse by the current president. The AFT and the CFT are committed to ensuring our schools teach climate science and sustainability. We are committed to a bold economic recovery that creates millions of good-paying union jobs in the 21st-century economy while protecting our environment.
Please join the AFT Townhall and be part of the solution.