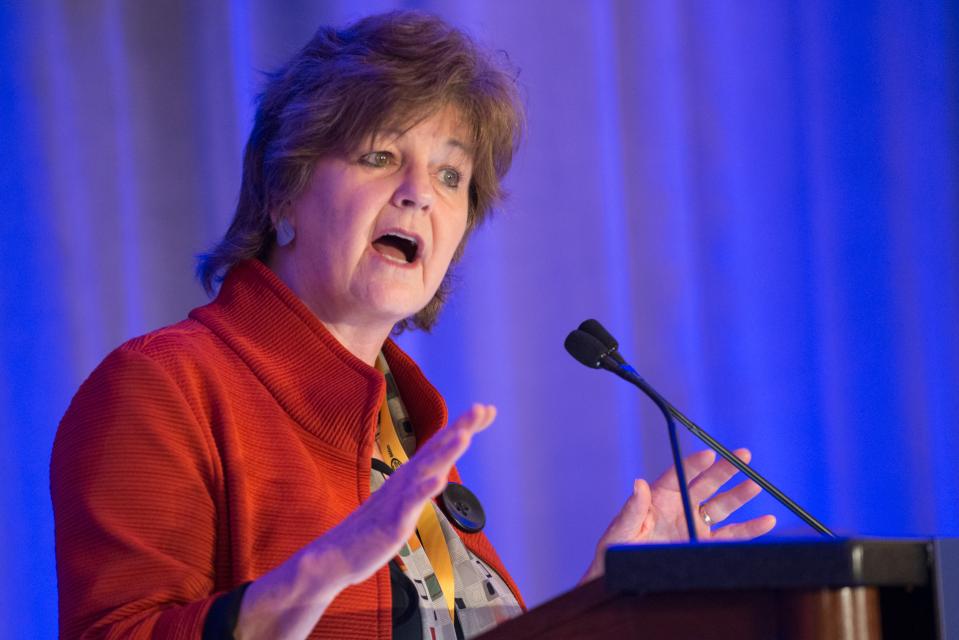 WATCH THE VIDEO: Nancy MacLean
WATCH THE VIDEO: Aryana Fields performs "Strike Song"
When future historians look back on this period, Donald Trump and his presidency will be seen as a sideshow while a slow attempted takeover of our core branches of government is underway.
That's according to Nancy MacLean, a history professor at Duke University and author of several books, including most recently Democracy in Chains: The Deep History Of The Radical Right's Stealth Plan For America.
Hundreds of organizations are trying to quietly remake the country, MacLean said, naming ones such as The Cato Institute, the Heritage Foundation, and the Center for Individual Rights.
MacLean spoke about the conservative billionaire brothers, David and Charles Koch, who would like to privatize Social Security and do away with unions.
"You have to credit the genius of the Koch long game," she said. "They're the strongest opponents of public education."
The Kochs got some of their ideas and approach from James McGill Buchannan, who won the Nobel Prize for economics in the Reagan era, MacLean said. Buchannan called his approach public choice economics and pushed for the idea that governing institutions cannot be trusted, so governing should be left to the market.
"The end game is radical transformation of social and ethical norms to impose total personal responsibility for just about everything – public education to retirement to Social Security to environmental protection and more," she said. "They have a messianic plan to fundamentally alter the relationship between people and government."
This is happening incrementally and by stealth, MacLean says.
"The goal is to curtail what most social movements have accomplished and roll back the 20th century," MacLean said. "It's so audacious and crazy and radical that it's hard to believe, but evidence shows it's happening as we meet."
MacLean gave some ideas on how people can fight against this agenda – using UTLA's successful strike as an example of what organizing can do. We can no longer focus on single issues, she said. The presidency of Trump is the tumor, not the cancer, she added.
"There's the escalating and unmatched inequality and the gerrymandering that lets election officials choose voters," she said. "I truly believe the only way out is to stop the flow of corporate money and rebuild, above all, union power."
Saying she thinks of history as a sort of "fun anti-depressant," MacLean said the attacks by the Koch-led right may have made us realize how much we need one another, and she sees signs of hope.
"I see it in your magnificent strike and in the March for Our Lives," she said. "We need a crackdown on corporate lobbying and that comes with the recognition we cannot just keep doing the same things in the same way – we need to think long-term and we have to build power. We must reach beyond our silos and make alliances. You just modeled the kind of organizing we need."
After MacLean spoke about these attacks on democracy, delegates heard about how to stand up against these assaults and in support of public education. Fred Albert, president of AFT-West Virginia, talked about his union striking for more than a week – and then going back out again. United Teachers Los Angeles President Alex Caputo-Pearl and Jsané Tyler, a parent organizer, talked about how they built a victory in the first strike in the district there in 30 years.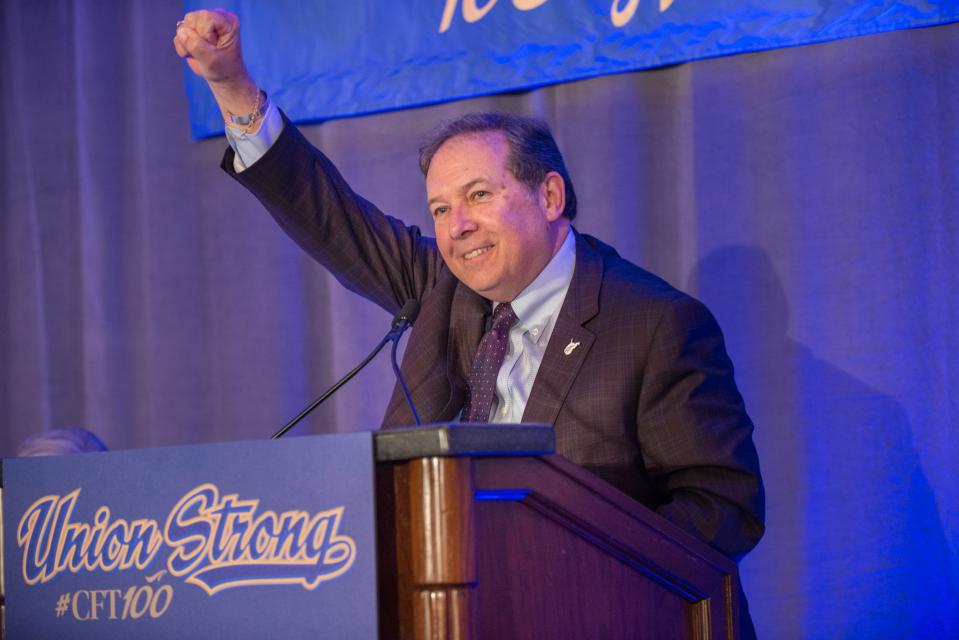 West Virginia not selling out for salary raises
Albert said that MacLean had scared him, and that some mornings he wakes up wondering what has happened to the state he loves. He gets some hope, he says, from an axiom from the state where labor leader Mother Jones lived.
"We say don't make us go West Virginia on you," he said.
Members of AFT West Virginia stayed out on strike for nine days last year to get a better deal for students, Albert said.
"It wasn't about teacher pay," Albert said. "It was about services."
They got most of what they wanted, Albert said – then the Legislature retaliated.
"There were 149 pages of horrible stuff attached to a pay raise our governor had already promised," he said. "The things he promised we still don't have and they tied it to an omnibus bill for charter schools. We don't have charter schools and we don't want them. We're saying no to the Koch brothers."
So the members went back on strike.
"This time we whipped that bad boy in one day, but we stayed out two days just to make sure it was a done deal," he said. "We're not selling out for 20 silver coins. The number one cry was please provide for us emotional and social support for our students. We lead the nation in the opioid crisis, and we stand with you. Keep watching what's going on in West Virginia while we turn things around and fully fund the schools. I see a better day coming."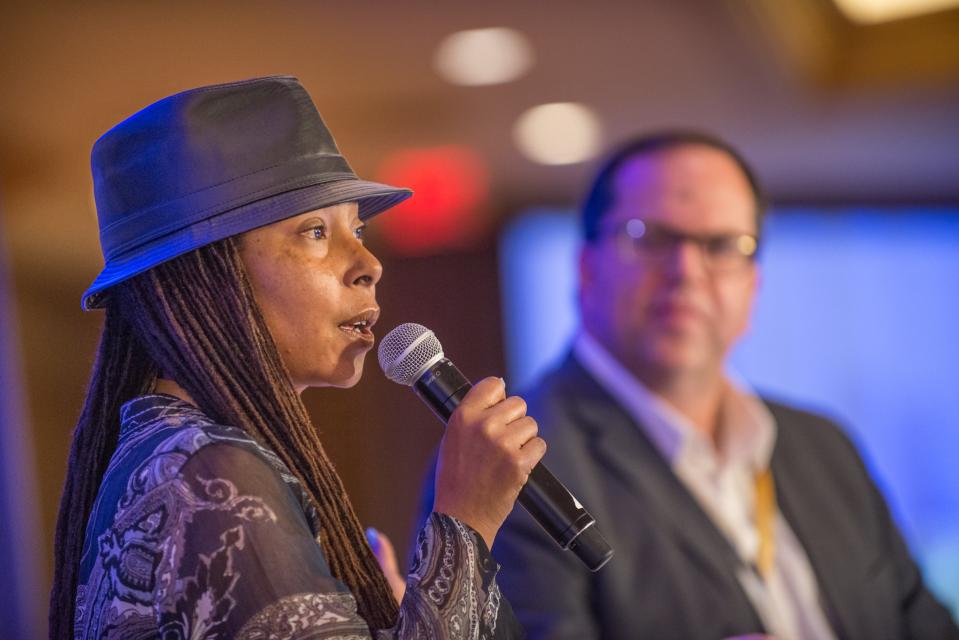 A transformative strike in L.A. changes the narrative
Every strike transforms people, especially if they win, said Josh Pechthalt, outgoing CFT president.
"This strike transformed all of us," Pechthalt said, about the UTLA strike. "And it's going to help transform public education in this country."
A brief video of the L.A. strikers showed masses of people wearing red in the streets and listed some of their wins – a full-time nurse in every school, more counselors, and class-size caps. Eighty percent of people in Los Angeles supported the strike by employees of the second-largest school district in the country. After the video, the delegates stood to applaud Caputo-Pearl and Tyler.
Caputo-Pearl said he met the parent activist when her daughter was in elementary school, and she was fighting against privatization. Now Tyler's daughter, a published poet, is about to graduate from high school.
Caputo-Pearl asked the members of the local to stand, saying they were the real heroes, coming out in four straight days of heavy rain. Caputo-Pearl said the local had been planning for this since 2014, and saw it as a way to win things for students.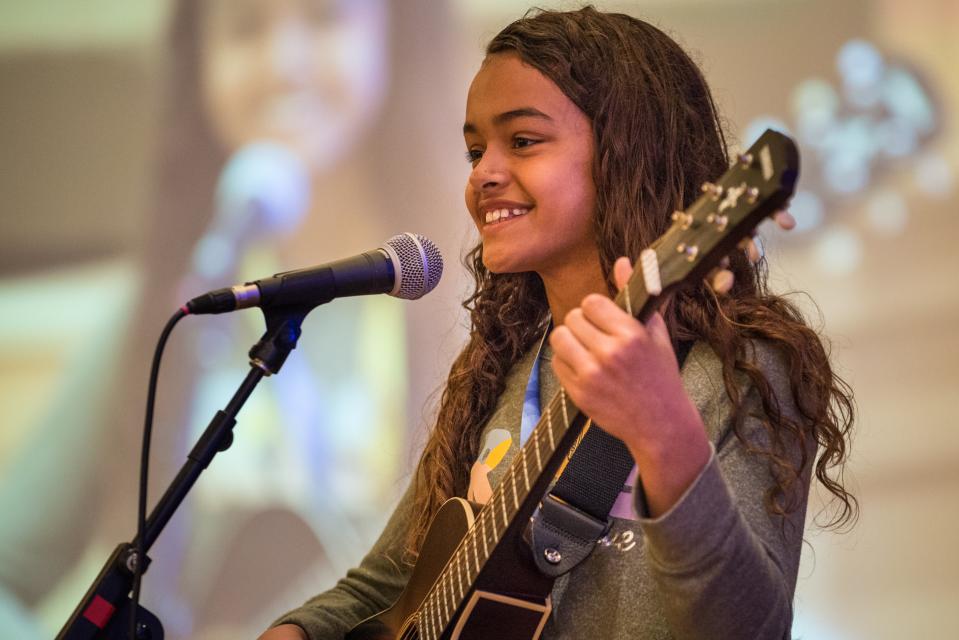 "A strike can change the narrative if done right," he said. "I spend most of my time at schools talking to members and I asked them what was the most profound thing about the strike and they said, 'How we changed the debate around charter schools.'"
Caputo-Pearl said it was important to keep pushing state Democrats like Gov. Gavin Newsom and State Superintendent of Public Instruction Tony Thurmond, and to talk about closing loopholes in Proposition 13 for more funding – and to bring up the racism inherent in not funding public schools. Caputo-Pearl shared three things he said the local had learned.
Union strength comes from the collective power of members.
We have a uniquely powerful tool in being able to strike.
Parents, community, and students cannot play second fiddle.
Tyler echoed that last one, saying stakeholders need to be involved. UTLA made parents a part of things from the beginning, she said.
"There were a lot of demands teachers didn't have to ask for," she said. "They could have just taken their money and ran."
Caputo-Pearl added they plan to keep working with members and parents – not just before and after the strike. "A strike might shake the world for a minute," he said. "But it doesn't change the world."
The work of parent leaders like Tyler leading up to the strike was crucial, Caputo-Pearl said. To organize parents in big, diverse schools where a lot of the students are bused in can be daunting.
Tyler started meeting with parents one-on-one, she said, to talk with them about issues like charter schools and random student searches. Helping lead the protests came easily.
"We knew how to rhyme, and we knew how to make lines go around blocks," she explained. "And we were posting everything on social media."
The strike and all the support energized the participants, Tyler said.
Polling showed that support for the local grew every day, Caputo-Pearl said, and now they need to make sure the contract victories are implemented and fight for things like more class-size reductions.
"Our biggest next step is walking with workers in the next struggle," he said. "At every school out there, people told me they grew closer to their co-workers. An ethnic studies teacher walking in the neighborhoods said people were literally coming out of their doors to join the march. He told me, 'This is what freedom is.'"
— By Emily Wilson, CFT Reporter