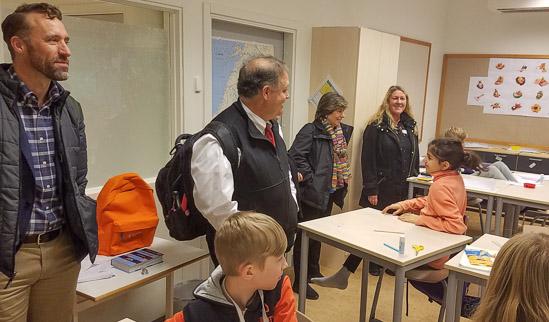 By Jeffery M. Freitas, CFT Secretary Treasurer
In October I accompanied AFT President Randi Weingarten and several fellow AFT union leaders on a fact-finding trip to Sweden and Norway. The purpose of the trip was to examine firsthand the approaches taken by the countries to inform our own approach to public education.
At first glance, Sweden and Norway seem nearly identical. Both countries have low levels of income inequality. They fund their schools well and it shows. They both have high rates of union membership and participation. And they both have a relatively high rate of electoral participation.
In Stockholm, we visited a public elementary school, which runs from grades 1 to 6 and includes preschool and before- and after-school programs. As we walked around the school, we could immediately see what a fully-supported public school could look like: We saw a woodshop classroom, a textile classroom, a music room, and a home economics classroom, where students learn about nutrition from an early age. The well-used playground was modern and clean.
Lunch is free to students and we partook in their healthy meal, that included a full salad bar and the daily cooked-from-scratch entree of, yes, Swedish meatballs and rice.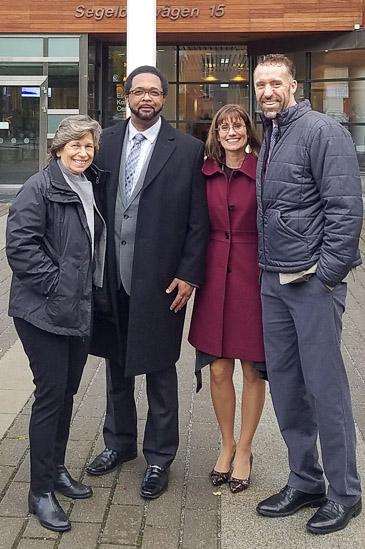 In Norway, we visited an Oslo public high school, where we were equally impressed. After ninth grade, which is part of their middle school, students choose between vocational education or academic studies leading to university. Either track allows for five years of study. The vocational track includes two years in the classroom and up to two years as an apprentice. The academic track can include a year of project work outside the classroom.
Walking into the newly built high school was like walking into the headquarters of a tech company in Silicon Valley. The entryway opened onto a large four-story space with a central quad, café and performance stage.
Reflecting Norwegians' belief in an open and transparent education, the inner walls of the classrooms are floor-to-ceiling glass. There were learning spaces for traditional academics, computer and industrial electronics, and fashion design, as well as metal, wood, auto mechanic, and autobody shops.
On the surface, the schools in these two countries seemed as nearly identical as the countries did. But digging a little deeper, we quickly saw how their divergent approaches to public education are radically altering their schools and societies.
Norway has a unique democratic system for students in public schools. Starting in the first grade, representatives are elected to a student council that talks to school administrators about their concerns. This system of representation continues into a national council with a parallel group of students on leave to lobby the national legislature. It instills a purpose for democracy.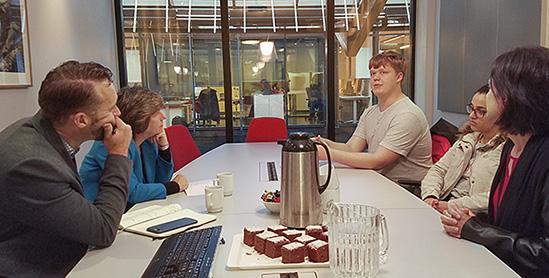 In the 1990s, Norway considered pursuing a school choice path through open enrollment and vouchers and rejected it. People in many countries then were saying public schools were failing without any real data to prove their point. In Sweden, the narrative caught on. Swedish politicians were sold on the idea and introduced "school choice" in response to the criticism. Since then the differences between the two countries have become more profound.
After a slow start, the voucher system in Sweden really took off. Private schools were deregulated, allowing for-profit schools with little transparency and accountability to compete against traditional public schools.
Over the past 10 years, Sweden has seen its PISA (Programme for International Student Assessment) scores plummet, national opinion of the school system decline dramatically, and segregation by class, race, and immigration status within the schools increase. Educators in Sweden lament that not only is the education system faltering, but it is leading to a philosophy that prizes individual achievement over the uplifting of society as a whole through education.
One Swedish teacher told me how this plays out. Parents now move their children from school to school, forcing policymakers to focus curricula more on individual success rather than community building, distorting the mission of the schools and leading to heightened inequality.
Other educators I spoke with were deeply concerned that this "me first" ethos not only damages public education, but degrades democratic culture and institutions as well. They expressed particular concern about how the individualistic approach is leading the majority to disregard the rights of minorities.
While our visits to Stockholm and Oslo only scratched the surface of the education systems in these two countries, it provided a clear warning about the challenges we face with our current administration.
With Betsy DeVos leading the charge to dismantle the Department of Education and push school "choice" through vouchers, we won't need to wait years to see what disastrous impact these actions will have.
Unlike Sweden and Norway, we live in a nation with staggering racial and socio-economic inequality, and where public schools are grossly underfunded and unsupported. Our system is fragile enough without vouchers undermining it.
But like Sweden and Norway, our public schools are the foundation of the American democracy — both in terms of what they represent to individual communities and to the values we hold collectively as a nation. If we don't stand up to the administration and those who seek to destroy this foundation, our schools and our country will pay a heavy price.