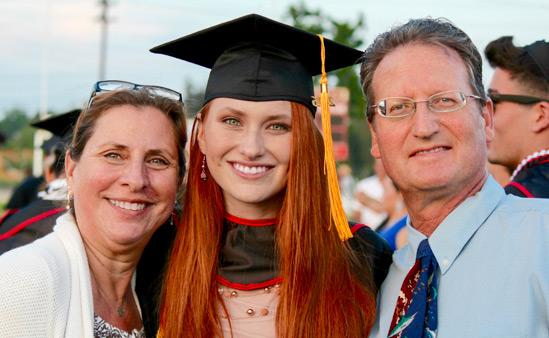 This summer, the CFT awarded scholarships to 15 continuing college students through its Raoul Teilhet Scholarship Program. The young adults who received $3,000 scholarships are listed below with the names of their parents or guardians who are members. For high school seniors, the deadline to apply for a CFT scholarship is January 10.
» Learn more about the CFT Raoul Teilhet Scholarship Program.
Matthew Briggs, son of Joshua Briggs, AFT Part-Time Faculty United
Kaitlin Campbell, daughter of Janna Campbell, Lompoc Federation of Teachers
Jacob Hagen, son of Paul and Mary Hagen, Jefferson Elementary Federation of Teachers
Talya Klinger, daughter of Alisa Klinger, United Professors of Marin
Delaney Malta, son of Judith Malta, Lompoc Federation of Teachers
Max Lopez, son of Leslie Lopez, UC-AFT Santa Cruz
JoeAnna McDonald, daughter of Patrick McDonald, Los Rios College Federation of Teachers
Tristan Moore, daughter of Felicity Moore, Carpinteria Association of United School Employees
Sidney Pidgeon, daughter of Diane Pidgeon, Poway Federation of Teachers
Maurice Roberson, son of Maisha Jones, Los Angeles College Faculty Guild
Mitchell Sturhann, son of Monica Sturhann, Poway Federation of Teachers
Amanda Visco, daughter of Darlene Renee Richarte, AFT College Staff Guild-Los Angeles
Damaya Wallace, daughter of Michele Whiting, El Camino Classified Employees
Yi Yan, son of Xiao Wang, UC-AFT San Diego
Alejandra Zelaya, daughter of Elizabeth Zelaya, Poway Federation of Teachers
Three California students awarded national AFL-CIO scholarships
The Union Plus Scholarship Program awarded scholarships to three children of California members. AFT and Union Plus team up to offer awards ranging from $500 to $4,000 to members, their spouses and dependent children. The Union Plus deadline is January 31.
Talya Klinger, whose mother, Alisa Klinger, is a member of United Professors of Marin, was awarded a $1,000 scholarship. Talya is majoring in neuroscience at MIT this fall and aspires to help develop medical technology. Talya took science classes at College of Marin at age 15 while still in high school, and became a paid tutor at the college. Before Talya's birth, her mother spent seven weeks on a picket line in sleet and snow. "Because my mother is a foot soldier for her unions, I've had medical and dental insurance my whole life," Talya said. "I'll pay my good fortune forward by championing human rights and advocating for equal rights issues."
Aliah McCord, whose mother, Mary Shannon McCord, is a member of the Pajaro Valley Federation of Teachers, was awarded a $1,000 scholarship. Aliah plans to major in political science or sociology, and have a career focused on social justice. A Spanish dual-immersion program graduate, Aliah served as a bilingual classroom aide, worked as a Spanish tutor, and received the Seal of Biliteracy on her diploma. Aliah's mother has been an AFT member for over 25 years, and following her example, Aliah says, "I am committed to promoting community engagement and political activism."
Victoria Solkovits, whose father, Gregg Solkovits, and mother, Lucia Arias, are members of United Teachers Los Angeles, was awarded a $3,500 scholarship. Victoria plans to study political science or public health at UCLA, with the goal of serving others through nonprofit work or elected office. She was a four-year honor roll member, AP Scholar with Distinction, and National Hispanic Scholar. "One of the things my family has always put first is making sure others have the voice to fight injustice in their workplace," Victoria said. "For my entire life, we have boycotted companies that refuse to let their workers unionize."