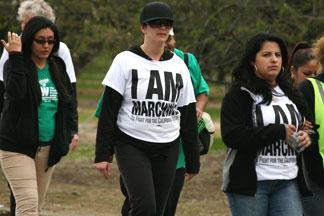 TULARE, CA (3/13/10) — Through its first week, the March for California's Future passed through the small farm worker towns of the southern San Joaquin Valley – McFarland, Delano, Pixley and Tulare. For one marcher, Jenn Laskin, these communities remind her of Watsonville, where she teaches humanities and English, and food justice in the school garden, at Renaissance Continuation High School.
"Watsonville has a 27% unemployment rate," she says. "It's the strawberry capital of the world, and strawberries are a luxury. When people stop buying them, workers no longer have a job in the fields. I have many students who have both parents out of work, who grow food in our garden to bring home to their families. You can really feel their poverty and desperation."
But in the Central Valley, she thinks, things seem worse. "The towns we've been passing through feel a lot more desolate," Laskin explains. "I see a lot of fields with nothing planted at all. I was in a Mexican restaurant in Pixley and there was not a Mexican in sight. I think the problems I see in Watsonville might even be sharper here. I see more need here, and I'm guessing probably fewer services."
The march's call to restore the promise of public education is the major motivation keeping Laskin, and the march's other Watsonville participant, Emmanuelle Ballesteros, walking from one town to the next. As the youngest marcher, Ballesteros says he's doing it especially for the youth and students of his community. "In Watsonville they're overcrowding classes," he charges. "Fewer classes, with more students, discourage youth because they need the help. Now there's no help at home with English, Spanish, math and history."
Ballesteros suffered from that lack himself. "He was pushed out of the system," Laskin observes. "I feel like Manny is the reason we're marching. He is a child of immigrants, with as much right to the California dream as anybody. He gives credibility to this march."
In Delano the marchers saw the four prisons that have replaced farm labor as the community's major source of employment, just one indication of the way joblessness has devastated the state's rural communities. Seeing the watchtowers, and the walls topped by razor wire, brought the contradiction home for Ballesteros. "Delano and Watsonville are puro Latino," he explains. "The families are poor, doing farm labor. Now they're building more prisons in California than schools, and there are more Blacks and Mexicans inside those prisons. For young people like me, instead of being able to get a job, and achieving our goals, they tell you, 'You're not going to make it.'"
When he was in school in Watsonville, that's what he heard too. Laskin says he was restricted by behavior and clothing contracts. "They were watching him," she charges. Now what Ballesteros sees as he walks makes him angry. "But I'm turning it into something positive with this march. We might make a little bit of change here."
Laskin says he's right about the impact of education cuts. Watsonville now only has seven school nurses for 19,000 students, and has cut school psychologists and counselors, music and art. "Sports have become pay to play," she says, "which means that students who are talented and don't have the money lose the opportunity. That cuts off yet another pathway to college." Next year K-2 classes will have 28 students. "We're loading to the max. Kindergarten classes are super crowded, and one student told me, 'we can't even fit on the rug anymore.'"
The limit of 20 students for K-3 grade classes was modified in the legislature's recent budget deals. "In our district, it's cheaper to raise the class size and pay the penalty than to keep class sizes small," she laments. "And combined with the emphasis on test scores, it all affects children's ability to learn. We have second grade students who don't even know how to use scissors, because they've been taught to the test. They can bubble in letters and numbers, but they can't cut a circle in a piece of paper."
In the San Joaquin Valley Laskin sees the same crisis. "We've talked with many teachers who have received pink slips," she says. "I spoke with one teacher who worked three jobs to put herself through school. She's in her second year, which means that on the first day of next year she'd have tenure and couldn't be laid off. So she's being laid off this year. Her family's lived in McFarland for five generations, and her father has been a custodian for the district there for 23 years. Without a job there won't be anything to keep her in the community where she grew up. The closest place to look for work is Bakersfield, where they just issued 200 pink slips, and many highly qualified teachers are fighting for the same job."
The march's goals include rebuilding a government and economy that works for all Californians, and enacting a fair tax system to fund California's future. After marchers had been on their feet a week, they took a day to stand in front of Lowes Garden Center, the 99¢ Store and Wal-Mart in Tulare. There they asked people passing through the doors to sign petitions to qualify a ballot initiative that would remove the requirement that two-thirds of the legislature approve any budget.
Any tax increase takes a two-thirds vote as well. Even though urban Democrats have had a majority for years in both the State Senate and the Assembly, a solid Republican block can prevent a vote to adopt a budget until Democrats agree to slash spending. Cuts in spending produce pink slips for teachers, and fewer social services. Legislators elected in small San Joaquin Valley towns are among those Republicans demanding budget cuts and opposing tax increases.
Laskin and her companions collected lots of signatures in the Tulare parking lots. While getting petitions signed, she was approached by a home care worker. People providing care to sick or disabled clients, including family members, are a big constituency in the march, and there are hundreds of these workers in the valley towns along the route. "Part of Schwarzenegger's budget would cut this entire program, which would essentially end home health care services," she explains. "Old people, sick people, people with special needs would have to be put into institutions, which is really no solution."
Nevertheless, "many people are not making the connection that the legislators elected here are the ones using the two-thirds requirement to slash services," Laskin says. "It's a long conversation. This whole system was put into place so that the average person can't understand what's going on." Using the march to create opportunities to talk with people is part of the education process she believes is needed. "That's part of our outreach. We're also getting people to sign 'I Have a Dream for California' cards, and we'll be delivering thousands of them to Sacramento when we arrive on the steps of the capitol," she predicts. That's set to happen April 21.
In addition to signature-gathering, marchers plan to hold larger town hall meetings as they go. The first is scheduled for March 23, at Cal State University in Fresno.
"We're getting a very positive reaction from people," Laskin says. "A woman stopped yesterday with oranges and papayas in the back of her truck and gave us fruit, and then invited us to her home for chile rellenos. Another woman followed us for three days, showing up with water. That's why I think it was right to choose the Central Valley to have this march."

— By David Bacon, CFT Reporter