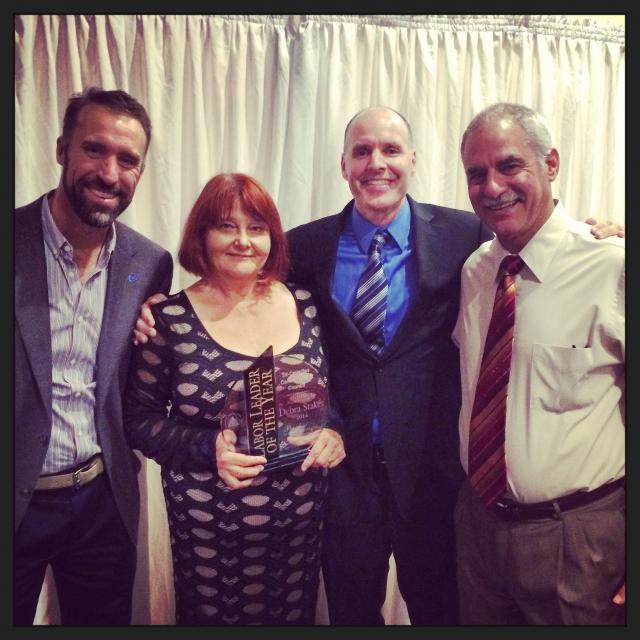 Two CFT members were named Labor Leaders of the Year by the Tri-Counties Central Labor Council: Steve Hall, president of the Ventura County Federation of College Teachers, and Debra Stakes president of the Cuesta College Federation of Teachers. Congratulations Steve and Debra!
CFT President Josh Pechthalt delivered the keynote speech at the award banquet.
Good evening, thank you very much for asking me to speak tonight as you honor CFT leaders Debra Stakes and Steve Hall. Debra and Steve deserve to be recognized for their outstanding leadership and it is a tribute to your central labor council that you would choose to acknowledge them.
However, at a time when the labor movement is struggling to retain members and globalization has had a devastating impact on the wages and benefits of American workers, everyone in this room deserves to be honored for the work you do to represent your members and working people in the Tri-Counties area.
One of the reasons this award for Steve and Debra is so important, I believe, is that public and private sector unions have not always collaborated. For too many years, it seemed that our interests were counterposed. But whatever the reasons were for those differences, today we understand that all of labor must stand together, whether we represent private or public sector workers.
In 2012 we saw the incredible value of that collaboration when we worked together to pass Prop 30 and defeat Prop 32. I am proud to say the Debra and Steve played key leadership roles in mobilizing their members and working with your central labor council in that effort.
Those of us in labor clearly understood the attack that Prop 32 represented because we had defeated similar measures before.
But passing Prop 30 was a huge achievement for working people in this state and its success has meant an infusion of money for public education and growing state budgets after years of draconian cuts. While we know the economy is still not where it should be, and unemployment is still too high and real wages continue to stagnate, an improved state budget and state economy has meant job growth in both the public and private sectors.
The success of Prop 30 was no accident and it speaks to the broader vision the labor movement must have if we are to move a progressive agenda. Prop 30 very pointedly asked the top income earners to pay a little bit more to help all Californians. And while there was a small regressive sales tax increase, the bulk of the money comes from taxing people who have been doing well.
Again it's not a coincidence that the CFT, with leaders like Steve and Debra, helped shape Prop 30 through their leadership in pushing the Millionaires Tax. Because they are active in their central labor council and work with all of the sisters and brothers in the Tri-Counties labor movement, they understand that public education does not happen in a vacuum.
We understand that for public education and our students to be successful, the parents of our students and our community members must have good jobs with affordable health care. And our communities must have the services essential to providing a decent quality of life for all. Linking the fight for quality public education to the broader issues facing our communities is not only good politics but it helps build the kind of alliances that we saw come together to successfully pass Prop 30.
Steve clearly understood the importance of labor solidarity when, as a new member of the Oxnard Union High School District school board; he cast the deciding vote in approving a Project Labor Agreement for school district construction projects.
Debra's role as the COPE chair and then president of her local was instrumental in passing a bond measure that supports the new construction and renovation at Cuesta College and of course the new jobs that were created.
Your recognition of these two leaders also comes at a time when public education has come under attack by forces that want to privatize our schools or at a minimum impose market driven reforms. These so-called reformers, led by people like Michelle Rhee, billionaire Eli Broad and the Walton family want to put in their pockets the hundreds of billions of public dollars that go into public education.
They are using their wealth and influence to run candidates for office, like Marshall Tuck for superintendent of public instruction and they use the courts and the legislators they support to attack or eliminate seniority and dues process rights for teachers. Their slavish commitment to the dog-eat-dog dynamics of the market place rests heavily on testing and pitting students against one another and teachers against one another.
Of course that almost religious like belief in competition and the relentless quest for profits helped to hollow out much of the heavy industry of this country and reduced once proud and vibrant communities into wastelands. Just take a visit to downtown Detroit, once the most important auto production center in the world, and you will see a ghost town. So much for unfettered competition.
But our young people should not be weighed and measured, stamped with a bar code and then spit out like widgets on the conveyer belt of public education. Our students and the women and men who work with them do best when we invest in our schools and we encourage collaboration, not competition.
As educators and union leaders, Steve and Debra have been on the front line of the struggle to defend public education. Steve as a teacher and president of the Ventura College Federation of Teachers representing Ventura, Oxnard and Moorpark community colleges and now as a member of the Oxnard Union High School District and Debra as a teacher, union activist and now president of Cuesta College Federation of Teachers.
And while much of the attention on public education has been focused on elementary and high schools, this effort to promote market reforms is now being pushed in higher education. Both Debra and Steve have had to push back on efforts to narrow the mission of their colleges. They have had to push back on efforts to cut programs, eliminate vocational education and push out students who are not on working on a degree. And as we have seen in K-12, measuring student success by looking narrowly at numbers on a spreadsheet.
Their efforts to defend their colleges against these attacks, speaks to the historic vision of higher education outlined more than 50 years ago, when then-Gov. Edmund Brown created the California Master Plan for Higher Education. That policy created a low-cost system of higher education for all who wanted to attend with our community colleges as a key part of that vision.
California's community colleges are remarkable, offering a next step for high school students looking to move on to a four-year college. But it also provides an opportunity for working adults to acquire new skills to be more competitive in the job market, for veterans looking to return to civilian life, for people wanting to learn English or a foreign language and for seniors wanting to maintain active and healthy lives. That is the proud and historic vision of our community colleges spelled out in the Master Plan.
But that well-rounded, robust vision of community colleges is under attack and it falls to leaders like Steve and Debra to help lead the effort to protect it.
Finally as we look to the election in a few weeks and hit the streets, make calls, talk to our co-workers, neighbors, family members and friends, we know how important our work together as labor is in electing good folks and trying to improve the lives of working men and women in this country.
Under the leadership of this central labor council, with people like Steve and Debra and many, many others, you have helped transform Ventura County in historic ways. What used to be bedrock of conservatism, controlled by the growers, has now emerged as a powerful voice for labor and communities of color. That is remarkable and it could not have happened without the work of the women and men in this room.
But whether we are as successful as we hope to be on November 4th, and frankly we are likely to take a step back at the national level, ultimately labor has never been able to rely on elected leaders or the courts to advance our movement. Whether it was the fight for the eight-hour day in the 1880s, the creation of the CIO in the 1930s, or the fight for civil rights in the 1960s, our movement has been forged by building alliances and organizing our members and communities.
With leaders like Steve and Debra and those of you in this room, I know that no matter what happens in November, and let's work hard to make sure we win every race we can, that the Tri-Counties labor movement will continue to move forward and improve the lives of the working men and women of this community.
Thank you.