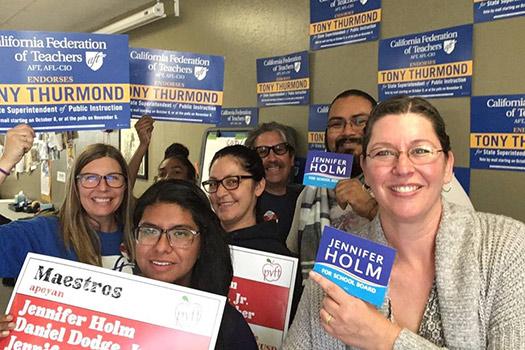 Updated November 19, 2018
Following a hard fought campaign, Assemblymember Tony Thurmond has won the election to be California's next Superintendent of Public Instruction.
Across the state, teachers and school workers celebrated Thurmond's election as a resounding call by voters to protect public education. Fighting the headwinds of unprecedented spending by a handful of billionaires and mega-donors in support of Marshall Tuck, Thurmond ran a campaign based on investing in all public schools and supporting all students.
"We congratulate Tony Thurmond on his hard fought victory," said CFT President Josh Pechthalt. "California voters saw through all of the mudslinging and misinformation pushed by a small group of billionaires, and wisely decided to elect a lifelong advocate for at-risk students and a firm believer in the power and promise of public education."
"With his experience helping at-risk students and his lifelong commitment to public education, Tony Thurmond is ready to get work on day one to help our schools," continues Pechthalt. "We are looking forward to working with him to ensure that all students receive a quality public education, and that charter schools are held to the same standards of accountability and transparency as our public schools."
Thanks to all of the CFT members who campaigned for Tony Thurmond, for Congressional races, and in their own local elections. Your efforts have made a real difference in the election.
This election we helped take back the House of Representatives, including winning several key races in California. The candidates and ballot initiatives that we supported at the local level were also successful. Candidates endorsed by CFT locals won 75% of their local school board and trustee elections, and an impressive 80% of local parcel tax and bond measures have passed.
We also helped elect Gavin Newsom as California's next Governor. Gavin, who ran on an unabashedly pro-public education platform, will be a strong advocate for more resources for our schools, colleges, and universities. He has also pledged to hold charter schools accountable.