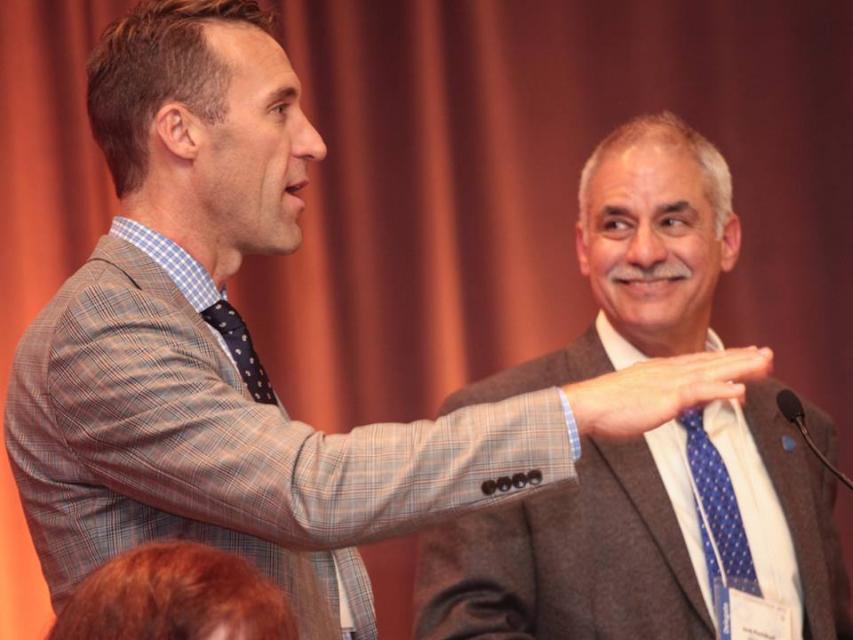 Good morning CFT members, guests and staff, I want to thank all of you for taking time to help make the CFT a strong, vibrant and progressive voice in the California labor movement. It is your activism and your commitment to our union that makes this organization such an important voice for social justice, for our members and for our students.
I want to acknowledge the leaders who work tirelessly on behalf of our locals and the statewide union: Jeff Freitas our Secretary Treasurer, Lacy Barnes our Senior Vice President, our council presidents Paula Phillips, Gary Ravani, Bob Samuels and Jim Mahler, the CFT Executive council and our outstanding staff.
It is my great honor to be your president and to represent you in this remarkable union.
This past year has been one of tremendous successes.
Last November, we reelected Tom Torlakson Superintendent of Public Instruction. We accomplished this in spite of millions of dollars from Eli Broad, Michael Bloomberg and other corporate elites to defeat the Superintendent. With this victory, we have been able to temporarily stop forces behind the anti-union Vergara lawsuit who want to de-professionalize teaching while turning our schools into testing factories churning out students skilled at bubbling in multiple choice tests so they can become low wage, compliant workers.
We also elected Betty Yee as the first Asian American woman State Controller and a long time progressive, pro union voice. The CFT joined our community partners and civil rights organizations to overwhelmingly pass Prop 47. This was an important step in reforming the unjust incarceration that plagues our society and particularly working class communities and communities of color.
I also want to congratulate all of our CFT members who took up the challenge to run for local office. Whether you won or lost, you raised important issues and took the risk of running for office.
This year, we again saw more money for public education. Over the past two years, Prop 30 has generated over $13 billion dollars, improved funding for our schools and has helped the overall state economy. It is important we remind ourselves of the critical role the CFT played in pushing the Millionaires Tax, making Prop 30 more progressive and reversing thirty years of retreat on progressive tax reform.
The improved state budget has meant that many of our locals have been able to negotiate salary increases and win restoration of jobs and programs.
For example, the Pajaro Valley Unified School District has restored art, theater and music instruction and is providing preparation time to teachers in grades 1-3 for the first time in over 15 years.
The North Monterey County school district has been able to reduce kindergarten class size from 33 to 26 and will likely reduce class size in grades K-3 to 24.
Citrus College has added more than 26,000 new spots for students and the faculty got a pay raise for the first time since 2007.
In Salinas Valley, the district has added after school and intersession hours and improved mental health and support services. They have also added counselors, site administrators, campus security officers, teachers and community liaison specialists.
These are only a few of the many improvements made possible by Prop 30. But this improved fiscal situation has not benefitted everyone. In some of our K-12 and community college districts, poor management or bad priorities undercut the opportunity provided by Prop. 30. The UC system continues to threaten tuition and fee increases and attempts to pit students against faculty and staff.
When the economy tanked in 2008, our sisters and brothers in the classified ranks bore the brunt of those cuts. Today, as districts across the state bring back laid off teachers, we must demand that classified workers and support personnel be rehired as well. Our schools work well only when there is a community of people who provide services in and out of the classroom. No matter what your role, we are equal contributors in the education of our young people and we stand shoulder to shoulder as partners in this organization — we can have it no other way!
There is something else that affects us all. The escalating cost of college means millions of young people will be shut out of higher education. The CFT is working with attorneys to tackle the issue of under-regulated private for profit colleges that account for a large portion of student debt. We are at the beginning stages of a campaign to shine a light on these colleges and implement accountability measures that protect students and the faculty and staff who work at these schools.
Ensuring our students have access to quality public education means our schools and the communities in which we live and work must be safe as well. Two years ago, a troubled young man did the unthinkable at Sandy Hook Elementary School in Newtown, Connecticut and killed 20 youngsters and 6 adults. Many of us thought that tragedy would finally move the Federal government and state legislatures to implement stronger gun control measures but that has not happened.
We have been working with Brave New Films on a short video that we can use as part of a campaign to insist that CalSTRS finish what it started and finally divest from gun manufactures. Our sister Sharon Hendricks is a member of the CalSTRS board. We have to reelect Sharon to the board and then make sure our retirement funds are not being invested in the manufacture of weapons killing our children our members and loved ones.
The strength of any union depends on its membership and organizing new members has always been a priority for the CFT. Over the course of the last year, we have worked to affiliate a number of non-union charter schools and we are working with UTLA, the AFT, the CTA and NEA on a major organizing campaign in Los Angeles, which has more than 200 charter schools within the jurisdiction of LAUSD. Just last week, 100 teachers at seven Alliance charter schools announced their plans to affiliate with UTLA and the CFT and CTA.
The CFT organized 1,000 new members this past year. These efforts will be highlighted later in the Convention but I want to thank all of our staff and leaders who worked to help make this happen and welcome into this organization these new members. Let's have these new members and local leaders stand up and let's give them a loud CFT welcome.
Our work to recruit new members is a testament to our tenacious organizing. It also speaks to our standing as a union and our leading role in fighting for Prop 25 the majority budget act, Prop 30 and the on-going struggle to restore accreditation to City College of San Francisco and reform a broken community college accrediting agency and process.
The battle to restore full accreditation to City College of San Francisco continues to be a top priority for the CFT. We have put significant resources into the legal challenge and working with AFT Local 2121 and the national AFT, we have taken our message out to colleges around the state.
While more work needs to be done, we have won a victory in the courts and we have helped educate the public and elected officials on the illegal behavior of the accrediting commission. We continue to insist that the chancellor and the community college board of governors restore the democratically elected San Francisco City College Board of Trustees and that the college be reevaluated with an impartial peer review team.
The struggle to reform the ACCJC speaks to a broader issue facing the people of California and that's our state's commitment to higher education.
Unlike the expansive proposal spelled out a half century ago in the California Master Plan for Higher Education, the ACCJC and its commissioners are imposing their narrow vision on the community colleges that is, unfortunately, consistent with the reforms coming down from Washington D.C. and the Obama administration. It is a vision that relies on false metrics to gauge success. It is a perspective that values students working toward a degree and moving onto a four-year college above other students.
But our vision of community colleges is broader and speaks to the needs of the people of California. We see the community college system offering affordable classes and non-credit classes for seniors and ESL classes for immigrants; we want courses for workers looking to acquire new skills in a competitive job market and of course there must be available and affordable classes for students looking to move on to a four year college, even if it takes more than two years for working students to do so.
Reforming the ACCJC is only one of many challenges we face. While the state economy is stronger, we face serious economic challenges in the future.
By any measure, Prop 30 has been a success. But, public education in California remains seriously underfunded. We still rank near the bottom of the nation in per pupil spending, class size average and in the ratio of nurses, librarians and counselors to students. We are the largest and most vibrant economy in the nation, the 8th largest economy on the planet and yet resources for the education of our young people fall short.
Beyond the relative strength of the California economy, the underlying global economic crisis is being felt throughout the US. Corporations are taking in record profits, while American workers continue to see stagnant wages. New job growth is primarily in the low wage service sector and Americans are profoundly worried about their future and the future of their children.
The crisis of economic disparity and growing poverty is more serious today than it has been in years.
As educators, we experience economic uncertainty in multiple ways, as workers, as parents and through our students. Currently, at least 16 million children, about one in four, are identified as living in poverty and the number could be higher. More than 1.3 million of our nation's school children are homeless.
Even if we put dramatically more money into our schools and work harder and longer, public education won't be able to overcome the kind of wrenching poverty that grinds people down into despair.
It is a paradox of our times that economic conditions would suggest the growth of a progressive populist movement. Except for a brief period of upsurge with Occupy, none has yet to emerge. The American electorate continues to be buffeted about by right wing populist rhetoric that offers up the comforting Father Knows Best world of the 1950s as something to which we must return. Of course, even then it masked a deeply racist country that persecuted critics on the left and imposed its economic, political and military might all around the world.
But the resounding victory for the Republicans last November, while profoundly disappointing, was not a referendum on the public's views on key issues. Across the country, voters passed minimum wage increases, the legalization of marijuana and supported measures that protect a woman's rights to control her own body.
Republicans were successful, however, in attacking the Obama administration and scapegoating the government and the public sector.
While labor and the progressive movement must continue to provide critical support to Democrats, especially given the reactionary nature of the Republicans, we can't rely on a Democratic Party that has failed to offer a pro-union, pro-worker program for the American people and frankly has offered no leadership!
Except for a handful of politicians like Elizabeth Warren and Bernie Sanders, the Democrats' deep ties to corporate interests, have until now, made the party incapable of talking about raising taxes on the wealthy and corporations. They have failed to talk about shifting government spending away from the trillion dollar military budget and into rebuilding the country's decaying infrastructure and putting Americans to work. There has been scant talk about pushing for truly affordable health care that cuts out the insurance companies. There is no serious effort by Democrats to make higher education affordable and there has been lackluster prosecution of Wall Street's elite or the predatory bankers who helped cause the Wall Street Crash and Great Recession of 2008.
The attack from reactionary forces, though, has been unrelenting as the Koch brothers, the Waltons and the Fortune 500 corporate leaders underwrite research to deny global warming, attack regulations that protect our food and drinking water, and argue the ridiculous notion that raising taxes on the corporations and the wealthy and raising the minimum wage hurt workers and the economy rather than help.
Now corporate America wants to clear the field of any opposition. It is using fear and propaganda and enormous resources to try and wipe out the labor movement once and for all.
Thanks to ALEC and front groups like the national Right to Work Committee, workers across the country are losing the right to collective bargaining and they are being forced to jump through hoops to maintain their union membership. This is happening in states where the labor movement was born and where it used to be a cornerstone of political and economic life; states like Illinois, Michigan and Wisconsin.
Two years ago, the Supreme Court ruled in the Harris vs. Quinn case that agency fee was illegal for home health care workers in Illinois. Later this year, we are likely to get a Supreme Court ruling in the Friedrichs vs. CTA case that will end agency fee for public sector workers. It is also possible, the Supreme Court could end collective bargaining for all public sector workers. Let me repeat, for all public sector workers. To paraphrase Sinclair Lewis' great novel of the 1930s, "It can happen here!"
And now the same forces are coming after the one institution that has been able to operate outside the dog-eat-dog dynamics of the market place and that is public education. Private corporations and billionaires would love to get their hands on the hundreds of billions of public dollars spent annually on our schools.
This is the latest effort to take public dollars and put them into the pockets of corporations and individuals. Over the past 35 years we have seen a relentless effort to privatize social services, prisons, highway construction, street maintenance, the postal service, transportation, the military, and much more.
Grover Norquist, one of the main ideologues of the Republican Party, laid out the strategy clearly when he said, "I'm not in favor of abolishing the government. I just want to shrink it down to the size where we can drown it in the bathtub."
First, these public institutions are defunded making them less able to provide services. Then the privateers and free market ideologues spend lots of money to create a narrative that attacks government agencies and the public sector workers who do these jobs for being too expensive and inefficient.
In part, that's code for unionized workers who have some job protections and a pension. But it is also, and we saw this with welfare reform under the Clinton administration and the current attack on the postal service, racist code for people of color.
In education, they would like to create a class of K-12 teachers and classified workers with no job protections who scramble to make a living. We already see this in higher ed. where thousands of our sisters and brothers, freeway flyers, must scramble to eke out a living.
The challenges are great, but we are in this room because we don't shrink from a fight. We organize and we fight back. That is what we have done in the past and what we must do now.
We fight back like our sister Genesther Taylor, president of the Sacramento Job Corps Federation of Teachers. A year ago, Genesther was let go along with other union members because of their activism. That didn't stop Genesther from working tirelessly on behalf of fellow terminated employees and newly hired members. She continues to bargain a new CBA, file unfair labor practices and she filed a complaint with the NLRB. In the last few weeks, a federal judge ordered her reinstatement and we are hoping for additional positive rulings by the NLRB.
Like Genesther, we can be successful but we can't do it alone and we have to be strategic.
We know that the labor movement alone, much less one education union, can't put the progressive movement on its back and carry us to victory. But we can be a catalyst for change by strengthening our union, improving the lives of our members and giving them greater control of their work lives.
We do what Shannon Lienhart, co-president of the Palomar Faculty Federation, has been doing. Shannon has helped to organize into her Local 6161, electricians who teach at her college. She has also helped recover tens of thousands of dollars in wages for professors who have been unjustly — and improperly misplaced on the salary schedule. She is active in her central labor council, local elections and building solidarity with other workers in the North San Diego area.
Organizing strong locals is imperative but we must also forge ties to community groups so we can build power. We must then take on strategic battles that resonate with our members and beyond, and that have the possibility of raising broader systemic issues that can in turn, lead to greater changes.
So what is the CFT doing to move this agenda?
As I mentioned before, we are recruiting new members into the CFT and we are talking to other educators who want a strong union to represent them.
We are also implementing a program called Building Power for our Locals and the CFT that anticipates the end of agency fee. We have already begun working with our field reps to identify locals and assist them in working with their members to reach out to agency fee payers and encourage them to join the union. Sometimes it is as easy as that.
Currently, we have a little more than 80% union membership. For those locals that are under 80%, we are going to work with you to reach that level of membership. For those already at 80%, we want to push the number up to 100%.
This effort must go beyond simply moving our colleagues to become members. By engaging members and non-members in political activities and grassroots organizing, we can build more powerful and effective locals. This means holding regular meetings, improving the worksite leadership structure, increasing membership participation and ownership of your union. We want to work with you to improve your membership data collection and then use that information to be a more effective union.
We want to help you improve communication with your members and make sure those one on one conversations happen regularly. It means helping you strengthen your local's political program and increase COPE participation so you are able to elect school board members and state legislators who know our issues.
And like our brother Mark Maier who is an active in the Glendale College Guild and participates in Pasadenans for a Living Wage, we want to help you deepen your community involvement.
We want to help you run stronger contract campaigns that help build the power of your union. If we are going to begin transforming the labor movement, we must begin with our own union.
Three years ago, the CFT helped form the Reclaim California's Future coalition. That labor-community alliance had the active participation of California Calls, the Courage Campaign, ACCE, Mobilize the Immigrant Vote, PICO and many other community and social justice groups from around the state. What emerged out of the Reclaim effort was the Millionaires Tax and eventually Prop 30.
Two years after that monumental political victory, timid elected leaders seem content to let Prop 30 expire. We cannot let that happen and CFT members will once again have to proudly embrace the "little backwater union" epithet and work to get the Legislature and the governor to adopt a Prop 30 like tax measure!
Fighting for progressive tax reform is exactly the kind of struggle we need to be a part of. Not only do we have a real need for additional funding, but it allows us to raise issues of income distribution and inequality, the vital role of government and the obligations that we have to support our children and the next generation of decision makers. It deepens bonds with our students, parents and community members. Win or lose, this is a struggle of which we must be a part.
But the Millionaires Tax and Prop 30 were only the first steps and now we are part of another coalition that is looking at the inequity caused by Prop 13 almost 40 years ago. For those who don't remember, Prop 13 was part of national anti-tax effort led by groups like the Howard Jarvis Tax reform group. The initiative was promoted as a way to stop escalating property taxes from pushing out of their homes seniors and those on fixed incomes. That part was fine, but really it was a ploy to help commercial property interests from having to pay their fair share. Since 1979, California has lost tens of billions of dollars in uncollected property tax dollars that should have gone to public schools and vital social services.
Property tax increases are triggered when property is reassessed. As we all know, residential property changes hands all the time and so it is reassessed regularly. Big commercial interests have figured out how to avoid changing legal ownership and thereby not paying property taxes based on fair market value. What used to be a 50-50 split between residential and commercial property tax revenues has shifted to residential property owners shouldering 70% of all property taxes. Even smaller, newer businesses suffer while companies like Disneyland are essentially paying property taxes based on mid 1970s property values.
Taking on Prop 13 is an issue of economic justice as well as generating revenue to fund the kind of public education and services all Californians deserve. Currently, Prop 30 generates a bit more than $6 billion dollars annually. Depending on the health of the economy and property values, reforming commercial property assessment could generate up to $9 billion dollars a year. The combination of Prop 30 or a similar tax and Prop 13 reform could mean somewhere in the neighborhood of $15 billion dollars a year.
Make no mistake about it; this will be a major battle. The commercial interests that looked the other way on Prop 30 will fight us every inch of the way on Prop 13 reform. But we have formed an impressive labor-community coalition and the CFT sits on the executive committee with California Calls, SEIU, CTA, ACCE and the Advancement Project.
Currently we are working with Senator Loni Hancock on legislation that would put an initiative before the voters in 2016. The coalition has an experienced team organizing the field program, an excellent public relations firm, and topnotch researchers. Like the Prop 30 effort, we will talk to more than a half a million voters before the election and our goal is to train 1000 speakers across the state to visit union halls, community groups, and houses of worship.
Our coalition work is the essential base building needed for the reemergence of a social movement capable of creating a more just and humane society. While that movement has not yet coalesced, like hot water on the stove, it is beginning to bubble up.
We saw it with the boldness and energy of the Occupy movement. Within a matter of weeks, this spontaneous movement forced a national discussion on income inequality and made the 1% versus the 99% part of everyday language. It helped galvanize a national effort that forced big banks to pay a multi billion-dollar penalty and it helped create the political climate for Prop 30.
While the labor movement continues to lose density there are pockets of resistance. We saw it in the Chicago teachers' strike, in the longshore workers strike, in the effort to unionize service sector workers and the movement for a living wage. Wal-Mart and other big retailers are now planning to raise wages for their workers because they are feeling the heat of a movement that is starting to emerge.
If there are signs of life for a renewed labor movement, there are both disturbing and hopeful signs of an emerging civil rights movement. The tragic killings of Black men by some police officers, has ignited angry protests across the country and has put the issue of the inequality of the criminal justice system front and center before the American people. Even the recent racist rants by a University of Oklahoma fraternity, drew immediate protests and condemnation.
While racist behavior continues to plague our nation's psyche, we can't divorce it from the profound poverty that haunts inner cities and rural communities and condemns an inordinate number of Black and Latino men and women to prison. But we are beginning to discuss these issues in a way we have not seen since the Civil Rights movement and that awareness helped us in passing Prop 47.
The CFT must continue to be a voice advocating for our students and for our communities and working with social justice organizations demanding reform in the criminal justice system while tackling the underlying causes of poverty.
The current debate around public education has not only forced us to sharpen our arguments about the kind of schools we want, it has also given us an opportunity to raise broader issues of social justice and the role public education plays in the lives of our students.
Like the worst tactics of a used car salesman, the frontal assault on public education rests on misdirecting the public's attention away from the issue of underfunding and the underlying factors of poverty and racism to focus instead on the supposed failure of the so-called "bad teacher". This is exactly the same approach the American auto industry used to attack the UAW and the wages and benefits of autoworkers.
But the destructive reforms promoted by the billionaires' boys club are now being exposed and we are seeing grassroots opposition across the country. Parents and community members overwhelming question the value of high-stakes tests and they are voicing that opposition at the ballot box.
From Seattle to New York, from Chicago to Rhode Island, from Texas to Maryland, parents, teachers and students are saying "no more"!
This past year in New York, 60,000 parents and their children in grades 3-8, refused to take state tests. The same is happening throughout the country. Parents and educators are demanding the restoration of art and music. They want their kids to love learning and enjoy being in school, like the millionaires and billionaires provide for their own children in beautiful, state of the art private schools.
In Los Angeles, Morgan Hill, Daly City, Pico Rivera and San Francisco our locals from K-12 to higher education are working with parents, students and community members to transform public education.
We have to continue to organize that effort. We need to educate and push back against the destructive testing agenda being shoved down our throats. We must demand that public school children attend well-maintained schools with enrichment courses. Our schools must have a full complement of custodians, security guards, aides and assistants, nurses, librarians, mental health professionals and classroom teachers.
We have to challenge the anti-teacher rhetoric while we organize around our Campaign for Quality Public Education. We know what it takes to make our schools run well, what good mentoring and evaluation programs for teachers look like. We understand that life long learning means that adult education needs to be expanded and that adult education teachers need job security and the respect they deserve. All of this will require funding and resources because quality education can't be done on the cheap.
The CFT will continue to demand accreditation for City College of San Francisco and Compton College and continue to advocate in Sacramento, Washington D.C. and in the streets. We need fundamental reform of the community college accrediting commission and fair assessment for all Community Colleges.
More than 50 years ago, California's Master Plan for Higher Education laid out a powerful vision and commitment to our students and all residents for accessible, affordable college. That pledge has been corrupted and we need to fight to restore that promise both for students as well as the men and women who dedicate their lives to working in and out of the classroom.
That means working in Sacramento and at the district level to stop the shift from tenured and full time teaching loads to part time work so our colleges and universities can drive down labor and benefit costs. We must also insist that our part time sisters and brothers receive equal pay for equal work. Whatever your work classification, you should be able to make a decent living with health benefits and a good pension.
Sometimes the odds seem overwhelming, election results are dismaying, court decisions are destructive and it's easy to give up hope. But we fight for our students; our families, ourselves and we fight for a future that allows each of us the ability to reach our full potential.
That movement is beginning to emerge. It may take some time before we have built the critical mass necessary to change our nation's priorities, but that day is coming and the CFT, our locals, all of you will be right there helping to make it happen.
I believe it is worth the struggle. Do you agree? I'm sorry did you say yes? I didn't hear you? They can't hear you in Sacramento. They can't hear you in D.C..
Thank you.