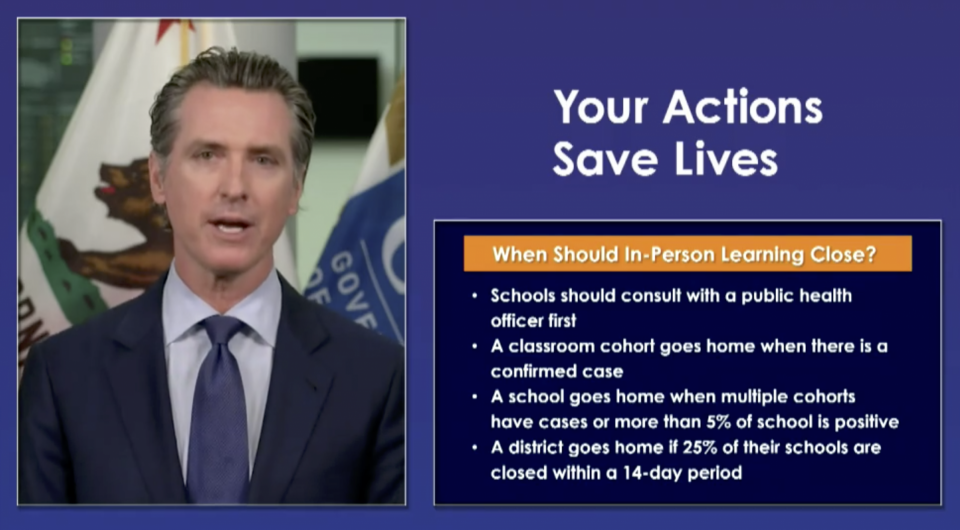 During his July 17 noon press conference, Governor Newsom announced statewide guidelines for reopening K-12 schools this fall.
While the governor addressed some of the demands that the union articulated to him and state leaders in the CFT letter sent on Monday, CFT still believes that there is more to be done to ensure the safety of California's teachers, school staff, students, and communities.
The governor laid out five main points that comprise the state's guidance for school reopening. They are as follows:
Safe in-person school based on local health data, meaning that counties must be off the state monitoring list for 14 days before they can reopen.
Masks are required for all school staff and students in 3rd grade and older; masks or face shields are strongly encouraged for students in 2nd grade and younger.
A physical distancing standard that requires school staff stay six feet away from one another and from students.
Regular testing for staff based on cohort models, paid by health plans, as well as prioritizing the state's contact tracing system for schools.
Rigorous distance learning that includes daily live interaction between staff and students and appropriate curriculum, including curriculum for English language learners and students with IEPs.
"While CFT believes these steps move toward the demands that we have outlined, we do not think they go far enough to protect the health and safety of our school communities," said CFT President Jeff Freitas, "and we will continue to advocate for greater measures to ensure that the demands articulated in our letter to state leaders are realized."