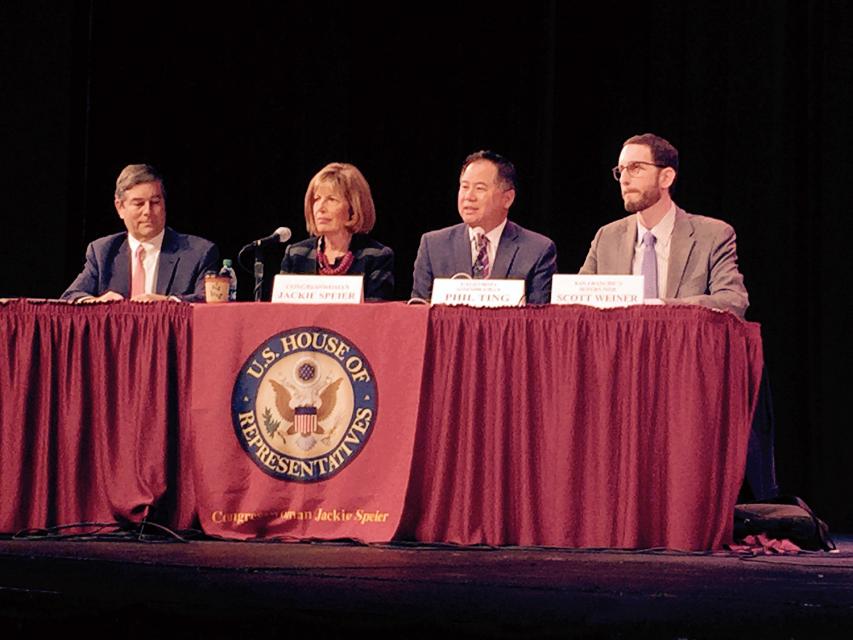 One thing for certain about Congresswoman Jackie Speier: she is consistent. On November 28 at a City College of San Francisco (CCSF) forum that she organized and hosted, the Bay Area congresswoman sang the praises of the largest community college in California. She also made clear that no matter what the Accrediting Commission for Community and Junior Colleges (ACCJC) decides in its January meeting about CCSF, she will do everything in her power to keep the school open and serving its tens of thousands of students.
To bolster that message, she brought along several other elected officials (Assemblymember Phil Ting, state Senator-elect Scott Weiner, and president of the CCSF Board of Trustees Rafael Mandelman), and a group of City College faculty and students led by AFT 2121 President Tim Killikelly, to present the case. College of San Mateo President Mike Claire rounded out the presenters.
The presentation took place before a packed audience of several hundred at the Diego Rivera Theater. The forum's structure, including statements of support by the elected officials, and testimony from the classrooms of several revered City College occupational programs detailing their importance to San Francisco businesses, looked like a streamlined echo of a forum held during the height of the school's accreditation crisis a couple years ago. That hearing was likewise steered by Speier, and she also signed on to a letter sent by House Minority Leader Nancy Pelosi last September asking the U.S. Secretary of Education to "delist" the ACCJC as an accreditor.
Speier called ACCJC's actions in attempting to shut down the college "reprehensible, and in no way supported by the facts." She cited the finding of a joint Legislative Audit Committee that the commission had treated CCSF in a fashion inconsistent with its treatment of other colleges, and reminded the audience that the decision had been found illegal by a San Francisco Superior Court judge.
Ting emphasized the long list of local, state, and federal government officials, agencies and task forces that had condemned the commission. He stated his intent to keep all these institutions aligned not only to the purpose of keeping the college open, but to help California transition to a new accreditor, as called for by the state chancellor's task force last year and supported by the state Board of Governors.
Local 2121 President Killikelly stressed that the ACCJC's action in creating a special new "restoration status" without due process was illegal, and will not stand up in court if the Commission attempts to shutter the college again.
Following presentations by representatives of the Diagnostic Medical Imaging program, the Bridge to Biotech program, the Speech and Debate Team, and the Diversity Collaborative-Latin American Studies Department, Speier led a discussion with the crowd.